Our Best-Selling Restaurant Equipment of 2012
At this time of year, it's common to look back on the year just passed and take stock. As we've done that in recent weeks here at KaTom, we've compiled this list of the restaurant equipment that was a hit in commercial kitchens across America in 2012.
No. 10: Blendtec EZ Blender Package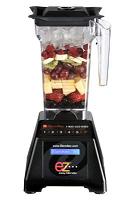 Since its inception, Blendtec has developed the perfect blender for the demands of any commercial kitchen, whether the cooks therein are mixing up smoothies or shredding wood planks (the inventor of Blendtec actually did this with early prototypes, a move that gave way to the popular "Will it Blend" webisode series). Their units are the ultimate restaurant equipment and this set is a great step into the Blendtec world.
The Blendtec EZ6104 EZ Blender Package includes a powerful unit with a 13-amp direct drive motor, 30 pre-programmed cycles, an LCD display, and two 64-ounce polycarbonate jars. If we had to guess why this unit ended up near the top of our 2012 list of popular restaurant equipment, we'd say it's likely because you get a strong blender that offers versatility for your commercial kitchen thanks to the pair of blending jars included.
Update: The Blendtec EZ6104 was discontinued by Blendtec in 2013 and has been replaced by the Blendtec EZES3. The new package still contains that great Total Blender base with 13 amps, 30 pre-programmed cycles, and an LCD display with simple button controls. Now, the two 64-ounce polycarbonate jars include the FourSide jar and WildSide jar. The FourSide jar has a unique square shape that allows for better mixing than standard round jars, while the new WildSide jar offers a patented five-sided design that creates a vortex of the ingredients to help ensure complete blending.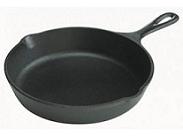 To those who haven't been initiated into the world of the commercial kitchen and restaurant equipment, this little Lodge cast iron piece may seem ideal only for things like frying up robin eggs. To those in the know, like the hundreds of customers who put in orders for the Lodge LMS3 3.5-inch Miniature Cast Iron Skillet this year, this metal marvel has a thousand uses.
Shipped preseasoned, so it's ready to cook out of the box (after a quick hand wash and oiling), this cast iron restaurant equipment delivers even heating whether on the stovetop or in the oven. It's great for silver dollar pancakes or eggs, but it shines as both a cooking and serving piece. For instance, it's perfect for preparing hot queso dip or individual servings of cobbler, then presenting them with flair from your commercial kitchen to the table.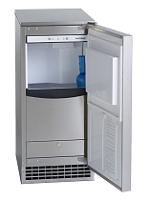 If you've checked out our top 10 list for the residential side of the KaTom world or if you know anyone who has a habit of crunching ice, you know that nugget ice makers are some of the most popular restaurant equipment out there, whether for home chefs or the commercial kitchen. That's evidenced by the fact the Scotsman SCN60GA1SS Nugget Ice Maker made the residential list and the Ice-O-Matic GEMU090 Undercounter Nugget Ice Maker is near the top of the heap in commercial orders.
This restaurant equipment provides your commercial kitchen with those soft, compact, and chewable pearls of ice at a rate of 85 pounds every 24 hours, with a storage bin with capacity for up to 22 pounds of nugget ice. It's perfect for snack bars, sandwich counters, and as a front-of-house unit for bars, with its undercounter design keeping it perfectly out of the way. Like the Scotsman SCN60GA1SS Nugget Ice Maker, the Ice-O-Matic GEMU090 Nugget Ice Maker has also become popular with home chefs in recent years, though it's built for the commercial kitchen.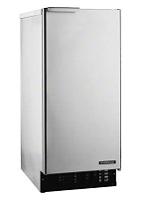 Another ice maker, another style of ice. This slick little undercounter ice maker from Hoshizaki edged the GEMU090 for the No. 7 spot on our list. It has the ability to produce 55 pounds of ice every day and can store up to 22 pounds of it at a time in a certified hygienic bin inside its durable stainless steel body. It's built for easy cleaning and easy access, with a reversible swinging door.
Hoshizaki ice makers are known for producing some interesting shapes, from the standard crescent cube on up. This Hoshizaki AM-50BAE Undercounter Ice Maker pushes out fancy little top hat-shaped bits of ice. Like the Ice-O-Matic machines, it's the right restaurant equipment for low- to medium-volume foodservice operations. This Hoshizaki undercounter ice maker can also go outside the commercial kitchen, with a UL approval for outdoor use.
Hoshizaki also filled several other spots on our list of top sellers, with honorable mention for the Hoshizaki C100BAFAD Undercounter Cubelet Ice Maker, Hoshizaki DCM270BAH Push Button Ice Maker Dispenser, Hoshizaki AM50BAEAD ADA-compliant Undercounter Top Hat Ice Maker, and Hoshizaki KM515MAHB300PF 300-pound Crescent Ice Maker.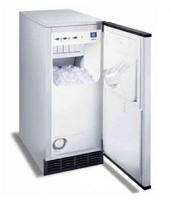 Yes, it's an ice maker three-peat and we promise we didn't rig the results. So, why did a trio of ice makers land nearly at the top of our restaurant equipment orders for 2012? Well, because the top 10 usually includes a few water freezers. While not every commercial kitchen needs the same cooking equipment or other supplies, virtually every place that serves food and drinks needs an ice maker, whether it's for cooling beverages, keeping food fresh, or shaving up for impromptu snowball fights.
As it happens, the Manitowoc SM50A Undercounter Ice Maker is the only piece of restaurant equipment in our lineup to make the top 10 lists for both home chefs and commercial kitchens. How did it achieve that? Well, Manitowoc has won recognition as "Overall Best in Class" for ice makers multiple years and this unit fits nicely into that tradition. The stainless steel SM50A can produce 53 pounds of cube-style ice per day, store 25 pounds of it, and do all that while helping you save on your utility bills. It's efficient, compact, has a patented automatic cleaning system, delayed start option, and an air-cooled compressor. It's perfect for low- to medium-volume commercial kitchens, though it's technically designed for use in residential or office settings.
Manitowoc also hits our list of top-selling restaurant equipment for 2012 with the Manitowoc QD0132A Full Cube Ice Maker, Manitowoc QY0134A Half Dice Ice Maker, and Manitowoc QY0214A Half Cube Ice Maker.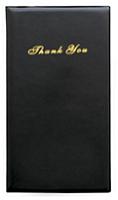 It's been called the worst part of a good meal and people joke about it being a time of evaluating "the damage." Cheer up the act of bringing a guest his or her bill with these elegant check folders from Update International, one of the top smallwares vendors in the restaurant equipment industry.
This leather bound book measures 5.5x10 inches and is designed to last for years, even in high-volume commercial kitchens, with a durable spine and sturdy covers. The black leather on the Update International GCF-BK Guest Check Folder, embossed with the words "Thank You" in gold on the front, adds a touch of class to the end of any sit-down meal. Maybe the best part of these Update International guest check folders is that they don't come with a hefty bill themselves.
Update International was frequently named among our top-selling restaurant equipment for 2012. Honorable mention from the vendor goes to: Update International SIL17 17-inch Silicone Oven Mitt, Update International BAPBK Two-pocket Big Apron in black, Update International THP220 Pocket Thermometer, Update International PZSVRN Pizza Server with Plastic Handle, and Update International THDP302 Digital Pocket Thermometer with Black Sleeve.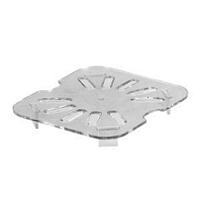 Another leader in smallwares, as well as food serving and storage products, Cambro offers restaurant equipment that appears in most every commercial kitchen. Its trays and food line pans, among other pieces, are nearly ubiquitous at buffets, in school cafeterias, and food courts, as well as countless other eateries.
Drain shelves like the Cambro Camwear 60CWD135 Drain Shelf for Sixth-size Pans ensure the quality of your food by keeping it from being soggy or too runny. This drain shelf elevates the food in your pan with a perforated clear plastic piece, leaving room below to catch overflow moisture. That comes in handy when dealing with wet foods like freshly-washed produce or pasta, or displaying foods on ice. They're a great way to present clean greens and vegetables on salad bars.
Appropriately, the Cambro 66CW135 Sixth-size Food Pan of clear plastic, which the drain shelf fits into, is also on the list of our top sellers, as is the Cambro WW250CW135 Camwear Beverage Decanter of clear polycarbonate.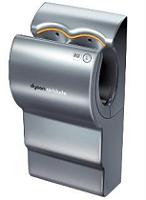 The Dyson Airblade turns the air we breathe into hygienic windshield wipers for your hands, forcing air through a HEPA filter and out the unit, wrapping your sopping hands in a drying hug that takes just 12 seconds to get the job done. That helps you save money on paper towels and electricity, since it does the job with up to 80 percent less power than the typical warm air hand dryer. For the cost of a single paper towel, this Dyson unit can dry 22 pairs of hands.
The Dyson Airblade is the only unit in its class certified by NSF International. It is constructed of a sealed casing infused with anti-microbial additives that eliminate up to 99.9 percent of surface bacteria. Additionally, the hand drying starts automatically as soon as a person inserts his or her hands into the dual slots in the machine, meaning there's no dirty button to push.
Thousands of these stainless steel serviceware pieces flew off our shelves this year, as commercial kitchens stocked and restocked their silver selections. No other dinner fork in KaTom's large selection of flatware comes close and, since this unit is counted individually, the Winco 000205 Windsor Dinner Fork sold nearly three times more than any other piece of restaurant equipment in our inventory – with the exception of its brother, the Winco 000208 Windsor Dinner Knife.
With elegant lines and simple, clean design, Winco's Windsor collection of flatware is easy to clean. This dinner fork is the standard in tens of thousands of commercial kitchens. It's made of highly durable stainless steel and is resistant to normal wear and tear. It also stands up well in commercial warewashers.
In addition to the Windsor dinner fork and Windsor dinner knife, Winco also makes the list of our top selling restaurant equipment with the Winco 000201 Windsor Teaspoon and the Winco 000204 Windsor Bouillon Spoon.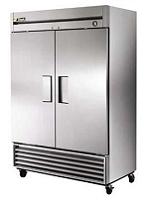 True is far and away the leader in commercial refrigeration, commanding a large majority of the business in commercial kitchens across America. The workhorse and most popular unit in the line is the T-49 two-section, solid door, reach-in unit.
The True T-49 Two-section Reach-in Commercial Refrigerator offers 49 cubic feet of refrigerated storage space that is easily accessible through a pair of swing-out stainless steel doors, which are resistant to minor bumps or scratches. The NSF-approved interior is aluminum protected by an easy-to-clean vinyl. This True Refrigeration T-49 restaurant equipment comes standard with a 9-foot cord, positive seal self-closing doors, a bottom-mounted compressor, an exterior-mounted temperature control, 4-inch swivel casters, six movable shelves, and racks for food pans. There's a lifetime guarantee on the recessed door handles and a five-year warranty on the compressor.
True has also recently announced it will begin offering a 3-year parts and labor warranty on each one of its commercial refrigerators, a value-added benefit that could save you untold amounts of money in the long run. Of course, with the reliability of American-made True Refrigeration restaurant equipment in your commercial kitchen, you're unlikely to have much need for that warranty.
All that adds up to our most popular piece of restaurant equipment via total sales.
Given its status as a leader in commercial refrigeration, True Refrigeration shows up multiple times in our list of top-selling restaurant equipment for 2012. Also earning spots are the True Refrigeration TSSU-6016 60-inch Sandwich/Salad Unit, True Refrigeration TSSU-4812 48-inch Sandwich/Salad Unit, True Refrigeration T-49F Two-Section Reach-in Freezer, True Refrigeration T-72 Three-section Reach-in Commercial Refrigerator, and True Refrigeration GDM-72 Three-section Glass Door Refrigerated Merchandiser.