KaTom wins "Small Business of the Year"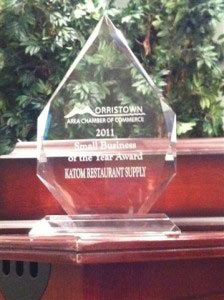 The Morristown Area Chamber of Commerce's 9th annual Small Business Awards luncheon was held yesterday.... and Patricia walked away with the title of "2011 Small Business of the Year."
"It is certainly amazing to be a part of a community that supports company growth and recognizes small businesses. KaTom is blessed to have community and chamber support and this accomplishment could not have been achieved without the help of many people." - Patricia Bible, KaTom CEO and President
Nominations were open to any business that is a member of the chamber that is considered to be a "small business".
Other Morristown small business winners include:
The Chocolate Ladies, 2011 retail-based award
Megan's Corner Catering and More, 2011 service-based business award
Crossroads Integrated Health Services, 2011 healthcare-based business
All Celebrity Travel, 2011 hospitality/leisure-based award
Bullard Group Insurance, 2011 horizon award (given to a business less than five years old that demonstrates tremendous potential)
KaTom is thrilled and honored to be considered the business of the year and would like to thank our employees and customers who have helped the company grow to where it is today!