KaTom supports Marine Corps Reserve's Toys for Tots and Salvation Army
We here at KaTom acknowledge we are immensely blessed. In just 25 years, our company has grown from a little operation in a residential garage to a leader in its industry with a 90,000-square-foot new home and a slew of honors recognizing its success. Meanwhile, those of us who work here have the opportunity to be part of a dynamic, exciting, and ever-booming family organization.
It is with that knowledge that we have been motivated to find ways of serving the communities we're in, whether it's through one of our team's contribution of time to help distribute coats to the cold or a cooperative effort to make sure our neighbors don't go without. At this time of year, the need we see around us is especially pronounced. That's why we're honored to have had the opportunity to partner with two agencies working to serve those in need both here near our East Tennessee home and around the world.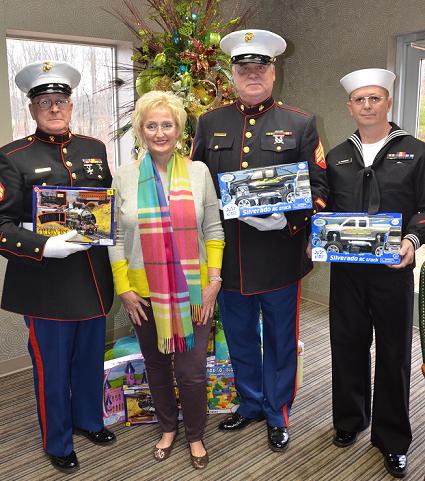 For several weeks now our break room has played host to a donation box for the Marine Corps Reserve's Toys for Tots program, which collects new playthings for children who might not otherwise find anything under the tree Christmas morning. The effort will collect and distribute hundreds of thousands of toys to families across the United States just in time for Christmas.
Locally, Toys for Tots is headed up by Marine Corps League Detachment 1206, which not only collects presents for Sevier County's children, but also handles the job for several other nearby counties that have no detachment. That leaves them with the amazing task of delivering Christmas to thousands of children, but they can handle it – they're Marines, after all.
Commandant Ron Russell told us the effort has grown every year, including this one, and the community has always come through, though 2012 has proven as tough a challenge as they've ever had. That's the Commandant second from right in the picture with our lovely CEO Patricia Bible as she passes on some of the hundreds of toys we've collected. They're flanked by Sr. Vice Commandant Terry Witt, left, and FMF Corpsman Kevin Hanners, who wears the Navy's blues.
Several of us had the pleasure to meet various members of Marine Corps League Detachment 1206 as they came to collect our offerings of toys several times during the campaign. We would all assure you they're true American heroes, both for what they're doing for so many local children and for their service protecting our country. One 93-year-old member of their group served at Guadalcanal. Terry still deals with injuries sustained during his tour in Vietnam. Ron was part of the Marine Corps' elite Silent Drill Platoon based at the oldest active Marine base, the "8th and I" in Washington, D.C. There are Purple Heart and Silver Star medal winners among their ranks.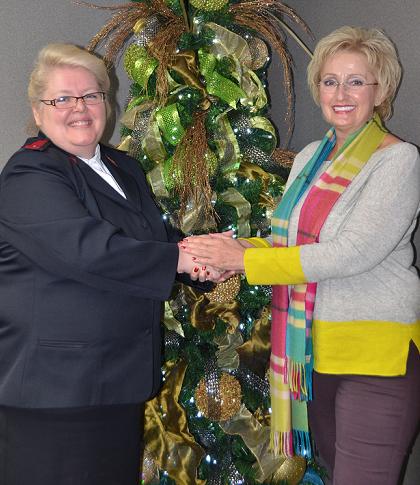 Patricia also recently had the opportunity to pass on our contribution to the Salvation Army's Disaster Relief efforts to help those impacted by Hurricane Sandy. Lt. Marie Inmon, commander of the Sevier and Cocke Counties Corps, accepted the gift on behalf of the agency.
For those who missed earlier updates, we were so moved by the images of destruction left by the superstorm that we were moved to action. After talking about how we might help, we opted to donate a portion of our sales from early November through Thanksgiving to the Salvation Army, which was the first organization to mobilize to help those left wanting by the storm. We believed giving to the organization offered us the opportunity to have the greatest impact thanks to the Salvation Army's long reputation for helping in such situations and because the organization is, as its motto says, "Doing the most good." That slogan stems from the Army's being consistently recognized as the non-profit that puts the most of every dollar donated into helping, rather than into overhead costs.
The Salvation Army has served hundreds of thousands of meals and met other basic needs for those left homeless or otherwise in need by Sandy's devastation.