KaTom Selected as Top 300 Business in the South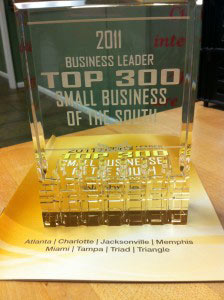 KaTom Restaurant Supply, Inc., was recently recognized as the Fourth top business in Tennessee by Business Leader Magazine, and a top 300 business in the South.
"I feel tremendously blessed to be a part of the top 300 businesses in the South. As I look through the names of honorees, I know it is both a privilege and an honor to be associated with these companies. - President and CEO Patricia Bible
The companies selected were ranked based on a combination of factors, including percentage of sales generated in their local market, revenue growth, businesses achievements and civic contributions.
KaTom's description in Business Leader Magazine reads:
"In operation since 1987, KaTom offers more than 100,000 products at wholesale price to meet all restaurant equipment and kitchen supplies needs. In 2009, it finished the year with 26 percent growth (when the industry average was 12 percent for that year), and last year (when the industry average was up 9 percent) KaTom was up 62 percent. A favorite with celebrities, customers have included Paula Deen, Martha Stewart, Rachel Ray, Jimmy Kimmel and the White House. Areas of growth have included internet sales, where the team has expanded from 3 to 12 employees, and the outside sales force which grew 40% across the entire Southeast. Company members are actively involved in the Morristown Area Chamber of Commerce; The company also lends support to the Rotary Club, Encore Theatrical Company, the New Hope Recovery Center, and the Morristown Boys and Girls Club, among others.
Nearly 50 Tennessee companies were honored at the Top 300 Small Businesses of the South ceremony in Nashville. This year's event had a new twist as businesses from nine Southern markets will be ranked against one another. The events will feature a countdown of businesses from number 300 down to the top 10.
This past spring, Business Leader asked companies and individuals across the South to nominate the best small businesses in their region.
We are honored to have received a nomination and even more thrilled to be fourth overall in the Tennessee region!
The top five businesses in Tennessee include:
USr Healthcare
International SageGuard Financial
LPS Integration, Inc.
KaTom Restaurant
SyMed Development Inc.