KaTom recognized by national association for growth and accolades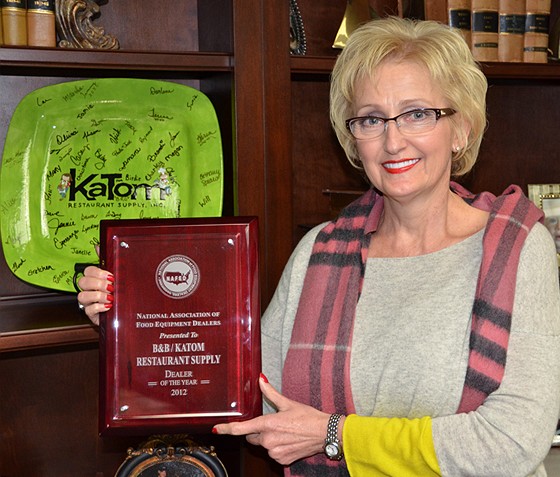 KaTom Restaurant Supply has been named "Dealer of the Year" by the National Association of Food Equipment Dealers. According to association CEO Mark Anderson, the title was given to honor the company's "meteoric rise to success."
The association, commonly known as NAFED, represents 58 restaurant equipment dealers across the United States, from the East Coast to Hawaii. KaTom was recognized for growth of sales and its expansion into a sprawling new campus in Sevierville. Additionally, KaTom has been featured in multiple trade publications.
"KaTom has received numerous accolades for continuing growth and success," Anderson says. "Their meteoric rise to success in the face of personal tragedy and in spite of national economic adversity is inspiring, and their passion for growth is contagious. We are very proud of their success and are happy to honor them with the 2012 Dealer of the Year Award."
KaTom CEO Patricia Bible started the company with her husband Tim in 1987, and she took over the operation due to with Tim's untimely passing in 2001, just as www.katom.com was set to launch. The business that began in a garage in Morristown, Tenn., topped $35 million in annual sales in 2011 (2012 totals are not yet available) and employs 80 people. The company recently moved from Morristown to Sevierville after outgrowing a building that was expanded three times to accommodate its booming growth.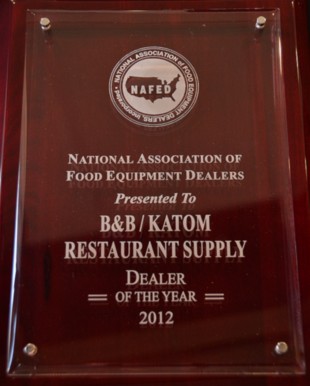 "We work every day toward a goal of being the best in this industry and clearly this award is a sign that we're doing something right," Bible says. "We are just going to keep right on working every day to make sure we are leading the way in connecting every customer with the right equipment. That's what drives this team, helping each customer be as successful as possible."
This is far from the first time KaTom Restaurant Supply has been recognized for the amazing growth it has experienced. The company has ranked on the Inc. magazine list of the 5,000 fastest-growing companies in America for each of the last four years, with three-year growth of 176 percent. The company was also recently tabbed by Inc. as one of the top private job creators in Tennessee, with three dozen employees added in the past three years.
"I always say there's no beating Team KaTom and this honor just more proof of that," Bible says. "It is amazing what we have accomplished in the past 25 years and especially what we've done in the last five. It astounds me every day and makes me so proud to be part of and lead such a capable team."