Photo of KaTom's John Dickinson at Community News is Front Page-worthy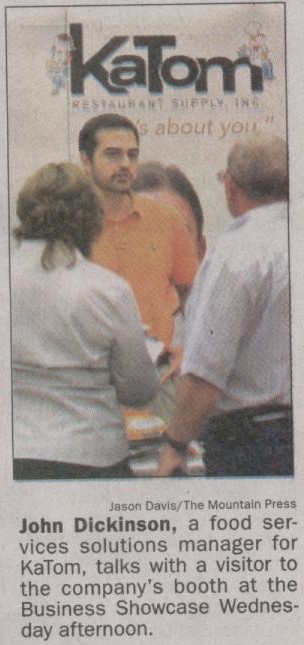 We at KaTom Restaurant Supply have truly enjoyed becoming a part of our new home of Sevierville and Sevier County over the last year. From participation in organizations like the Sevierville Chamber of Commerce to supporting great local causes like Paint the Mountains Pink, a breast cancer battling group, we love our Smoky Mountain neighbors! Though it may be hard to believe it, we've been in the community more than a year now. The time has flown as we've had a great time settling in.
If you follow us on Facebook, you already know a group of KaTom staffers was generously offered the opportunity to introduce our restaurant equipment and residential cooking tools team to the area in August at the monthly meeting of the Sevierville Chamber of Commerce. We also got the chance to participate in the chamber's first-ever Business Showcase Sept. 25 at the Sevierville Events Center.
Two members of our outside sales team, Kim Robinson and John Dickinson, ably represented the company at the well-attended event. The two foodservice solutions managers, as we call them, who cover the Smoky Mountains and the whole East Tennessee territory were on hand to let the hundreds of business people who turned out know who we are, where we are, and how we can help them. We had a great response and we're already looking forward to being part of the second Business Showcase.
Early in the afternoon, one of John's interactions with some local folks was captured on (digital) film by Jason Davis, the editor of The Mountain Press of Sevierville. That landed John and KaTom a spot on the front page of Thursday's Mountain Press, accompanying a story about the Business Showcase. John and Kim have both joined our restaurant supply team since the move to Sevierville. They've each been an outstanding addition and have worked hard to make KaTom the source for restaurant equipment and residential cooking tools in the Smoky Mountains and throughout the region.
We love these interactions and are honored to be featured by The Mountain Press!