KaTom Featured in the Paper and Staff Gift Picks from Our Website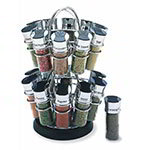 If newspapers feature only the best and most noteworthy articles, they really hit the nail on the head this time. KaTom is proudly featured on the front page of Citizen Tribune, vol 44 No. 88. dated December 17, 2009. KaTom was recognized by Citizen Tribune for their huge success over the last 22 years. It's really no surprise that a local company with the success rate of KaTom Restaurant Supply would make the front page of the local newspaper. You can read their article at www.citizentribune.com/news/view_sections_pearl.asp?idcategory=47&idarticle=14035.
This is yet another achievement that KaTom can add to the plethora of achievements already realized over the course of its existence. Citizen Tribune discusses several of our accomplishments, but I think it's probably safe to assume the one that really caught their attention was the fact that a local company, that started in a garage, grew to an international multimillion dollar enterprise and became recognized by Inc 500/5000 as one of the fastest growing companies in America. That recognition alone is newsworthy, especially for a small town like Russellville, Tennessee. Add on top of that our Women's Business Enterprise National Council certification, our U.S. General Services Administration, our highly successful and very large website; it's a wonder we weren't featured sooner.
Every employee at KaTom Restaurant Supply is proud of where they work. We all feel like we are part of something special, something that's going to be very big. With only 36 employees we are also like a close knit family with the owner, Patricia Bible, treating each and every one of us like her own children. It's rare to find such a successful business woman who is able to maintain a close relationship with each of her employees and still keep her buisness in the forefront of her mind. It probably helps that her employees keep her business in mind as well, as like I mentioned, we are very proud of where we work.
From the family here at KaTom, thank you Citizen Tribune. To our readers, we would like to say Merry Christmas. And as a gift from us to you, I've taken the time to ask the "family" what their favorite products are. Most of us are doing some of our Christmas shopping via our own website. I've listed a few of our personal favorites, some of the things we're buying from our website that maybe you haven't seen yet, or didn't even know we have. Hopefully, this will give you a new idea for that one obnoxious person you have to buy for that already has everything, never likes anything and won't tell you what to get them. Enjoy!!
So, here are a few items to check out, they make awesome gifts and are our "staff picks."
ISI three set of Silicone Bowls
(her favorite is the red)
Ravenscroft's 70oz Beveled Orbital Magnum Decanter
Ice Sculptures
(we have several to choose from, and they are really easy to use)
Staub Enameled Cast Iron La Cocotte, Round, 5qt
(she prefers the white or the gray)
Olde Thompson Spice Rack
(pre-filled and absolutely beautiful, several people chose this one)
Any Lodge cookware
KitchenAid Slow Cooker, 7qt
Olde Thompson Peppermill/Salt Shaker Set, Sunrise Colored
Jaccard's Mandolin
or
Meat Tenderizer
Rubbermaid Food Storage Container's with lids, polycarbonate
Last but not least, not a gift necessarily for someone else, but a necessity to make the holidays fly by; The Anchor Hocking Quaffer Shot Glass, three and a half ounces and the
Margarita Madness Blender
!