Important Carlisle Recall Information - PLEASE READ
We have very important information for you about a recall of certain Carlisle mug models. Specific models are breaking when exposed to hot liquids, causing a burn hazard. You will need to contact Carlisle for RA information.
If you have any concerns or questions feel free to contact KaTom's return department:
Phone: (800) 541-8683
Email: returns@katom.com

Here is the notice from CPSC that KaTom received about the Carlisle recall:
News from CPSC

U.S. Consumer Product Safety Commission
Office of Communications, Washington, D.C.
Carlisle FoodService Recalls Melamine Mugs Due to Burn Hazard
WASHINGTON, D.C. – The U.S. Consumer Product Safety Commission, in cooperation with the firm named below, today announced a voluntary recall of the following consumer product. Consumers should stop using recalled products immediately unless otherwise instructed. It is illegal to resell or attempt to resell a recalled consumer product.
Name of Products:
Food service beverage cups and mugs
Units:
About 111,000
Importer:
Carlisle FoodService Products, of Oklahoma City, Ok.
Hazard:
The cups and mugs can break when exposed to hot liquids, posing a burn hazard to consumers.
Incidents/Injuries:
Carlisle has received three reports of cups and mugs breaking. No injuries were reported.
Description:
The nine Carlisle models of cups and mugs are sold in a variety of sizes from 7 to 16 oz. and in colors including white, green, red, brown, black, ocean blue, sand, honey yellow, bone and sunset orange. They are approximately 2 to 3 inches tall and are made of melamine. The name "Carlisle OKC, OK and model number are imprinted on the bottom along with "Made in China and "NSF. Some may also include the model name and size, i.e. "Durus 7 oz cup. Cups and mugs included in this recall are: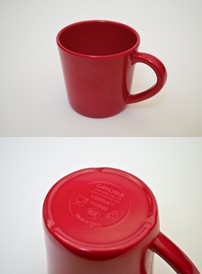 Sierrus™ Mug
7.8 oz
Model #
33056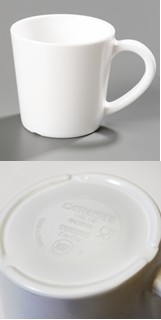 Durus® Challenge Cup
7.8 oz
Model #
43056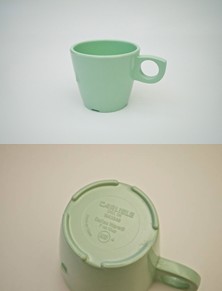 Dallas Ware® Stacking Cup
7 oz
Model #
43546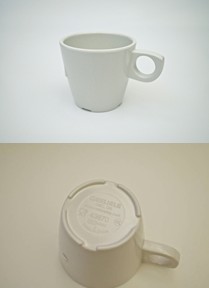 Dayton™ Stacking Cup
7 oz
Model #
43870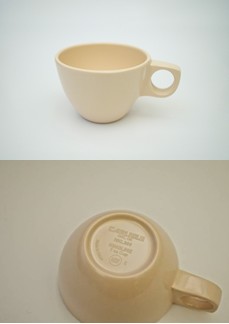 Kingline™ Ovide Cup
7 oz
Model # KL300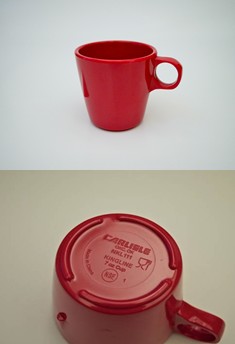 Kingline™ Stacking Cup
7 oz
Model #
KL111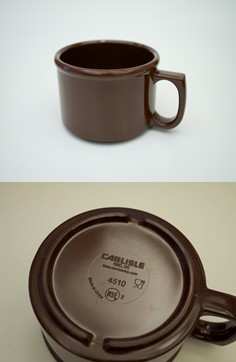 Melamine Stackable Mug
8 oz
Model #
4510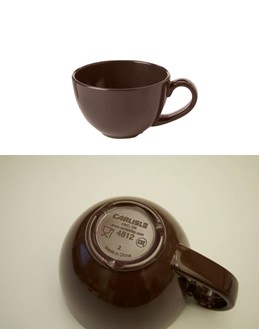 Cappuccino Mug
12 oz
Model #
4812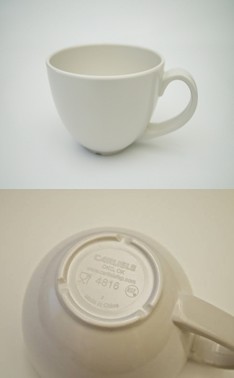 Cappuccino Mug
16 oz
Model #
4816
Sold at:
Nationally through distributor outlets and online, including food service companies, broadliners and equipment supply distributors. The mugs were sold between January 2011 and January 2012 for between $4 and $10 each.
Manufactured in:
China
Remedy:
Consumers should stop using the mugs immediately and return them to Carlisle for credit toward a future purchase of Carlisle FoodService Products merchandise. Carlisle will provide instructions for free return shipping.
Consumer Contact:
For additional information, contact Carlisle FoodService Products at (800) 217-8859 between 7:30 a.m. and 4:30 p.m. CT Monday through Friday, or visit the firm's website at
www.carlislefsp.com/productsafety
.
The U.S. Consumer Product Safety Commission (CPSC) is still interested in receiving incident or injury reports that are either directly related to this product recall or involve a different hazard with the same product. Please tell us about your experience with the product on SaferProducts.gov.
CPSC is charged with protecting the public from unreasonable risks of injury or death associated with the use of the thousands of consumer products under the agency's jurisdiction. Deaths, injuries, and property damage from consumer product incidents cost the nation more than $900 billion annually. CPSC is committed to protecting consumers and families from products that pose a fire, electrical, chemical, or mechanical hazard. CPSC's work to ensure the safety of consumer products—such as toys, cribs, power tools, cigarette lighters, and household chemicals—contributed to a decline in the rate of deaths and injuries associated with consumer products over the past 30 years.
Under federal law, it is illegal to attempt to sell or resell this or any other recalled product.
To report a dangerous product or a product-related injury, go online to: SaferProducts.gov, call CPSC's Hotline at (800) 638-2772 or teletypewriter at (800) 638-8270 for the hearing impaired. Consumers can obtain this news release and product safety information at www.cpsc.gov. To join a free e-mail subscription list, please go to www.cpsc.gov/cpsclist.aspx.
Please contact Carlisle for RA information.
If you have any concerns or questions feel free to contact KaTom's return department:
Phone: (800) 541-8683
Email: returns@katom.com