Hollowick: Elegant Lighting for Your Dinner Table!
Create a warming atmosphere with Hollowick's quality candles and lighting. With Hollowick, you not only get quality service and 40 years of industry experience, but you also get environmentally friendly products. All of Hollowick's attractive lighting solutions provide an inviting ambiance to any dining room.
KaTom has created a convenient list to spotlight some of Hollowick's more popular products.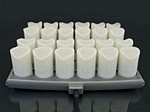 This Hollowick Platinum Flameless Candle Set features:
Charging tray
Power Adaptor
Silicone
24 amber candles
This Hollowick Evolution Flameless CandleSet features:
Charging tray
Power cord
Rechargability
36 candles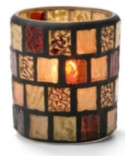 This Hollowick Mosaic Votive Lamp features:
Mosaic
3 5/16" H x 3" W
Accommodates Hollowick's HD8, HD12, or HD15 Disposable fuel cell

This Hollowick Rib Block Lamp features:
Clear Glass
4 1/8" H x 2 7/8" in diameter

This Hollowick TruFlame LED Pillar Candle features:
3" dia. X 8" H
3-stage timer and remote control
unscented real wax with smooth finish
TruFlame LED
lasts up to 450 hours
uses (4) AA batteries (not included)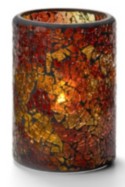 This Hollowick Crackle Lamp features:
cylinder style glass in red and gold
4 ½" H x 3 1/8" dia.
accommodates HD26, HD17, or HD12 fuel cell

This Hollowick Liquid Tealight Disposable FuelCell features:
constructed of clear plastic
disposable fuel cell
180 in a case, 13/16" H x 1 ½" in dia.
provides 8 hours of continuous light