Got Shade? Tuuci Makes a Splash at KaTom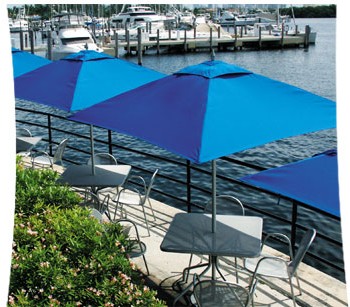 Picture this: Potential guests are scouting for the best place to eat and have a few drinks. They see your competition across the way but also eye your restaurant's beautiful outdoor dining area, complete with premier umbrellas. Now answer this question for me: Would you rather sit out in the hot sun or relax with a cold beverage under a shady umbrella? The umbrella wins, hands down. Your guests want to soak in the sun, sure, but they don't want to be roasted by it.
If you have an outdoor area or a pool, umbrellas are a must. Don't just choose any umbrella, though. You want to make sure you're buying a product that is able to brave the elements! That's where the premier umbrella line, Tuuci, comes into play.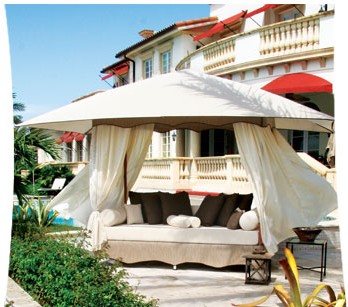 No one quite makes high quality, commercial umbrellas like Tuuci does! Tuuci uses only the most durable fabics in the production of their eye catching umbrellas so you can rest assure your umbrellas will last. Tuuci umbrellas also come in a seriously large variety of colors! Feel free to make a statement with bright red umbrellas or set the mood with cool, calming "Seville Seaside" patterned umbrellas that are reminiscent of a beach vacation.
Tuuci umbrellas aren't just beautiful, they're also very easy to clean and maintain. There is no need to remove the umbrella from its shade structure either! Simply brush off any loose dirt, hose the umbrella down with lukewarm water and wash it with a mild, natural soap. Allow the umbrella to air dry and it will look as good as new!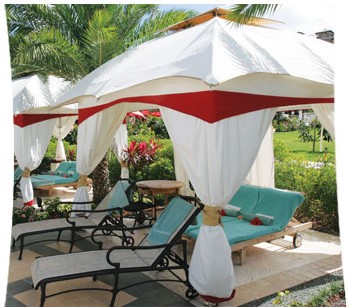 Tuuci doesn't stop with umbrellas though! Along with making some of the best umbrellas on the market, Tuuci also offers an equally appealing line of outdoor pavilions, lounges, canopies, and hammocks that are an ideal choice for resorts, pools, spas, and more!
If you are interested in any of these attractive Tuuci products, have no fear! KaTom Restaurant Supply's customer service can provide you with all of the information you need to make the best purchase for your business! Feel free to call our customer service line at 1-800-541-8683 for more about Tuuci's line of premier umbrellas, pavilions, canopies, lounges, and hammocks!