Get Colorful With New KitchenAid Colors: Espresso & Crystal Blue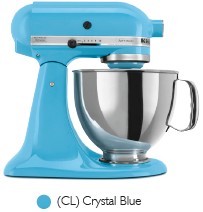 "Colors are the smiles of nature." – Leigh Hunt
Color effects us in so many ways, from the way we think to the way we eat! What would life be like without color? It would certainly be a lot more boring if you ask us.
Here at KaTom, we're all for customizing your kitchen to the fullest, after all, we know that color can mean the difference between a completed or uncompleted kitchen. That's why we're excited to announce the newest color options for your KitchenAid appliances. They're soothing and are sure to make your kitchen pop:
Eye catching Crystal Blue and warm, inviting Espresso!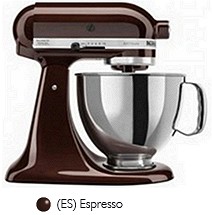 KitchenAid has made the Crystal Blue color available as part of their Catalina Collection. The Catalina Collection includes stand mixers, hand blenders, food choppers, hand mixers, and blenders in new colors Majestic Yellow, Green Apple, Tangerine, and Crystal Blue. Talk about a tropical feeling selection! Any of these eye catching pieces are sure to make a great kitchen design statement.
KitchenAid has also introduced new colors for their Pro 600 bowl lift stand mixer. The Pro 600 bowl stand mixer is a heavy duty mixer with the capability of mixing enough dough for 13 dozen cookies in one bowl but previously only came in White, Empire Red, Licorice, Onyx Black, and Pearl Metallic. These colors are all fantastic but now you can purchase a KitchenAid Pro 600 bowl stand mixer in exciting Gloss Cinnamon, Espresso, Green Apple, Majestic Yellow, Tangerine, Cobalt Blue, and Komen Pink!
Color your world; choose KitchenAid for the hottest appliance colors!