Frozen Yogurt Got You Excited? Server Has What You Need!
It seems that Yogurt Mountain isn't the only one to be jumping on the frozen yogurt bandwagon. Did you know that over 13 billion dollars of frozen desserts like frozen yogurt are sold a year? Me neither! With awesome new flavors and toppings being introduced to this frigid, sweet world of frozen yogurt you can see why everyone wants to take part in this growing trend.
That's why I figured it would be a great idea to introduce you to some of the best equipment you could use in a frozen yogurt store: Server dry dispensers insulated mini bars, topping stations, and hot topping warmers (c'mon, how can you do it without HOT fudge?).
My previous experience with warmers (I used to work in at an ice cream shop/drive in) was that they either get too cold or hot, making it super hard to accurately dispense toppings without them being clumpy or burnt. Ours was fairly prone to breaking and it's heat control consisted of a "mystery knob that not only lacked temperatures but didn't explain at all which side was on or off. Add a bunch of high school students without food equipment experience and you had a bit of confusion.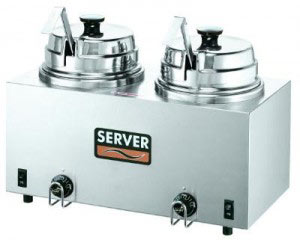 Thankfully, Server has a fantastic double warmer that is perfect for serving up both hot caramel and rich fudge. This features adjustable thermostats for accurate heat control, a lot better than the warmer I had to work with. Since you won't be burning the toppings you'll save money in food costs. Thanks Server!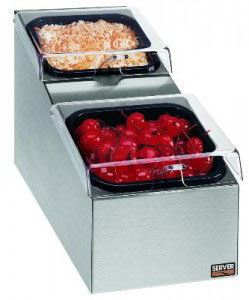 Frozen yogurt's main trend is the use of toppings for a custom experience. Server manufactures a pretty "sweet topping station that features clear lids for easy topping viewing. Not to mention that they're insulated with a polyurethane insulation that helps to prevent condensation!If the isn't your cup of tea they also have an awesome mini bar. This is able to hold 6 inch deep lidded jars (1/9 size). Considering most topping pans tend to be 4 inches deep this and its 6 inch deep jars allow you fill toppings up less often, making for saved time! Just in case server also makes 4 inch deep lidded jars for those frozen yogurt toppings that aren't used very often.
With so many innovative products and attention being shown in the frozen yogurt world it would be a little nuts not to take advantage of this trend. After all, summer is coming up pretty quick. We ALL know how sales are going to jump when the kids are out of school and temperatures are looming towards the upper 90's!
-
Heather ;)
Frozen Yogurt photo courtesy of Yogurt Mountain