Free Shipping on Gold Medal 1203 Shav-A-Doo Machines!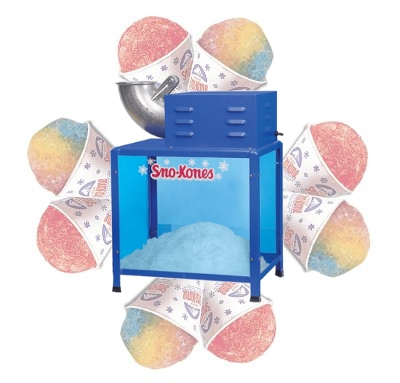 Rack up the profits this hot summer season with a cool treat for your guests. Imagine how the concession customers will line up when you begin serving fresh and fruity snow cones using your 1203 Gold Medal Shav-A-Doo ice shaver from KaTom Restaurant Supply!
The Shav-A-Doo ice shaver is sure to be a power house of profit for your concession stand with the ability to shave up to 300 lbs. of product per hour. If you aren't sold on the high profit aspect of this great machine, let's take a moment to do the math:
300 lbs. of product can make roughly 780 (6 oz) cones. If you sold each cone at a very low price of $1, you have the potential to make as much as $780 with JUST ONE HOUR OF PRODUCTION. Quite literally, the Gold Medal1203 Shav-A-Doo ice shaver can pay for itself with one busy day of use.
Now you can save to shave even more with KaTom Restaurant Supply's special on the 1203 Shav-A-Doo ice shaver. The Shav-A-Doo ice shaver will feature free shipping until August 30th, making it a steal of a deal for your concession stand. Don't forget to pair your machine purchase with delicious snow cone flavorings like blue raspberry syrup, tropical pina colada syrup, bubble gum, and more!