Don't sleep through the Cyber Monday promo!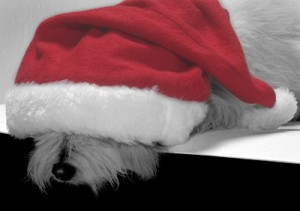 Keep an eye on your e-mail for word of our Cyber Monday Secret Savings promotion that could net you $10-50 off your kitchen cookware purchase Monday, Nov. 26!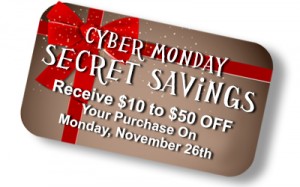 Got a lot of home chefs on your Christmas list this year? Good thing for you KaTom is offering a Cyber Monday promo that could mean big savings on great kitchen cookware throughout our site!
Here's how you can be part of our Cyber Monday Secret Savings promo:
Step 1 - Join the KaTom club by submitting your e-mail address in the blank on the bottom of our home page. Not only does that get your foot in the door for great Cyber Monday deals, it also gives you an all-access pass to the best kitchen cookware innovations, regular updates on new KaTom promos, and other helpful information throughout the year. You can also get your share of the savings by visiting us socially through Facebook, Google+, Pinterest, and Twitter
Step 2 - Click on the Cyber Monday Secret Savings promo link either in your e-mail, which will go out early Nov. 26, or on one of our social media pages. That will immediately direct you to our website, where you'll see a banner pop up at the bottom of the screen showing your Cyber Monday savings on kitchen cookware. We're giving away presents starting at $10 and going all the way up to $50, with a randomly-generated discount for every click in.
Step 3 - Shop one of the largest online warehouses of great kitchen cookware, loading your cart with great gifts for every home chef, all while you relish the knowledge your Cyber Monday Secret Savings discount will be applied when you go to check out.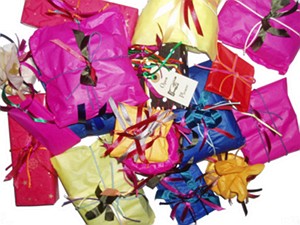 Step 4 - Celebrate your amazing Cyber Monday deals with a little Cyber Monday Secret Savings promo dance. Now you just wait for your kitchen cookware gifts, for you and others, to be delivered. Your part is done! Well, except for the wrapping.
Sounds great, right? So sign up or get social with us. Actually, just go ahead and do both!
Some details you should know about the Cyber Monday Secret Savings promo:
* You have to use your promo discount by 11:59 p.m. EST on Nov. 26 or it disappears like pumpkin pie on Thanksgiving.
* You have to use your Cyber Monday Secret Savings all in one cart. Got $10? Don't just buy a $1.50 spoodle - you're throwing away money! Got $50? Load up the cart, because you've got some money to spend. Use it or lose it.
* The promo amount cannot be applied to the shipping costs or taxes. Sorry, UPS and USA both have to get their portions.
Skip Black Friday; Get in on Cyber Monday
So don't fight the Black Friday crowds to get the perfect kitchen cookware gifts. Sit on your couch or you can even stay in bed as you join KaTom for the best Cyber Monday deals ever! With this good a promo, Santa might even give the elves a day off from tinkering together all those KitchenAid mixers and forging a million Lodge cast iron frying pans.
And from all of us at KaTom,
we wish you a very merry Christmas!