Commercial Ice Machine Buyer's Guide
Commercial ice makers are used in the food service industry by a myriad of businesses and organization such as bars, nightclubs, convenience stores, concession stands, restaurants, and hospitals, just to name a few. The main function of an ice machine is to produce ice for both consumption and preservation of other products. Depending on the style and brand of ice machine purchased, the number of sections will vary. After reading this guide, carefully consider all the elements of your business needs, and then visit the KaTom Ice Makers webpage to purchase the perfect commercial ice maker for your operation.
Preconfigured Ice Machines, Separated Ice Machine Heads & Bins, and Compact Ice Machines
At KaTom, we offer three different varieties of ice machines: the preconfigured design where the head and bin are combined and sold together as a single unit, the separated ice machine where the head and bin are sold as separate units, and compact ice machines, which are smaller complete units such as undercounter and countertop units.

Preconfigured ice makers, head and bin combinations, are our best selling ice machines; however if you have a specific sizing need that cannot be met with our preconfigured options, you can self-configure your own head and bin separately or contact our knowledgeable customer service representatives to help you with your choice. The head units range in production from 200 lbs per day to well over 2000 lbs per day, bin capacities range from 150 lbs up to nearly 1900 lbs, and nearly any combination can be arranged to compliment your particular needs.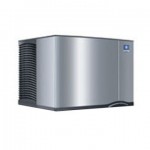 Head only units are generally a replacement option for an existing machine when the holding bin is still in good condition. The head of the unit will wear out more quickly than the bin because of the function of ice production and need to be replaced more frequently.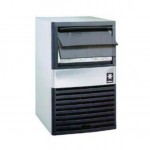 The compact undercounter ice machine is an excellent choice if your operation needs a small, but reliable machine. We offer undercounter units that are ideal for both home and commercial applications.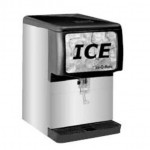 Vending ice dispensers
do not create ice; however these units are an excellent choice when your business requires ice to be readily available to customers in a self-serve setting such as motels / hotels. Some varieties of vending ice machines even allow your customers to dispense water as well and can be specially configured to use a room-key or tokens to operate.
Ice Styles
There are five basic types of ice styles, each of which is made by a specific ice machine. These five styles are: cube, half-cube, crescent, flake, and nugget. The choice of ice style is dependent on your individual preference and application.

The cube style ice is one of the most popular types of ice makers. This ice looks elegant in cocktails, and works well in any drink. This type of ice minimizes foaming in your drink and keeps your beverage cool longer. This is a large cube style with dimensions of 7/8" x 7/8" x 7/8".
The half-cube style ice is another of the most popular type of ice maker. This ice machine produces smaller cubes with the same features as a cube style machine. This works in any drink to minimize foam and cool your drink. The size of the half-cube varies slightly depending on the manufacturer, but typically remains in the range of 7/8" x 7/8" x 3/8".

Crescent style ice has a unique shape that allows each piece to fit neatly with another. This distinct shape allows liquid to flow more easily between the cubes and have excellent displacement, which will increase profits for your business.
Flake style ice is excellent for use in displays and salad bars because this type of ice conveniently molds to any shape. This type of ice is not typically used in drinks, but does cool more quickly than other ice forms, creating lower production costs.
Nugget style ice, often referred to as "Sonic ice" or "chewable ice", is typically used for carbonated beverages, salad bars, and other types of iced displays. This type of ice does tend to melt more quickly than cubed ice but will require 50% less beverage to fill the same size glass, creating profit for your business. Dimensions of nugget style ice are approximately 3/10" x 3/10" x ½".
Preconfigured, separated, and the countertop style ice machines come in all five varieties of ice styles, allowing you to choose the best option for your business needs. The smaller, undercounter ice machine comes in either the cube or half-cube style, but are excellent choices for commercial or home use.
Air, Water, or Remote-Condensed Cooling
With commercial ice makers, you have the choice of air-cooled, water-cooled, or remote condensed cooling. Air-cooled ice makers are more cost efficient because air flow is used to cool the intercooler units and are quieter than water-cooled units. 99% of all ice machine sales are air-cooled due to the cost of running a water cooled ice maker.
Water-cooled ice machines are used generally in smaller areas where air flow is not prevalent. Water-cooled units increase the cost of your utility bill by using running water to cool the intercooler area. Unless your situation demands a water-cooled ice maker, you will find an air-cooled unit more economical to operate.
Remote-condensed cooling units are useful when your business requires the fan motor to be located away from the machine. Remote-condensers are environmentally friendly and energy efficient by reducing the AC costs for your business. The motor can be placed anywhere away from your ice machine. For example, if your kitchen stays warm or the weather in your area is typically cold, you could place the motor outside to reduce the amount of work and energy needed to produce ice.
How Do Ice Machines Work?
Ice machines produce ice by using a pump to pour water intro a refrigerated ice tray. When the water freezes, the ice is loosened by a heating coil so the cubes can be moved into a collection bin. Depending on the cube style of your machine, this ice will either be formed into cubes, half cubes, crescents, flakes, or nuggets. The amount of ice in the collection bin is controlled by an automatic holding switch, to ensure that the bin does not overflow. You can manually set most ice machines to produce the exact amount of ice needed for your business.
Ice Machine Purchasing Checklist
When purchasing a new ice machine, you may want to consider the following questions before making a final decision:
How much ice does my business require and will this machine meet those needs?
Which type of ice is best for the needs of my foodservice business?
What type of cooling system would work best within my available space?
Is this product the best long-term investment for my business?
Do I need to purchase any accessories to optimize the performance of my ice machine?
What type of warranty is offered with this purchase?
Does the unit price and shipping cost stay within my budget?
Ice Maker Accessories
At KaTom, we offer numerous ice maker accessories to optimize the performance of your ice machine. When purchasing a new unit or simply needing accessories for your existing unit, these five accessories should be considered: scoop holders, ice caddies, buckets, water filters, and ice bins.
Ice Machine Brands
At KaTom, we sell only the finest, top of the line brands of ice machines, ice makers and ice holding bins. Ice-O-Matic, Scotsman, Hoshizaki, and Manitowoc brands provide quality products at affordable prices. In this section, each brand will be outlined.
The Ice-O-Matic company is located in Denver, Colorado and sits amid the grandiose Rocky Mountains. Ice-O-Matic manufactures, distributes, and supplies a variety of ice-related products including the five styles mentioned above. High-quality cubers, flakers, storage bins, dispensers, and water filters are also available. For over 50 years, Ice-O-Matic has been a leader in developing new technology, including the AgION Antimicrobial Compound in the ICE series cube icemakers. The extended water filter warranty program has resulted in products that are more efficient and environmentally friendly.
Scotsman, the world's largest manufacturer of ice systems, offers more than 300 models of ice makers, storage bins, and ice and water dispensers. Scotsman ice machines offer numerous benefits and are dedicated to providing smarter ice machines. Scotsman leads the industry in efficiency by reducing both the utility cost and water usage for your business. Scotsman has been recognized by IndustryWeek as one of the top-10 best plants in America. This company has also created AquaArmor, which utilizes AgION to inhibit microbes and have patented the WaterSense system to help ensure cleanliness of the unit.
Hoshizaki is the world's second largest manufacturer of commercial ice, with their American headquarters located in Peachtree City, Georgia and a second facility located in Griffin, Georgia. Using advanced technology, each product that leaves a Hoshizaki plant has been tested for running capability, quality, performance, ice capacity, and energy efficiency. Hoshizaki ice machines are so reliable and efficient that 46 of the top 50 U.S. Foodservice chains specially use their products.
Manitowoc brand ice machines are America's #1 best-selling product in this category. Manitowoc entered the ice business in the mid-1960's when they purchased the manufacturing rights to the Kodiak brand. State-of-the-art technology and innovation are the main reasons Manitowoc are known for their reliable and dependable ice machines. Each product developed at a Manitowoc facility are engineered and tested by a superior team of 450 experts. Manitowoc was the first to offer two and three year warranties, to offer alternate and safer refrigerants, to develop an automatic cleaning system, and to be ISO Certified. Manitowoc strives to maintain their tradition of pride, excellence, and commitment to quality.