Cleveland Range cooking equipment comes with extended warranty for school foodservice

Cleveland Range cooking equipment has always been popular in school foodservice and for good reason, with reliable products that provide efficient and consistent heating. But there's even more reason to bring these great pieces, from commercial food steamers to combi ovens, into your cafeteria in 2013: They come with extended warranty protection.
Every Cleveland Range product installed in a U.S. K-12 school cafeteria gets a two-year warranty
You read that right: Every piece of equipment from Cleveland Range ships to your school nutrition department with a free two-year warranty for parts and labor. That's coverage for every Cleveland commercial food steamer, Convotherm by Cleveland combi ovens, Cleveland steam jacketed kettles, and Cleveland braising pans and tilt skillets. This coverage is only available for installations in a school foodservice operation and only through 2013.
Of course, it wouldn't be a warranty without some exceptions, so certainly you expect some here. Aiming to both meet and exceed your expectations, Cleveland Range has provided some exceptions.
Two-year warranty not included for cooking equipment covered by three-year warranty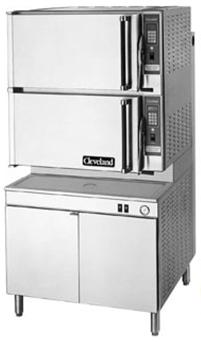 As it happens, the exception to this extended warranty offer for school foodservice operations is actually a good thing. That's because the only exceptions are for Cleveland Convotherm combination or combi ovens and commercial food steamers, which actually get a three-year warranty.
That coverage is provided when you purchase a water filter for that unit from Cleveland and there's just no reason not to. Using your combi or commercial food steamer with a good filter is likely going to extend its life by years by ensuring only good water comes in. It can also protect your food from anything that might be in your local water supply that could impact the flavor or quality of the product you're producing.
The limited three-year warranty covers all the water-related components, including the all-important boiler in commercial food steamers with one. The rest of the unit comes with two-year full parts and labor warranty.
One other exception: Some parts have a five-year warranty
But wait, there's more! All gas classic series convection steamers, pressure steamers, and ConvectionPro steamers with NickelGuard, a special protectant against rust and other corrosion, come with a five-year warranty on parts and labor for the boiler. That's 100 percent coverage for the most important part of the unit!
To get in on the deal, talk to KaTom
To get shopping for the right Cleveland commercial food steamer, Convotherm by Cleveland combi oven, Cleveland steam jacketed kettles, and Cleveland braising pans and tilt skillets for your school foodservicer operation, visit www.katom.com or contact us at sales@katom.com. We can even offer units under our long-standing GSA contract.
For more information about this great warranty deal on Cleveland cooking equipment for school foodservice, please contact us at 800.541.8683 or info@katom.com.