KaTom delivers automatic discounts on last day to ship for Christmas

Have you ever wished Cyber Monday came more than once a year? Do you have a long list of home chefs on your Christmas list with visions of sugar canisters dancing in their heads, but you've waited until the last minute to buy for them? Would you just like savings of $10-50 automatically on more than 150,000 kitchen cookware items?If you answered yes to any of these questions, we've got some good news: KaTom is reviving its wildly popular Cyber Monday Secret Savings promo for one more day. As it happens, it's Dec. 17, the last day to order with shipping options other than two-day or next-day air. And it means you WILL get savings of $10-50 off your entire kitchen cookware purchase automatically that day!
Here's how it works: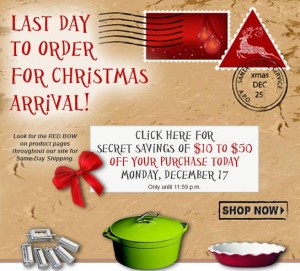 1. Use the special link for our Last Day to Ship for Christmas Secret Savings promo. That link will be sent out to our e-mail list (if you're not on the list, sign up at the bottom of our homepage for regular updates on kitchen cookware innovations and savings like this). The graphic to the right gives you an idea of what the secret savings promo e-mail will look like, but don't bother clicking on it - the link won't be live until Monday. The link will also be posted on our Facebook page and our Twitter feed.2. When you click into the link, it will open our site and a banner will pop up at the bottom telling you what your Last Day to Ship for Christmas Secret Savings promo discount will be, ranging from $10-50.3. Simply do your shopping, then place your order. Your savings will automatically be applied to your order at check-out.
And that's it! UPS says its orders typically take 3-5 days to reach their destinations with normal ground shipping, though they warn that may take a little longer during the busy holiday season. If you're a long way from our KaTom headquarters in East Tennessee or it's difficult to get to your area (for instance, if you live in an Alaskan village only reachable by dog sled) or if you just want to be absolutely certain your last-minute kitchen cookware gifts make it in time for Christmas, you may want to consider expedited shipping.
Now for the not-so-fine fine print.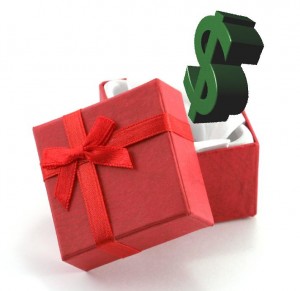 • You only get one chance to spend your Last Day to Ship for Christmas Secret Savings, so spend it well. The discount can only be used in a single order and only when you first click into it - there's no going back, so be ready. Any remainder is shipped off to the island of misfit toys and unwanted savings.• The Last Day to Ship for Christmas Secret Savings link will only work on Dec. 17, so don't get distracted by e-mail forwards or cute Facebook pictures and forget to click into it.• Even if your entire order is free thanks to your savings, you'll still get the bill for taxes and shipping. They won't let us skip out on either of those, unfortunately.
So there it is. If you missed the first secret savings promo on Cyber Monday or you just can't get enough of the best kitchen cookware Christmas gifts, we've got your second chance for amazing deals just in time to ship for Christmas.