New Carlisle cart is a handy new entry to insulated pan carrier category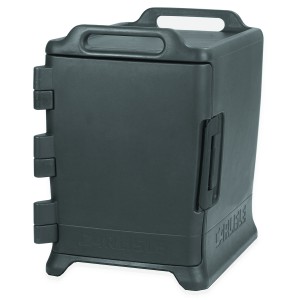 Anyone in foodservice who has to move their products around while keeping hot food hot and keeping cold food cold knows there is a wide range of insulated pan carriers up to the task, including many from Carlisle. The company's new entry to the category, the MY400 mobile hot and cold food holding cabinet, brings some advancements that make it easy to use and thick foam insulation that provides impressive temperature retention.
What is the MY400 insulated pan carrier?
The MY400 insulated pan carrier is an end-load unit that can fit up to six 2.5-inch deep, full-size food pans. Its door removes easily to allow for easier cleaning, while a built-in seal eliminates the need for a gasket, which means this piece of catering equipment doesn't provide unnecessary homes for germs and bacteria. Further improving this food holding cabinet's NSF-listed ability to prevent growth of those harmful elements, the compartment of the MY400 has rounded corners, meaning spilled food and grease are easily removed.
Making it a mobile food holding cabinet with the MY410 dolly for end loader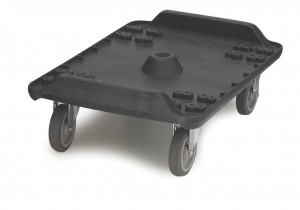 The MY400 insulated pan carrier is designed for a perfect fit on Carlisle's MY410 dolly for end loader and is stackable, meaning multiple units can be used easily at the same time for caterers with a big job ahead. The MY400 is also designed to fit onto the dolly like a child's building block, meaning it can be easily removed or can be affixed to the wheeled platform by an included bolt, improving stability. Optional casters can also be added to the unit to give it mobility without the need for the dolly.
Keeping hot food hot and keeping cold food cold
The most impressive stats for the Carlisle MY400 are found on a thermometer. The hot and cold food holding cabinet's thick foam insulation mean it's capable of holding temperatures inside steady for long periods of time. For instance, it can keep cold food cold for hours on end, with tests showing a product that starts at 32.9 degrees F when it goes into the insulated pan carrier will only reach 33.3 degrees after two hours, 34 degrees after four hours, 34.3 degrees after six hours, and 35.3 degrees after a full eight hours. At the other end of the thermometer, a food that starts at 200 degrees would only drop 17 after two hours, 26 after four hours, 32 after six hours and 38 after eight.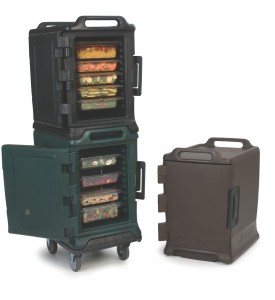 That impressive ability to retain temperature makes this mobile food holding cabinet a dream for caterers who either have to get food into a holding cabinet long before actually serving or who are facing a day-long event. That equals confidence that the product will reach the customer at temperatures that are both safe and pleasing to the palate.
The MY400 is available in three colors – black, bison, and forest green. The MY410 dolly for end loader has 5-inch casters, two fixed and two on a swivel with one brake, and is standard in black.
Want to know more about the Carlisle MY400 or MY410?
For more information about the MY400 or the MY410, please contact one of our helpful customer service representatives at 800.541.8683 or by e-mail at info@katom.com.