A Guide to Proper Table Settings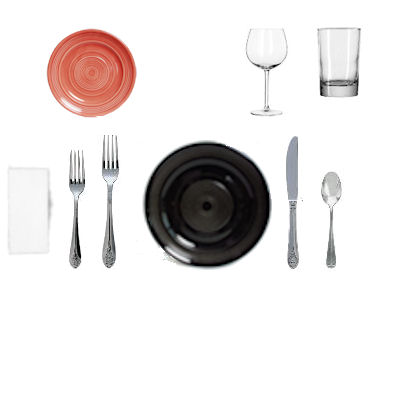 In today's busy society, properly setting a table seems to be a lost and forgotten art. An exquisite table setting can make a wonderful first impression on customers or visitors to your home. Every different type of meal requires a slightly altered version of arrangement. You will need very different flatware, dinnerware, and glassware for each occasion, from a casual breakfast on the patio to a formal dinner with business associates.
A proper table settings helps to create an ideal atmosphere for the type of meal you are hosting. The table also compliments the menu and decor of the room. For restaurant owners, properly placed settings will help to build their reputation as one of the finest and most authentic dining locations in the area.
This guide will provide the expected eating, drinking, and serving utensils for any meal, however, you may add additional items to your table to create a more unique experience. Visit our tabletop section to find all of the additional items you may need.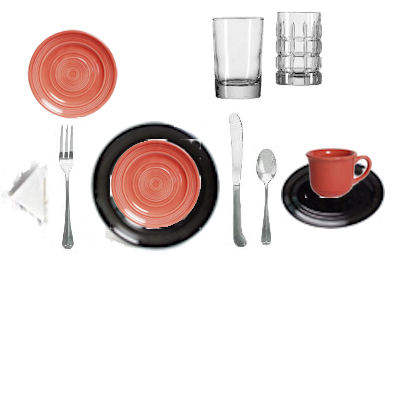 Breakfast Table Setting
Flatware: Dinner Fork, Dinner Knife, Teaspoon
Dinnerware: Two Bread & Butter Plates, One on a Dinner Plate, Cup, Saucer
Drinkware: Water Glass, Juice Glass (not shown)
Napkin: Folded on the diagonal and plated to the left of the fork, flat edge pointing inward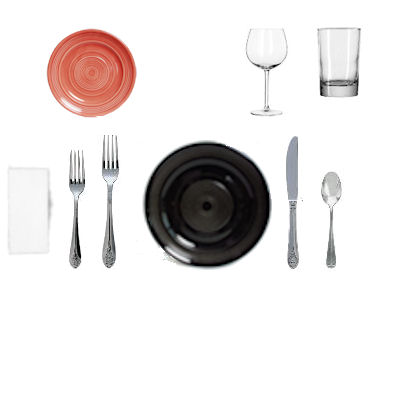 Lunch Table Setting
: Salad Fork, Dinner Fork, Dinner Knife, Teaspoon
: Bread & Butter Plate, Luncheon Plate
: Water Glass, Wine Glass
: Folded into quarters, forks placed on top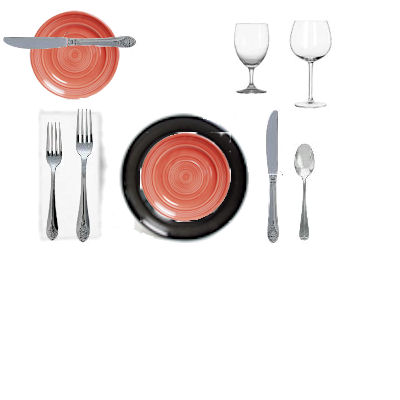 Dinner Table Setting
: Butter Knife (on Bread & Butter Plate), Salad Fork, Dinner Fork, Dinner Knife, Teaspoon
: Bread & Butter Plate, Salad Plate on Dinner Plate
: Water Goblet, Wine Glass
: Folded into quarters, forks placed on top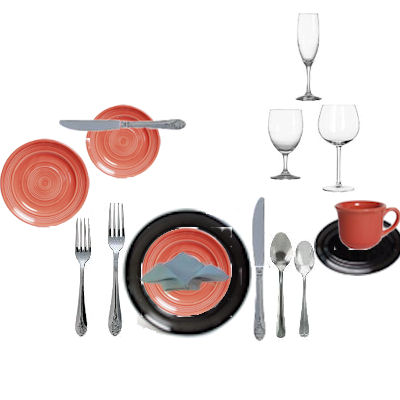 Formal Dinner Table Setting
: Butter Knife (on Bread & Butter Plate), Salad Fork, Dinner Fork, Dinner Knife, Soup Spoon, Teaspoon
: Salad Plate, Bread & Butter Plate, Salad Plate on Service Plate, Cup, & Saucer
: Water Goblet, Wine Glass, Champagne Flute (behind other two)
: Decoratively folded and placed on the salad plate that is resting on the service plate