Food Prep Tables are a Commercial Refrigeration Staple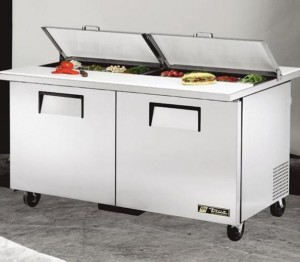 When it comes to restaurant refrigeration, the name True is synonymous with excellence, quality, and time-tested distinction. With more than 65 years of expertise, True puts their entire focus on their only product: Refrigeration. All True products are entirely American made from the shelves inside to the sleek outer stainless steel. Whether you are just opening the doors to a new restaurant or are in search of an upgrade to your well-established business, you have come to the right place.
Now, for you sub shop, pizza restaurant, deli, salad bar, and burrito cantina owners, this guide is just for you. Food preparation stations are key to your business' success and True has an abundance of food prep table options. True's product line includes dual-sided and single-sided stations, ADA compliant stations, and mega-top stations. Whatever combination or configuration you're searching for, True has a uniquely tailored unit for you.
All True food prep stations come conveniently equipped with rollback lids, polyethylene cutting boards, sturdy castors, oversized and balanced compressors, condensers, and evaporators, and a cast iron motor.
Oversized and Balanced Commercial Refrigeration Systems
True opts for an an "oversized and balanced," environmentally friendly motor to ensure that your food prep table can work in the toughest conditions and coast during the slower hours. Your True unit's motor will run at a maximum of 52 percent of the day as opposed to other products that can run in excess of 75 percent of the day. Additionally, the True motor is fully cast iron with an 18-20 year life, while some competitors use an open-winding fan motor with a projected 3-5 year life. These True units are made to last.
Find the Right True Food Prep Station
What's on the Menu?
The best place to begin is with the ingredients used every day. If you are preparing sandwiches and salads with several toppings, you may consider a unit with more space for top-side trays. Ease of access is key in producing your restaurant's products quickly. With a unit equipped with a large area for food trays, you can easily prepare a salad or sandwich with your customer's requests for a myriad of ingredients or toppings.
If this description matches your needs, you may consider a sandwich/salad unit. These units come in two varieties: The standard sandwich/ salad unit or the mega-top sandwich/salad unit. The standard comes equipped with room for two rows of trays and the mega-top comes equipped with room for three rows of trays. Each of these varieties comes with several length options ranging from 27-5/8 inches to 72-3/8 inches. That means the upper portion of the unit can come equipped with just the right amount of access to your refrigerated product. For example, the TSSU-72-12 is 72-3/8 inches in length with space for 12 upper accessible pans while the TSSU-72-18 is also 72-3/8 inches in length but has space for 18 upper accessible pans. This means that the first option is equipped with more stainless steel preparation space and the second is equipped with more upper access to refrigerated product.
For those of you in the pizza baking business, we have just the thing for you. True's pizza prep tables come equipped with an 18-inch-deep cutting board to accommodate larger food products. To accommodate for larger undercounter storage, the refrigeration system in the pizza prep tables is located entirely to the far right side, which means you have more cold storage space in the base of the unit for additional pans of toppings. These units come in a variety of lengths ranging from 44-1/2 inches in length to 119-1/4 inches in length and can be ordered with drawers or cabinets underneath. If you're in the pizza business, you can't go wrong with one of these True units built just for you.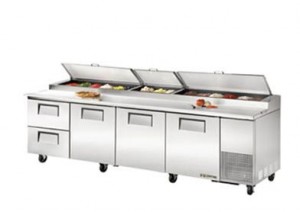 We suggest that you look at your ingredient list and graph out a map of how all your ingredients will fit into your True Food Prep Table before you decide which unit will be best for you. With all the options, you are sure to find just the right unit for your needs.
How much space is in your kitchen?
Once you have decided how many ingredients you will need to make space for, it's time to consider the dimensions you can accommodate in your kitchen. True food prep tables range in length and depth and come in single or dual sided varieties. Single-sided units are best located against a wall on a prep line. The dual-sided units are great if your restaurant has an open area that allows accessibility to both sides of the prep station. Just think, with the dual-sided sandwich/salad unit, you can double your output during a busy shift.
Other Considerations in Choosing a Sandwich / Salad Unit:
*True Food Prep Tables are available in ADA-compliant dimensions. The sandwich/salad units and mega-top sandwich/salad units can be ordered with 4-inch castors bringing the units total height dimension to 34 inches.


*If you will be using your food preparation station for frequent cutting, you may consider the wooden composite cutting board. This cutting board helps to keep the blade on your cutting utensils sharper longer, though it also requires more effort in cleaning since wood cutting boards can't be put in the dishwasher and can absorb liquids that might contain bacteria from foods like raw meats.


*True food prep tables can be ordered with the standard rollback lids or you may consider the flat lid option for a low-profile look. Additionally, you may consider a Plexiglas cover if you want your refrigerated products to be visible when the lid is closed.


*Not sure if drawers or cabinets are best for you? If you have chosen the standard sandwich/salad prep unit or the pizza prep table, you may opt to replace a few or all of your cabinets with drawers. The drawers may be handy if you need accessibility to a specific product frequently or feel it just may suit your specific food product better. The sandwich/salad prep table drawers can accommodate a single 12-inch W x 20-inch L x 8-inch D pan per drawer and the pizza prep table drawers can accommodate up to two 12-inch W x 20-inch L x 8-inch D pans.


*True food prep tables accommodate a variety of pan sizes to suit the exact combination you need. True also offers three different widths of pan spacers to accommodate the variations in plastic and stainless pan manufacturers' different dimensions. The True spacers allow you to design almost any pan configuration.
Check out our Wide Selection of True Food Prep Tables
True commercial refrigerators are certainly made with you in mind and for nearly any situation. For more information on these True products or any others, please contact a KaTom customer service representative at 1-800-541-8683 or by e-mail at info@katom.com