Table Covers Buyers' Guide

If you're in charge of equipping a conference hall or a similar event venue, you know that attractive table coverings are a must. Nothing can unify the appearance of a dining room like thoughtfully coordinated tablecloths and skirts. Unless you're looking for an exact replacement for existing pieces, finding coverings that work with your tables can be a daunting task. This guide will help make the process of dressing up your tables a little easier.
Choose Your Table Cover Style
You have many table cover styles to choose from, ranging from traditional to contemporary. You'll first want to decide whether you prefer the classic look of pleated table skirting, the contemporary appeal of contoured covers, or a good balance of the two with a fitted cover. Beyond appearance, a number of other factors will go into the decision, including the labor requirements of setting up and caring for your coverings of choice. Here we'll run through the four most popular options and list some of the advantages and disadvantages of each.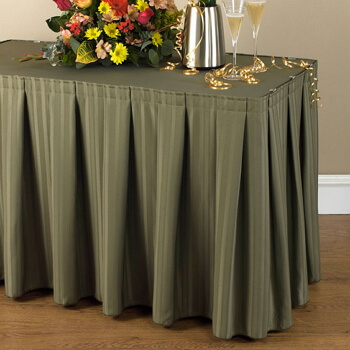 Table Skirts
Advantages:
Upscale appearance
Long lasting
Wide range of styles and colors to choose from
Disadvantages:
Labor-intensive setup and storage
May require an additional tablecloth or topper to achieve your desired look
A traditional table skirt attaches to the edge of a table and hangs straight down to the floor to create an upscale presentation. Table skirts are typically coordinated to match or to complement separate tablecloths or overlays. Attaching a table skirt is a time-consuming process that involves pins, clips, or Velcro. When they're not being used, your table skirts should be stored on specialized hangers that are designed to protect them from damage and wrinkles.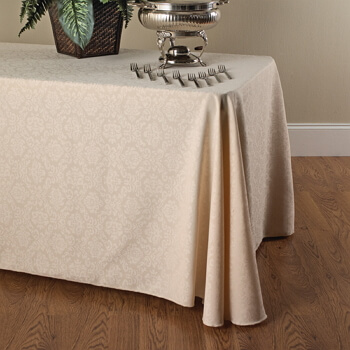 Throw Covers
Advantages:
One-piece solution
Affordable
Quick, easy setup
Simple cleaning
Disadvantages:
Less-formal aesthetic
Not as securely attached as table skirts
Throw covers are affordable and easy to set up, and they're available in many of the same fabrics and colors as traditional table skirting. If you're going for a slightly less formal but still professional aesthetic, and you need a solution that can be set up and broken down quickly, a throw cover may be the solution you need.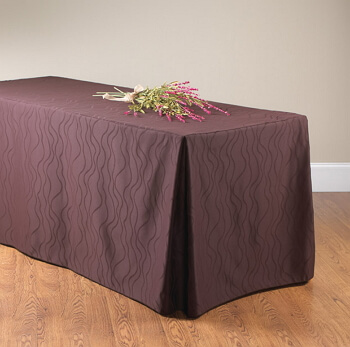 Fitted sets
Advantages:
Quick, easy setup
Modern, neat appearance
Disadvantages:
Not as securely attached as skirts
A fitted set is a hybrid between throw covers and table skirts. This cover forms clean lines around table edges to provide a more trim appearance than the prior and an easier setup than the latter, resulting in lower labor costs.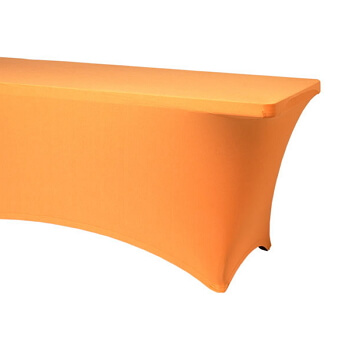 Contour Table Covers
Advantages:
Sleek, contemporary appearance
Easy to store and care for
Economical
Disadvantages
Not as durable as thicker fabrics
Some contour fabrics are not flame retardant
The simplest, most budget-minded table cover solution is a contour cover. These textiles hug tables tightly to create a modern appearance that may provide just the aesthetic you need for a less-formal but still upscale event. Like the fitted sets, these covers are quick and easy to set up.
Contour table covers are available in versions at rock-bottom prices, but you'll find high-quality pieces, as well. This type of table cover is easy to maintain. They fit snugly so wrinkling is rarely a problem.
Sizing Your Table Cover
Once you've chosen the style of table cover you think will work best, you'll need to figure out how to choose the right sizes to fit your tables. Each type comes with its own sizing considerations, so we'll go over them separately.
Sizing Your Table Skirting
To size your table skirting, simply measure the distance around the perimeter of each table you want to cover. The most popular lengths are 13, 17.5, and 21.5 feet, but you can place a special order for any length you need. Standard table skirts have a vertical height of 29 inches so they hang to 1 inch off the ground when attached to 30-inch high tables. If you need to outfit tables of a different height, you'll need to place a special order. The following images will show you several of the most popular table sizes and the skirt lengths that will fit them.
Sizing Your Contour Cover
To get a correctly sized contour cover for your square and rectangular tables, measure the distance between the table legs on the short side and the long side. These are the two dimensions you'll see listed when you shop for contour covers.
If you're measuring for a cocktail table, measure the same two dimensions. If the table has a pedestal base, note how many feet it has and be sure to order a cover that fits a table with that many feet.
Sizing Your Throw Cover or Fitted Set
Most pre-fabricated throw covers and fitted sets are designed to fit 30-inch-wide tables and provide a 30-inch drop to the floor. If the table you're covering conforms to those two specs, simply measure the length of its long side to determine which fitted set or cover to order. If you need a cover made to a custom width or height, call customer service to place a special order.