Stoelting Buyers' Guide

Stoelting, a member of Vollrath's family of brands, specializes in countertop soft serve and frozen beverage machines. Whether you're opening an ice cream shop or just want to add a handful of sweet treats to the menu, Stoelting's equipment lineup likely includes a model that can help you reach your goals.
Stoelting Soft Serve Machines
A Stoelting soft serve machine is a great option for frozen yogurt and ice cream shop operators. The machine's clear doors give customers a glimpse of the product as it's circulated through the freezing cylinder, and tamper-proof controls prevent guests from changing the settings.
Operators can adjust the speed at which the machine dispenses product, dialing in the proper setting for what's being served and the quantity it's served in. Self-closing spigots cut back on waste and make the machine easy to operate. Stoelting machines can be quickly disassembled, cleaned, and put back together so downtime is kept short and employees are able to focus on other tasks.
Stoelting gravity-fed soft serve machines are built with scroll compressors known for their quality and dependability. Each machine's auger blades are made of durable Delrin food-grade plastic so the equipment operates quietly. Those blades rotate and continuously fold the freezing cylinder's contents to deliver a smooth, consistent product.
Many Stoelting models utilize IntelliTec digital controls that make the equipment reliable and easy to operate, all while helping maintain a consistent product. A lighted display communicates critical diagnostic information to alert the user that it's time for maintenance. The interface also provides digital control over the refrigeration system so operators and technicians can change product consistency and ensure the machine operates efficiently.
Some Stoelting soft serve machines are available with the ConnectI2U monitoring system that connects the machine to the internet via WiFi and allows operators to monitor performance and status online. This system can be configured to send customized email notifications containing the machine's status and diagnostic information.
Stoelting Soft Serve Machines Comparison
| | | | | | |
| --- | --- | --- | --- | --- | --- |
| | | | | | |
| | E111 | F111 | O111 | E131 | F131 |
| No. Flavors | 1 | 1 | 1 | 2 | 2 |
| Freezing Cylinder Capacity | 0.5 gal. | 0.85 gal. | 1 gal. | 0.65 gal. (x2) | 0.85 gal. (x2) |
| Hopper Capacity | 3 gal. | 3 gal. | 6.5 gal. | 3 gal. (x2) | 3 gal. (x2) |
| Controls | IntelliTec | IntelliTec | IntelliTec | IntelliTec | IntelliTec |
Shake & Frozen Beverage Freezers
If it's frozen beverages, shakes, smoothies, or frozen cocktails you want to serve, choose a Stoelting shake and frozen beverage freezer. Like the soft serve machines discussed above, each of these drink machines comes in a compact countertop size. Choose from single- and dual-flavor models with freezing cylinder capacities as large as 2 gallons.
Many of Stoelting's frozen beverage machines are built with the IntelliTec controls we discussed above. Others offer simple manual controls to toggle between "On," "Off," and "Clean" modes. Unlike Stoelting's soft serve machines, these beverage machines are not equipped for self-serve operations. On-demand defrost systems and heavy-duty steel augers keep your product at a smooth, thick consistency.
Stoelting Shake & Frozen Beverage Machines Comparison
| | | | |
| --- | --- | --- | --- |
| | | | |
| | E112 | F112 | F122 |
| No. Flavors | 1 | 1 | 2 |
| Freezing Cylinder Capacity | 1.25 gal. | 2.125 gal. | 2.125 gal. (x2) |
| Hopper Capacity | 3.63 gal. | 5.375 gal. | 3 gal. (x2) |
| Controls | Electronic | Electronic | IntelliTec |
Stoelting Specialty Equipment
Whether you need a batch freezer for making premium treats like gelato and sorbet or a combination soft serve and shake dispenser, Stoelting offers these to help you achieve your culinary and business goals.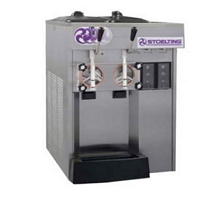 F144 Combo Soft Serve & Shake Dispenser
The Stoelting F144 Combo Soft Serve machine is for operators who want to offer both soft-serve and milkshakes in small to medium quantities. This heavy-duty unit is built with two 12,000 BTU compressors to chill each product in a separate 0.85-gallon cylinder from a 3-gallon hopper. The machine dispenses creamy soft serve from the left side and thick milkshakes from the right. Self-sharpening, nonmetallic augers in each freezing cylinder blend and aerate the product to a uniform consistency and prevent the formation of large ice crystals. The unit can be fitted with a machine-mounted spindle mixer to blend mix-ins into thick shakes after they're dispensed.
Product Features:
Dispenses both soft serve and shakes from two separate valves
Two 0.85-gallon freezing cylinders freeze each product to its ideal consistency
Product is fed into freezing cylinders from two 3-gallon hoppers
Shake side can be fitted with a heavy-duty blender to handle mix-ins
Digital IntelliTec controls make for easy operation and diagnostics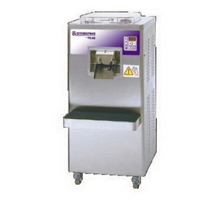 VB25 Batch Freezer
The Stoelting VB25 batch freezer features a large, vertical freezing chamber that promotes quick feezing to prevent the formation of large ice crystals so your frozen treats come out smooth and creamy. This machine can produce 25 quarts of ice cream per hour and as much as 30 quarts of slush an hour. A large plastic cover lets the user monitor the product's progress and add mix-ins and flavorings. The machine's beater is designed to incorporate those additions evenly into the product, and that beater and the other freezing cylinder components can be removed easily and cleaned quickly between batches.
Product Features:
Makes a 25-quart batch of ice cream in an hour
Makes a 30-quart batch of slush in an hour
Large, vertical freezing cylinder freezes product quickly and consistently
Beater and other foodzone components are easy to remove and clean
Clear acrylic cover lets you keep an eye on product consistency and gives access to add mix-ins
Simple controls with easy to understand symbols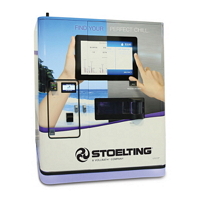 AutoVend
The AutoVend is Stoelting's solution to high labor costs and customer demand for quick, on-the-go treats. This fully automated soft serve vending machine allows customers to customize their orders, pay for them, and pick up their orders all from an easy-to-use interface. The machine freezes and dispenses two flavors of ice cream and can dispense four toppings. Customers can choose to pay with cash, credit or debit cards, or a mobile technology like Apple Pay®.
Product Features:
Three portion sizes can be set by the operator
Dispenses four toppings
Dispenses spoon along with product
Dispenses two flavors individually or twisted together
Customers can pay with cash, credit cards, debit cards, and mobile payment technologies
Purchase includes technician setup and operator training
Accessories
52101 + 521005 Drink Blenders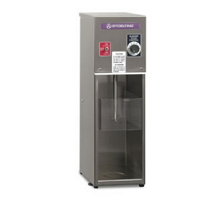 If you want to sell milkshakes and other frozen treats with mix-ins such as candy and cookie pieces, you'll likely want to pair your Stoelting machine with a spindle drink blender. Each model offered by Stoelting is built with a powerful 3⁄4-horsepower motor and features a variable speed control to provide a maximum of 3000 RPMs of power. Model 521005 includes a foot pedal with which to control the machine. Model 521019 includes a manual control knob with which the user operates it.
Stands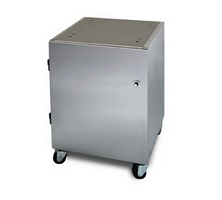 All machines except the AutoVend are built for convenient installation on a countertop, but if there's no room on your countertop to install your Stoelting machine, you can pair the equipment with a mobile or stationary equipment stand. Rugged stainless steel construction makes these appropriate for busy kitchen and customer-facing environments. Storage compartments enable the stands to also hold essential supplies.
Whipped Cream Dispenser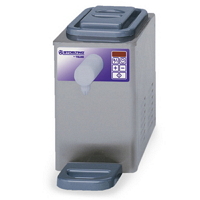 Many frozen treats are incomplete without a generous dollop of whipped cream on top, and that's why the CW5 37 whipped cream dispenser makes a perfect accessory to your soft serve or frozen beverage machine. This machine has a capacity for 1.3 gallons of liquid cream. A timed dispensing feature controls portions, while a manual setting allows the user to customize the amount dispensed. The machine's built-in refrigeration system keeps cream safe and cold around the clock.