Outdoor Menu Boards

An outdoor menu board is a great way to draw in customers in an area that has heavy pedestrian traffic. It offers you a way to advertise specials or events, and can catch the eyes of hundreds of potential customers as they walk by. Also called A-frame signs or sandwich boards, these signs allow you to communicate a message and make an impression on customers before they ever set foot in your establishment. Below are some tips to keep in mind to help get the best use out of your outdoor menu board.
Play by the Rules
Setting out a menu board may seem as simple as scribbling your nightly special, but in many locations there is much more to it. Due to concerns about signs blocking foot traffic, there may be regulations about sidewalk signs that you will need to review before purchasing a sign. You may need a permit, which could require fees before you can put a sign out. Additionally, some local laws restrict the size of signs and dictate where they can be placed. Take the time to learn your local laws so you can be sure to purchase a sidewalk board you will be allowed to use.
Board Content
When it comes time to illustrate your outdoor menu board, it is important to plan ahead and to be careful in what you choose to include. Remember that this sign will be the first impression many customers have of your business, so it must be a good one. Make sure your board is in good repair, and choose someone to write out the board who has good handwriting. When designing your menu board:
If you are using a chalkboard, it will need to be primed. Turn a piece of chalk sideways, rub it all over the board, then wipe it off. The board is now ready to use. If you skip this step, your chalk will not erase properly.
Sketch out a plan on paper before you begin drawing on the board.
Contrasting colors can make your design pop and draw the attention of people walking by, but avoid using more than three or four colors, as this can be busy and distracting.
Be sure you have the right materials to write on the board you have. A dry erase board will need dry erase markers, while chalkboard sidewalk boards will require chalk or chalk markers. If you are using chalk, dip it in water as you draw. The colors will go on dull, but will become brighter as they dry.
When you are ready to begin drawing on the board, sketch out an outline first. This can be erased once your design is complete.
Keep a spray bottle of water and a rag handy. You will inevitably make a mistake, and having these things close at hand will make erasing simple. Paper towels are not suggested, as they can leave behind lint and paper residue.
Keep your message short – people walking by are not likely to slow down just to read your sign. Depending on the business type, you may wish to incorporate wordplay or humor into the message on your sign.
If you are writing out a message rather than a list of menu items, choose a word or two in the phrase to emphasize. This can be done with bolder or larger letters, a different font, or embellishments such as arrows or lines that draw the eye to the word.
Be aware of the empty space on the board. Make sure each letter is spaced evenly, and the words you decide to use are well-balanced on the board. Empty space can be filled with embellishments such as loops, curlicues, or with images that help illustrate the message you wish to convey with the board. Borders and dividers of lines, dots, or scallops are also a great way to help fill the space on a board.
If you feel your handwriting may not be up to par, try printing out the words in the font you like and try to copy it onto the board. This can also work for swirls and embellishments. You can also try to use stencils, though it is sometimes obvious that one of these was used in the final product.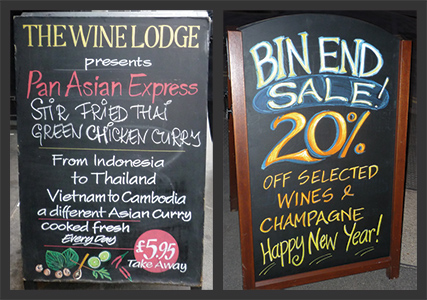 Board Branding
Your outdoor menu board is a great way to advertise and establish your brand. Even if the people walking by do not come inside to eat immediately, you can increase the visibility of your business' name and/or logo. Consider having your restaurant's name and/or logo cut into vinyl, which can be permanently affixed to the board, with your message or menu being written underneath or above it.
Your board can also help your restaurant's reach through social media. Include the restaurant's social media handle(s) on the board and consider sharing photos of the board on the social media outlets you use. If you change the board every day or two, this gives you a great opportunity to spread the word online about your specials using images, which rank higher than text posts in some sites' algorithms and can increase the reach of your posts.