Kicking the Can: Rubbermaid Brute® is one Tough Garbage Can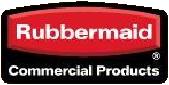 If turtles weren't born with shells, they'd live under Rubbermaid Brute trash cans. They're even available in green.
Though waste receptacles are an afterthought in many establishments and are even a secondary thing for some of the manufacturers that produce them, Rubbermaid has put its entry in the category front and center. Though most people don't want to spend much time thinking about how they handle their trash, the people at Rubbermaid recognize how important it is that someone do exactly that. That's why they took on the task of creating what may well be the world's toughest garbage can.
Step 1: Start with Professional-Grade Materials
To build a can that could stand up to most anything, they started with professional-grade plastic, a durable and flexible polymer that seems nearly indestructible. Seriously, just look at the video below of them running it over with a truck. They chose plastic instead of metal because it won't rust or corrode. And, since the color of each Rubbermaid Brute garbage can is actually part of the structure, instead of being painted on, it will never chip or peel.
Step 2: Reinforce it

Having a strong body isn't enough, though. Once they molded that durable plastic, the trash can experts at Rubbermaid realized they also needed to build that strength into the parts that get the most abuse. They started at the top and worked their way down as they reinforced every vulnerable area on the Brute.
The rim of every one of these garbage cans is reinforced with structural supports that mean it can stand up to years of being used to lift heavy loads of waste. The handles just below that are molded as part of the unit itself, so there's no chance for a seam or joint to fail as you lift or drag it around. And, speaking of dragging, the base of every Rubbermaid Brute utility trash can is double ribbed, which means it has added stability and strength for dragging.
Step 3: Give it Unlimited Uses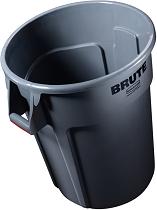 We've called these Rubbermaid Brute units garbage cans because that's what they're most-commonly used for, but it goes way beyond that. From food storage to recycling, there's a Brute for that.

Every color of Brute container is NSF Standard 21 certified, which means it meets requirements for safe storage of waste. But gray, white, and yellow models are also certified for NSF Standard 2, which means they meet strict requirements for disposal of food waste. That's particularly handy for butchers and establishments that process their own meats. It's also great for food processing factories that need the ability to safely dispose of raw items that might spread bacteria throughout their facilities if not properly contained. To aid in that, Rubbermaid makes strong, snap-on lids that are great for containment, but also make those units stable in stacking.

As an added bonus, those NSF-approved, color-coded containers can be ordered with markings including, "INEDIBLE," and, "USDA CONDEMNED." Those warnings help you meet Hazard Analysis and Critical Control Points (HACCP) requirements for safe food and waste handling.

Rubbermaid Brute containers can also be used for transporting non-potable water, carrying chum on a boat for attracting sharks, storing seeds for next year's watermelon crop, pretending you're a sewer maintenance specialist just emerging from a manhole, and countless other purposes.

If you are looking to take your Rubbermaid Brute on the move, it's even easier with a Brute dolly, which matches securely with the container to make it easy to roll even heavy loads to anywhere you might need to move them. And, a Brute caddy allows you to attach cleaning equipment like brooms, spray bottles, and paper towels to your trash can.
Step 4: Make it What the Customer Needs
Here's more evidence Rubbermaid has put more thought into designing and building its Brute trash can than is sometimes put into more complex things: It's customizable. Available sizes range from 20 gallons to a whopping 55 gallons. You can also get it in colors including black, blue, gray, green, dark green, red, white, and yellow.

But wait, there's more! You can order a Rubbermaid Brute trash can that bears the colors and logo of your favorite collegiate and professional sports team. You can even have Rubbermaid add your custom imprint to it, so your high school can put its mascot on every garbage can it orders or you can put a likeness of your nemesis on the side and laugh every time you throw trash into it. The possibilities are limitless.
Contact KaTom to Order Your Rubbermaid Brute Trash Can
To talk about customizing or any of the other wide range of options Rubbermaid Brute provides for this humble container, please contact one of our helpful customer service representatives at 1-800-541-8683 or info@katom.com.