A Home Ice Maker Guide

Whether for entertaining, stocking a cooler for a weekend getaway, or just getting the right chewable ice for the family, adding a home ice maker to your kitchen can be a great decision. From New Year's parties to Fourth of July picnics, having an ice machine can add a touch of cool to any get-together.
Just like their commercial cousins, they can crank out a steady supply of clear ice in shapes from gourmet to regular cubes to nugget ice, which many people know as Sonic ice. They do all that while using far less electricity and water than the versions you might find in your favorite restaurant's kitchen. They also produce far less noise and are designed to make an attractive addition to your kitchen, rec room, wet bar, home gym, guest house, or even patio grilling area. With the exception of the Luma Comfort IM200SS portable ice maker, all the home ice makers KaTom sells are designed for undercounter installation, which means they should fit under your standard-height counter and won't take up valuable floor space.
One of the most important things to know when considering home ice makers is whether your installation will require one with a gravity drain or a drain pump. Gravity drain systems eliminate water from melting ice by allowing it to flow naturally down into a floor drain. If your home cannot accommodate a floor drain, you'll need one of the models with a pump drain. Those use a small motor to push that water to the connection with your output water lines, even if those are above grade. If you have questions about which will work best for you, please contact KaTom at 1-800-541-8683 or info@katom.com.
To help you sort through KaTom's selection of home ice makers, we have sorted them by the type of ice they produce.
Nugget Ice Maker for Sonic Ice at Home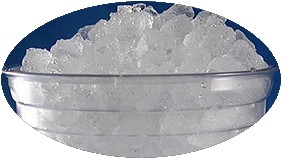 For many years Scotsman Ice Systems was the only company America's drive-in trusted to provide a Sonic ice maker to every one of its nostalgic eateries. That's in part because the company provides a nugget ice maker that produces some of the most chewable ice in the world. It's also due to the fact Scotsman was the first to produce what it now calls, "The Original Chewable Ice™." When folks went clamoring for a Sonic ice maker they could take home, Scotsman began manufacturing a home ice maker that provides its signature nugget ice.
Best ice for:
Sodas and blended drinks.
Home ice maker models:
Scotsman
Scotsman continues to rule the roost in this category, and its models are the only ones we sell that produce nugget ice for residential use. The Scotsman SCN60GA1SS and Scotsman SCN60PA1SS both produce up to 80 pounds of ice per day, with storage capacity for 26 pounds inside their stainless steel cabinets. The SCN60GA1SS has a gravity drain, while the SCN60PA1SS is equipped with a drain pump.
Find the Right Home Ice Maker for Gourmet Ice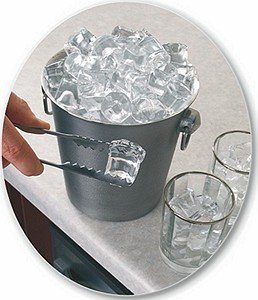 Gourmet or full cube ice makers produce large, clear pieces of solid ice. It's great for entertaining because it provides a satisfying chunk of ice for any beverage, from sodas to premium liquors. The unique shapes used by each of the companies that produce the gourmet ice makers KaTom sells also provide a high-class drink experience for guests. These cubes also provide a slow-melting cool that won't dilute drinks quickly.
Best ice for:
Cocktails, mixed drinks, and premium liquors.
Home ice maker models:
Hoshizaki
All the company's home ice makers produce up to 55 pounds of top hat-shaped gourmet ice per day and have a storage capacity of 26 pounds. They're equipped with gravity drains and the cabinets are constructed of stainless steel.
The Hoshizaki AM-50BAE and Hoshizaki AM-50BAE-AD both have a stainless steel finish, while the latter has a low-profile design that allows it to be ADA-compliant. The Hoshizaki AM-50BAE-DS and Hoshizaki AM-50BAE-ADDS ADA-compliant model can each accommodate a custom cabinet door that must be ordered separately.
Manitowoc
KaTom offers the Manitowoc SM50A home ice maker, which has control options that make use a breeze, including automatic ice making mode, delayed start, sanitizing mode, and a filter replacement alert. That Manitowoc ice machine is capable of producing up to 53 pounds of octagon-shaped gourmet ice per day and storing 25 pounds of it.
Scotsman
Because the company offers several different home ice maker models in this category, we'll cover them in a table.
Cold To Go: The Portable Ice Maker
Portable ice makers are a suitable solution for those who might not have the ability to build an undercounter home ice maker into their kitchen or outdoor space. They also provide the ability to use the same ice machine from the dining table to the poolside to the picnic site; all you need is a 115 volt outlet and potable water. If your car or boat are equipped to provide that kind of power, that means you can even take a portable ice maker to tailgating or out on the lake.
The Luma Comfort IM200SS Clear Ice Maker provides up to 28 pounds of ice every day in a footprint just 11.3-inches long by 14.8-inches wide. Simply fill the internal water reservoir, plug the unit in, and turn it on. You'll have ice in as little as 15 minutes.
Get the Right Home Ice Maker from KaTom
If you need further assistance finding the best ice machine for your kitchen or outdoor space, please contact KaTom at 1-800-541-8683 or info@katom.com.