Deck, Conveyor, & Impinger Ovens Provide Perfection in Pizza & Beyond

Restaurants have several great choices when they find themselves in the market for a pizza oven, a piece of commercial cooking equipment that goes far beyond the Italian favorite. Their uses range from heating sandwiches to baking pastas to roasting meats, though they're obviously perfectly suited for turning out delicious pies.
Deck Pizza Oven: Authentic Flavor & Visual Appeal
This is the type many people think of when they think of a traditional pizza oven. Purists may insist on a unit with a stone or masonry cooking surface and some means of generating an open flame to produce at least a portion of the cooking heat. This type is often called a hearth oven or wood-fired pizza oven, though only select modern versions actually burn wood. Most create their flames by burning gas, and some have a wood chip box to imbue the pizza with a smoky essence.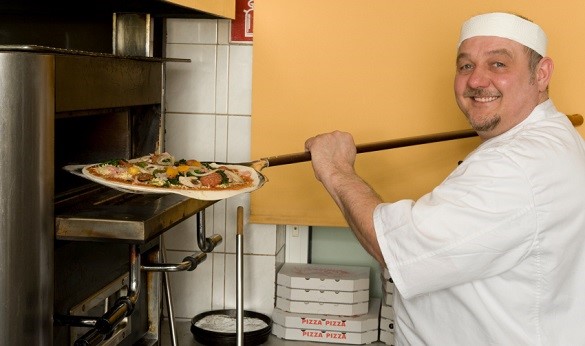 The more typical unit has a metal cooking surface that is heated from below by electric elements or gas flames. The interior of the short, rectangular cooking cabinet may also be heated from above by the same means, helping to ensure the thorough and fairly quick cooking the type is known for. Both fired and standard models are great not just for pizzas, but for a long list of other menu items, including baked pastas, fresh breads, and roasted items.
How it works:
These rely on both direct and radiant heating, with the latter doing much of the work. Using a pizza peel, items to be cooked are slid into the commercial oven and positioned in the area that will provide the right amount of heat for proper cooking. Finding that spot requires someone with some experience and knowledge about both deck ovens and the particular one he or she is working on.
The stone, masonry, or metal, onto which pizzas are often placed directly without a pan, absorbs the heat and radiates it directly to the product. The heat sources in the deck and above warm the air in the cabinet to provide indirect heating. That speeds the cooking and provides a crisp crust, which some customers prefer.
Best pizza oven for:
Pizzerias going for what people think of as an authentic pizza preparation. For true wood-firing and presentation, opt for a hearth oven.
Available heat sources:
Gas, electric, and wood (the last in hearth ovens only)
Benefits
Provide crisp crusts and authentic flavor customers expect from gourmet pizza.
Can save money and space, with a smaller footprint and prices 1/2 to 1/3 lower than other pizza ovens.
With few moving parts, they provide the quietest operation and lowest maintenance costs.
Drawbacks
Require 1 to 2 hours to preheat, while initial heating can be a two-day process for hearth ovens.
Operation requires expertise, which can mean higher payroll costs.
Along the same lines, a deck oven must be tended frequently, which reduces an employee's opportunity to multitask.
Conveyor Pizza Oven: Cut Cook Times & Boost Production
This type of commercial oven is the one you're most likely to find in a chain restaurant, thanks to quick output capabilities. While they sacrifice a bit of your ability to provide the thin, crispy crust some customers want, they provide speed and volume that a deck oven would be hard-pressed to match. They're also fantastic for deep dish pizzas and other thicker pies.
How it works:
Food is loaded onto a wire conveyor that travels through the heated cabinet at a programmed speed, emerging completely cooked on the other side. Like speed, temperature is set or programmed, ensuring consistency in the cooking process that should provide the same results time after time.
There are actually two types of pizza oven in this category. The radiant conveyor oven uses heat from the walls of the unit to cook the food moving through it. The infrared conveyor oven has ceramic elements above and below the conveyor to do the work.
Since these units pretty much do all the work, they don't require skilled cooks, nor the regular attention that deck ovens need, meaning you can save money on payroll. Like deck ovens, conveyor ovens are also great for other dishes like sandwiches and baked pastas, which means you can diversify your menu with just one piece of equipment.
Best pizza oven for:
Medium- to high-volume pizzerias, particularly those looking to diversify their menus with things like hot sandwiches and even roasted meats.
Available heat sources:
Electric, with a few gas models
Benefits
Produce pizza in greater volume faster than deck ovens typically will.
Don't require skilled workers or constant monitoring, which means you save on payroll and training.
Stackable to three high, allowing more output and for different items to be cooked at once.
Drawbacks
More difficult to change cooking time, temperature, and air flow than with a deck oven.
More expensive at purchase and have more moving parts, which are more likely to break and more costly to repair or replace.
Loses heat through openings on both sides, which heats the kitchen.
Impinger Pizza Oven: An Oven With the Heart of a Racer
Many companies that sell restaurant ovens lump impinger ovens in with conveyor ovens. Admittedly, it's easy to see why. Each relies on a conveyor to move food through a heated cabinet and both can cut cooking times significantly. However, we break the two up because there are some significant differences.
How it works:
Food is placed on a conveyor that continually moves at a pre-programmed speed through a cabinet where a set temperature is maintained. Sounds familiar, right? But the impinger is different from its commercial pizza oven kin in that the heat it produces is shot directly at and around the food by nozzles above and below the belt. That breaks up the cocoon of cold air that surrounds the food and wraps it, instead, in warmth. That helps it cook food up to four times faster than the typical conveyor oven.
Best pizza oven for:
Kitchens that need fast and high-volume output.
Available heat sources:
Gas and electric
Benefits
Cook anywhere from two to four times faster than standard conveyor ovens.
Surrounding product with hot air provides more consistent cooking.
Stackable to three high, allowing for higher output and different programs running at once.
Drawbacks
Moving air can dry foods, though that drying can contribute to faster cook times.
The air panels are fixed on most models, which means less flexibility for varied menu items.
With fans and heating motors, can be noticeably louder than other types of pizza oven.