Pizza Mixers Buyers Guide

Commercial mixers are powerful pieces of kitchen equipment that can help prep a wide range of food products. Often, their versatility is one of their greatest features, but when your restaurant has a focus on pizza, you might be better served by a unit that has been specialized to meet the needs of producing large batches of pizza crust dough. Pizza mixers, also called dough mixers and spiral mixers, are made specifically for working through thick, dense mixtures. Below, we compare two pizza mixer models to help you choose the best one for your kitchen.
Optimized Performance
The biggest difference between a standard mixer and a pizza dough mixer is that only the two lowest speeds found on standard mixers are included on pizza mixers, as the faster whipping and mixing isn't needed when all you're making is pizza dough. This results in a simpler transmission build, so the lower speeds are more reliable. First speed on these units is 56 RPM; second speed is 98 RPM on the Globe mixer and 99 RPM on the Hobart unit. As a point of comparison, a standard mixer with four speeds can reach 322 RPM.
The motors used in commercial pizza dough mixers are powerful, with plenty of torque behind the low speeds to power through thick mixes. Of the pizza mixers available, the Globe model has a 3-horsepower motor and the Hobart model offers 2.7 horsepower. Both also feature power bowl lifts, which is an absolute necessity when you're dealing with full loads of pizza dough that can weigh 90 pounds or more. To make adding ingredients easier, Hobart's mixer has a swing-out bowl, while Globe includes a bowl truck that can be used to move the bowl around as needed.
Defining Differences
The available pizza mixer models have a lot in common – they each have two set speeds, hold 60 quarts, feature a power lift, and use a gear transmission system with plenty of torque. However, they also have some unique features that may help you decide which model is best for your business.
Hobart HL662
Shift-on-the-Fly™ controls allow you to change speeds without having to pause the mixing.
Soft start technology helps prevent messes and lost product by easing into the set speed, instead of starting abruptly.
SmartTimer™ allows you to save recipes with up to 20-minute settings, and uses an automatic time recall that remembers the time settings from the last batch of product.
Single-point bowl installation makes mounting the bowl simple.
Stainless steel dough hook is dishwasher safe.
Globe SP62P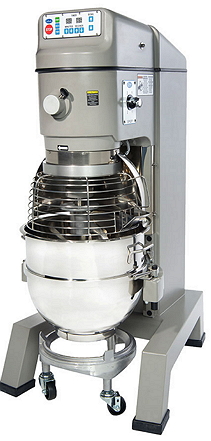 Front-mounted controls for easy access.
Bowl truck makes moving a bowl full of ingredients simple and comes standard with the Globe mixer.
Correctional package is available with tamper-resistant construction for safe operation in a correctional institution.
60-minute digital timer for long recipes with last-batch recall to make producing multiple batches easy.
Bi-directional shifting means that the shift stick can be pushed or pulled in either direction to change the speed the unit is set on.
Accessories
Just because pizza mixers are optimized for a specific use doesn't mean they lack versatility. These mixers each have a No. 12 hub on the front, meaning you can use the mixer to prep other pizza-related ingredients if you have the right attachments. Both brands offer a meat grinder attachment that can allow you to produce fresh sausage and grind beef for burgers. Another available attachment enables you to do shredding and grating to prepare different types of cheese, and a vegetable slicer can help you prep toppings.
Additional accessories from Hobart include a handled bowl truck for easy maneuvering and a splash guard to help prevent messes. Globe and Hobart both have a bowl scraper available for purchase to ensure thorough mixing and prevent product loss.