Omega Juicers 101
Juicers 101
From the Industry Standard for Juicers - Omega
By Teresa Asbury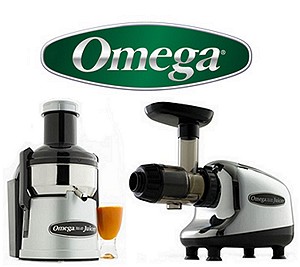 Juicers are some of the most interesting appliances that are available for the modern chef and they're also some of the most useful appliances available, helping boost profits while doing the job of several machines in one unit. Many chefs may not realize how they could use juicers to their advantage and may have never used these appliances. But adding an Omega juicer to your commercial kitchen can help you prepare healthy juice drinks with some of the best juicers on the market.
Unfortunately, not many people know about juicers or their potential profit-enhancing uses. With everyone watching their waistlines, adding a juicer to your kitchen arsenal can help you add to your bottom line. That's because people know an Omega juicer blends together all of the healthy fruits and vegetables you put into it, creating a tasty beverage that blends the nutrition of all that produce that went into the machine. As people shop around for the restaurant that offers them diet-conscious options, you'll stand out if you're offering fresh-blended juices.
In addition to being great at what their name implies, some juicers are also equipped to make butters, grind coffee, produce foods suitable for baby, and blend herbs. Among the Omega juicers offered by KaTom are models known as nutrition centers, low-speed juicers, or masticating juicers. It doesn't matter what you call them, just don't call them late for (making) dinner. Or breakfast, lunch, and snacks.
As you shop for the perfect Omega juicer for your commercial kitchen, a good first step in the selection process is deciding which feeding mechanism you prefer. With standard juicers, many fruits and vegetables have to be chopped up before they're added. That's fine for low-volume places, but having the option of avoiding that work with a wide-mouth juicer that can handle whole produce can give you even more power to boost profits with greater yield.
In the 1950's, Omega began crafting juicer product concepts. Today, Omega is the only company that offers all the styles of juicers, with each of its models easy to use, easy to clean, efficient, and built-to-last. That's an Omega juicer!
Choosing a juicer based on what foods you'll put in

Citrus
: Designed to juice citrus fruits like oranges, lemons, limes, and grapefruits. Simply hold the fruit against the juicing cones while the motorized reamer does the work. An electric citrus Omega juicer saves time over manual juicers and you can juice a large volume of fruit at once.

Centrifugal
: Designed for fruits and non-leafy vegetables. Simply drop the food into the chute. The combination of a flat cutting blade and a fast spinning strainer extracts juice from the food in these Omega juicers. The pulp is thrown to the side, while the juice passes through the strainer. Centrifugal juicers spin at about 3,500 rpm, meaning a quick and efficient juicing. Good for doing a few glasses of juice at a time.

Pulp Ejector
: The same works as a centrifugal Omega juicer, but with a continuous pulp ejection mechanism that makes cleaning the machine much easier. A receptacle bin in the back catches refuse for quick disposal. Since they remove the pulp automatically, these units do better in higher-demand situations than their non-ejecting siblings.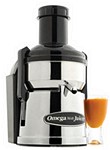 Mega Mouth Pulp Ejector
: These models also offer automatic pulp ejection, with an extra-large feed chute to accommodate larger portions or even whole fruits. Standard with 1/2-horsepower motors that crank the auger up to 11,000 rpm to power through even large fruits and vegetables quickly, producing drier pulp, which means more juice, which means greater profits.

Masticating
: Sometimes referred to as "low speed" or "cold press", these Omega juicers are designed to handle everything from wheat grass and leafy greens to fruits and vegetables at 80 rpm. Thanks to the low-speed, which prevents heating of the juice product, beverages can be stored for up to 72 hours without degradation. You can also make nut butters, extrude pasta, produce baby food, grind coffee, and blend herbs.

Vertical Masticating
: The works are similar to the standard masticating units above, with a 1/3-horsepower motor and an 80 rpm auger, though in a vertical design that takes up less space in your commercial kitchen. Compact and contemporary, the beverages produced by an Omega vertical masticating juicer can also be stored for up to 72 hours without degradation. However, they do not have the extra-curricular skills, like grinding out nut butters and baby foods, that their horizontal siblings do.