True GDM-47 Chromatography Refrigerator

When it comes time to find the highly-specialized medical or laboratory refrigeration systems your facility needs, you can trust KaTom and chromatography refrigerators from True Manufacturing. True allows you to customize any upright commercial refrigerator from among their popular selection for scientific use and, specifically, chromatography. They can do that because True manufactures its units completely in its own American factories, so they can customize them to your exact specifications. True also offers one of its glass door units, the GDM-47 Chromatography Refrigerator, in a design specific to scientific uses and ready for accessorizing with the equipment you need.
Find the Right True Unit for Your Facility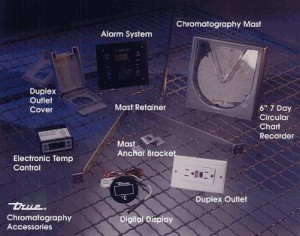 True has earned a worldwide reputation for producing long-lasting, reliable commercial refrigerators. Every True refrigerator is constructed of durable materials like stainless steel and tempered aluminum. Inside, oversized evaporator coils and condensing units provide more efficient cooling, which ensures the proper temperature is maintained inside the cabinet. True also uses better insulation than the industry standard and uses low emissivity insulated glass in its glass door units, which also helps maintain the right temperature inside.
In addition to working to hold proper temperatures, True also takes steps to ensure you're getting accurate readings of the internal conditions. True chromatography refrigerators come with a Cooper hanging thermometer, sensing equipment trusted in laboratories the world over that is more accurate than a standard thermometer. All that is critical when it comes to a laboratory refrigerator, since experiments and samples are more sensitive to temperature changes than soft drinks and cheese.
When you order a chromatography refrigerator from KaTom and True, our helpful customer service representatives can help you get exactly the accessories you need to get the right refrigerator for your laboratory. True offers the following accessories for scientific refrigerators:
Access port: A covered opening in the side of the cooler through which the user can run lines or cords, or move breakers. These can be placed anywhere on a laboratory refrigerator, except in the middle of the back wall. The standard placement is 29 inches from the interior floor in the middle of the side wall.
Grounded duplex outlet: An electrical socket with a cover to protect it from moisture inside the cabinet. It provides power for stirring devices, centrifuges, and other equipment inside the scientific refrigerator. It can also be placed anywhere on the unit, except in the center of the back wall. Standard placement is 29 inches from interior floor in middle of side wall, or in the middle section in the back wall of two- and three-door units, and off center in one-door refrigerators.
Chromatography mast: A 300-series stainless steel pole that stands vertically inside the cooler installed to enable users to clamp breakers or other equipment to. In one-door units, it's placed in the center of the unit (requires half shelves). In two- and three-door refrigerators, they're located between the shelves/sections.
Half shelves: Allow room for chromatography mast in center of laboratory refrigerator. These are only available on single-door units.
Electronic temperature controls: With precision such a high priority in these uses, chromatography refrigerators can be equipped with a programmable digital temperature control that allows changes in small increments. If selected, it will be located in the right corner of the sign panel area. These controls are only available with a Cesius standard.
24- hour to 30-day Tempscribe: This addition records the interior temperature of the refrigerator for a single day or up to 30 days at a time, marking it on a tape readout that allows the user to ensure the proper temperatures are being maintained. If added, it will be located in the right corner of the sign panel area. These are not available on 220-volt units.
Seven-day circular tempscribe: A circular chart that tracks the interior temperature over a one week period. Like the longer tempscribe, these are located in the right corner of the sign panel area and are not available for 220-volt refrigerators.
Alarm system: This add-on tracks internal temperature of a laboratory refrigerator and sounds an alarm if it gets outside a range specified by the user. These can even be tied into the phone system at your facility, giving an alert throughout the building if temperatures inside the cabinet are endangering preservation of the contents. It is located in the right corner of the sign panel, can be in either Fahrenheit or Celsius, and is not available on 220-volt units.
Digital temperature display: Located in the corner of the sign panel area, this option for chromatography refrigerators can offer readouts in either Fahrenheit or Celsius.
Chromatography Refrigerator Accessories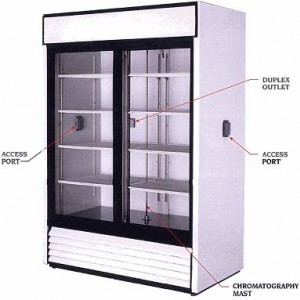 While True makes it easy to customize any of its upright refrigerators for use in chromatography applications, the company also offers one of its popular glass door models pre-designed for scientific uses. The True GDM-47 Chromatography Refrigerator is built with a white body, a white vinyl sign, and black trim. Wire shelves are standard.
Because of the specialized nature of these chromatography units, True does not offer a standard warranty for them. However, the company will evaluate claims of malfunction on a case-by-case basis to ensure customers are getting the best product and peace of mind.
KaTom Can Help
Since True chromatography refrigerators require so much customization to get the model you need, KaTom doesn't list them online. However, our customer service representatives are highly trained on the options for chromatography refrigerators and are standing by to answer any questions or guide you to the right configuration for your needs. Please contact us at 800.541.8683 or info@katom.com.