Krampouz Buyers' Guide

Krampouz is a French company founded in 1949 when an electrician invented the first gas-powered crepe maker. The company was built on this invention, and was even named after the food the equipment produces – "krampouz" means "pancake" in Breton, the language of the Brittany region of France where the company originated. Now, Krampouz makes a wide range of commercial kitchen products that make countertop cooking simple.
Krampouz Crepe Maker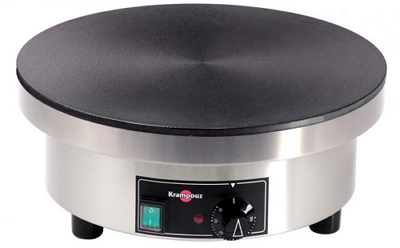 The company remains best-known for its quality crepe-making equipment that operators can depend on, with both gas- and electric-powered units with single or double burners. The burners are always round, but square frames are available. While models are available that meet American electrical standards, the fact Krampouz crepe makers are still designed and manufactured in France means the temperature controls are in Celsius.
These crepe makers use coiled heating elements embedded under their plates to ensure even heat distribution. The units are insulated to help keep that heat contained and prevent damage to surrounding equipment. Power and heating indicator lights let you know at a glance whether your Krampouz crepe maker is powered on and heating for safety and convenience.
Krampouz Waffle Maker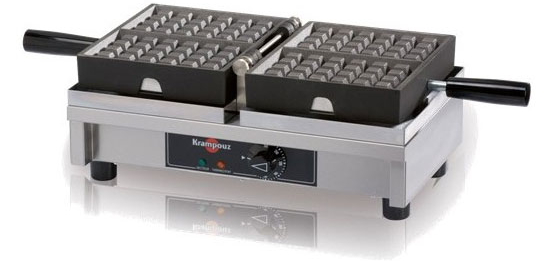 Krampouz waffle makers, also called waffle irons, make classic square or round waffles. The company also offers specialty models that make churro waffles and ice cream cones. Swivel waffle makers designed to ensure the batter is evenly distributed across the plates are available, with options that open to 90 or 180 degrees so you can get one that will work best in your space.
To make cleaning simple, most Krampouz waffle makers are designed with the Easy Clean System®, which makes it easy to take the unit apart without tools, allowing you to clean every nook and cranny.
Krampouz Cart
Krampouz offers a cart that allows you to take crepes on the go. The small, semicircular cart can fit almost anywhere and holds a single crepe maker. The structure and worktop are made of stainless steel for durability, and the prep area is protected by a plexiglass sneeze guard. The cart features storage for ingredients and tools, and has a removable two-color parasol to shield customers from the sun.
For easy navigation, two handles are installed on the back of the cart. The cart has four wheels, two of which are directional for easy handling and have brakes for stability once the cart is parked.
Krampouz Accessories
Krampouz accessories help make creating waffles and crepes easier. Batter spreaders and spatulas are essential for making crepes, and are available in both metal and wood. Ladles help distribute batter, while squeeze bottles make applying toppings like chocolate and caramel simple. Waffle picks are also available to help pry finished waffles out of the grid.
These accessories are also available in kits, which makes it easy to get everything you need in one purchase. Waffle making kits include a waffle pick, soft brush, and stainless steel brush. Crepe making kits include a stainless steel spreader, stainless steel ladle, beech spreader, beech spatula, and a water container and brush for cleaning the spreader.