Koala Kare Buyers' Guide

Koala Kare has provided commercial childcare products for more than 25 years, equipping businesses to offer safe and comfortable facilities for parents caring for children while away from home. Changing stations and child protection seats are not required by law in most locations, but are essential for businesses that want to attract families. Likewise, having high chairs and booster seats available in your dining room lets parents know you value their business. Koala Kare offers a wide range of these products to ensure you can find the childcare products that will work best for your business.
Bathroom Childcare
Koala Kare changing tables have steel hinges, chassis, and mounting brackets to ensure long-lasting strength and stability. The changing stations can have either a stainless steel or polypropylene exterior, but the bed of each model is made of injection-molded, contoured polypropylene embedded with Microban® antimicrobial protection to impede the growth of bacteria. Each fold-down bed comes with nylon safety straps to keep children safely secured. Bag hooks for purses, and shopping and diaper bags provide a convenient way for parents to keep belongings off the bathroom floor. Most models also have a bed liner dispenser to help ensure hygiene. Koala Kare changing tables are designed to hold children weighing as much as 50 pounds.
The first thing you will need to determine when selecting a changing station is the space you have to work with. You will need to consider not only the wall space of the station, but also the floor space that the unit will fold out into. This measurement will vary widely depending on whether the changing station is made to mount onto the wall horizontally, where a long side of the table is hinged, or vertically, where the short side of the table is hinged. Horizontal tables are the most common, but in some restroom configurations a vertical table may work better. When the table is in the down position, there needs to be room for a parent to stand in front of or beside the table.
If you install the table in a common area or walkway, you must also make sure there is room for people to walk around the table in the down position and the adjacent caregiver. If space is at a premium or you want a more streamlined look for the restroom when the table is not in use, recessed changing stations are available in designs that keep the unit flush with the wall when in the upright position. Koala Kare recommends not placing a changing station in a bathroom stall if at all possible in order to help keep the stall free for others who may need it.
In addition to making sure you have enough room for the changing table and for people to move around it, you also need to ensure your installation complies with ADA standards. Bobrick, Koala Kare's parent company, provides the following diagram to help explain the height restrictions for each portion of the changing table.
If you have extra countertop space in your restroom layout, you might consider a countertop changing station. These are available in surface- and recess-mounted models, and are made out of polyethylene. Nylon straps are included to ensure child safety.
For parents who have older children to manage while changing their babies' diapers or using the facilities, a child protection seat folds out similarly to changing tables and provides a safe place to secure children. Child protection seats can hold 50 pounds and ensure safety with nylon straps that go over the shoulders and between the legs. Koala Kare suggests that these be installed no lower than 15 inches from the floor. The seat surface contains an antimicrobial agent to help slow the growth of bacteria between cleanings.
Seating
High chairs are essential for any restaurant's success, as the lack of proper seating for children can lead to inconvenienced customers and lost business. Similarly, booster seats can be helpful in any business where small children may need a little extra height when sitting, like salons, restaurants, and cinemas. Koala Kare has multiple options for ensuring the safety and comfort of infants, toddlers, and small children.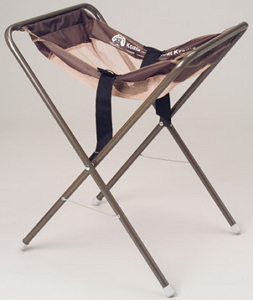 Infant seats, also called car seat slings and infant carrier holders, have steel legs that suspend a lightweight cradle of mesh fabric and fold up for easy storage when not in use. These are made to hold car seats, ideal for babies too young to sit up on their own. Black, brown, and blue and white models are available from Koala Kare. Having these on hand can help eliminate the dangerous practice of placing infant carriers on upside down high chairs.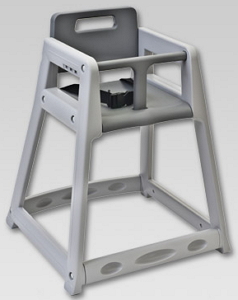 High chairs are intended for use by infants and small toddlers, and are available in wood, polyethylene, and HDPE plastic. These table-height seats are made to be set up next to a table, but trays are also available for when additional table space may be needed. Curved and squared high chairs are available in multiple colors and designs to help fit in with your décor, and many models are stackable to help you save space when they are not in use. Each high chair includes waist restraints with a buckle for safety.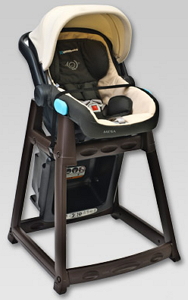 The KidSitter from Koala Kare is a combination high chair and infant seat. The top of the unit that contains the high chair seat unlatches and rotates down to hang between the legs of the chair, opening up the top space to hold infant carriers. A strap is included to secure the carrier to the KidSitter, which is available in a variety of color combinations.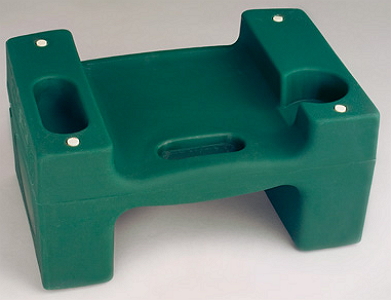 Booster seats are available in several designs to meet the needs of a variety of businesses. Boosters can be used in any business where a child might need extra elevation, including restaurants, theaters, and salons. Several models include straps made for securing the booster to the seat. Single- and double-height booster seats are available, with the double-height models providing two seat level options to accommodate children of different heights. The Booster Buddy includes a cup holder and snack compartment, making it ideal for theaters. Cinema seats are another great option for theaters, with comfortable pillow-top seats and a wider surface to make these useful to older children.
Accessories
Having the right accessories on hand can help you and your customers get the most out of your Koala Kare products. Check out the accessories below to see which might benefit your business.
Koala Kare's bathroom dispensers go beyond the usual toilet paper and paper towels, adding convenience and hygiene to your restroom. If you purchase a changing station without a built-in liner dispenser, wall-mounted and recessed bed liner dispensers are available to put those easily within reach of the changing station. These are available in plastic and stainless steel, with the stainless steel models featuring a lock. Liners can be purchased in cases of 500.
Stainless steel diaper dispensers are an option for businesses that want to add an extra helpful touch to their restrooms for parents. These locked vending units come set at $1 per diaper, but can be adjusted to other coin settings. Koala Kare also sells the diaper kits that fit in these units, each of which includes a disposable diaper, bed liner, two wipes, and a disposal bag.
Strap kits are available from Koala Kare to replace worn-out straps on any changing stations, child protection seat, high chair, or booster seat. To ensure child safety, straps should be replaced as soon as they become frayed or damaged.
To maximize table space and help keep messes contained, high chair trays are available to fit most Koala Kare high chairs. These plastic trays are seamless, so they are easy to clean and sanitize, and are available in a variety of colors to complement your high chairs.
If you choose to outfit your business with Koala Kare's cinema seats, a rolling cart is available to make storing and transporting these seats simple. The cart can hold as many as 36 stacked seats at once. Storage stands are available in two sizes for Booster Buddies booster seats. The small stand can hold 10 Booster Buddies, and the large can hold as many as 25.