Find Your KitchenAid Mixer at the Best Price With Rebates and Offers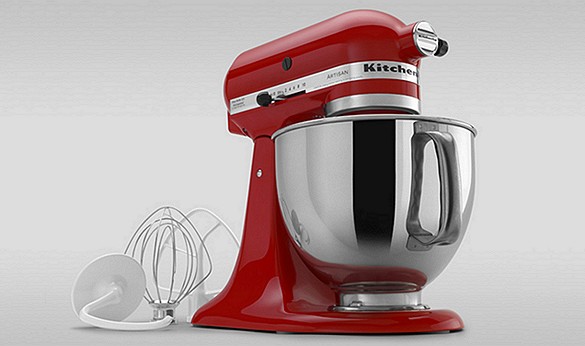 It's no secret that most everyone who spends any amount of time in the kitchen either loves a KitchenAid mixer or is wishing for their next KitchenAid product. This classic brand synonymous with its tilt-head stand mixer offers a dizzying array of colors in nearly all of their product lines. From blending your favorite breakfast smoothie to whisking ingredients for a birthday cake, KitchenAid continues to offer the products that have been impressing home chefs for generations.
Admittedly, KitchenAid's products can be a bit of a splurge, but let's face it, quality doesn't come cheap. Luckily, the company runs promotions throughout the year that provide some extra incentive to make a purchase for yourself or a lucky loved one. From rebates to free accessories like an ice cream maker or a glass bowl for your KitchenAid mixer, there's a great offer almost every week of the year to make sure you get exactly what you want. Not to mention the great cash back offers they have in nearly every box.
If you're ready to purchase a stand mixer, blender, or other quality KitchenAid product for yourself or as a gift, check out the promotions available now. If you're still on the fence, bookmark this page and check back often. You may just find a deal soon that will make the decision much easier.
Current KitchenAid Rebates and Offers
| | | | | | |
| --- | --- | --- | --- | --- | --- |
| The Product | Qualifying Models | The Offer | Purchase Period | Submit By | Rebate Form |
| KitchenAid Artisan Series 5 Quart Stand Mixers | Select KSM150 and KSM155 Models | Free Food Grinder - Mail-in Offer | Aug 15 - Oct 31, 2015 | Dec 1, 2015 | The rebate form is located in your KitchenAid box |
| KitchenAid 5, 5.5, 6 & 7-Quart Stand Mixers | Select KP26M1X, KSM152, KF26M22, KSM7586 & KSM6521X Models | Free Ice Cream Maker - Mail-in Offer | Aug 15 - Sept 30, 2015 | Oct 30, 2015 | The rebate form is located in your KitchenAid box |
Expired KitchenAid Rebates and Offers
| | | | | | |
| --- | --- | --- | --- | --- | --- |
| The Product | Qualifying Models | The Offer | Rebate Period | Submit By | Rebate Form PDF - Expired |
| KitchenAid Artisan Series 5 Quart Stand Mixers | Select KSM150 Models | Free Food Grinder - Mail-in Offer | Jan 1 - Feb 28, 2015 | Mar 28, 2015 | Rebate Form for KSM150 |
| KitchenAid 5, 5.5, 6 & 7-Quart Stand Mixers | Select KP26M1X, KSM152, KF26M22, KSM7586 & KSM6521X Models | Free Bakeware - Mail-in Offer | Jan 1 - Feb 28, 2015 | Mar 28, 2015 | Rebate Form for KP26M1X, KSM152, KF26M22, KSM7586 & KSM6521X5 |
| KitchenAid Artisan Design Series 5 & 5.5-Quart Stand Mixers | All KSM150 Models | $50 Cash Back - Mail-in Offer | Nov 23 - Dec 31, 2014 | Jan 31, 2015 | Rebate Form for KSM150 |
| KitchenAid Artisan Design Series 5 & 5.5-Quart Stand Mixers | All KSM152 Models | $50 Cash Back - Mail-in Offer | Nov 23 - Dec 31, 2014 | Jan 31, 2015 | Rebate Form for KSM152 |
| KitchenAid Artisan Design Series 5 & 5.5-Quart Stand Mixers | All KSM155 Models | $50 Cash Back - Mail-in Offer | Nov 23 - Dec 31, 2014 | Jan 31, 2015 | Rebate Form for KSM155 |
| KitchenAid 5, 5.5 & 6-Quart Stand Mixers | All KP26M1X, KF26M22 & KSM6521X Models | $50 Cash Back - Mail-in Offer | Nov 23 - Dec 31, 2014 | Jan 31, 2015 | Rebate Form for KP26M1X, KF26M22 & KSM6521X |
| KitchenAid Diamond Blender | All KSB1575 Models | $30 Cash Back - Mail-in Offer | July 1 - Dec 31, 2014 | Jan 31, 2015 | Rebate Form for KSB1575 Models |
| KitchenAid Artisan Design Series 4.5-Quart Stand Mixers | All K45SS, KSM75 & KSM95 Models | $50 Cash Back - Mail-in Offer | Nov 27 - Dec 31, 2014 | Jan 2, 2015 | Rebate Form for K45SS, KSM75 & KSM95 |
| KitchenAid Artisan Series 5-Quart Stand Mixers | All KSM150 Models | Free Glass Bowl or Ceramic Bowl with Purchase | Sept 7 - Nov 1, 2014 | Dec 1, 2014 | Rebate Form for KSM150 Models |
| KitchenAid Metallic Series 5-Quart Stand Mixers | All KSM152 Models | Free Glass Bowl or Ceramic Bowl with Purchase | Sept 7 - Nov 1, 2014 | Dec 1, 2014 | Rebate Form for KSM152 Models |
| KitchenAid Artisan Design Series 5-Quart Stand Mixers | All KSM155 Models | Free Glass Bowl or Ceramic Bowl with Purchase | Sept 7 - Nov 1, 2014 | Dec 1, 2014 | Rebate Form for KSM155 Models |
| KitchenAid Professional 600 Series 6-Quart Stand Mixers | All KP26M1X Models | Free Bakeware Bundle | Sept 7 - Nov 1, 2014 | Dec 1, 2014 | Rebate Form for KP26M1X Models |
| KitchenAid Artisan Series 5-Quart Stand Mixers | All KSM150 Models | $30 Cash Back - Mail-in Offer | Jun 6 - Sept 1, 2014 | Oct 1, 2014 | Rebate Form for KSM150 Models |
| KitchenAid Metallic Series 5-Quart Stand Mixers | All KSM152 Models | $30 Cash Back - Mail-in Offer | Jun 6 - Sept 1, 2014 | Oct 1, 2014 | Rebate Form for KSM152 Models |
| KitchenAid Artisan Design Series 5-Quart Stand Mixers | All KSM155 Models | $30 Cash Back - Mail-in Offer | Jun 6 - Sept 1, 2014 | Oct 1, 2014 | Rebate Form for KSM155 Models |
| KitchenAid Professional 600 Series 6-Quart Stand Mixers | All KP26M1X Models | $50 Cash Back - Mail-in Offer | Jun 6 - Sept 1, 2014 | Oct 1, 2014 | Rebate Form for KP26M1X Models |
| KitchenAid Artisan Series 5-Quart Stand Mixers | All KSM150 Models | Free Food Grinder Attachment With Purchase | April 1-May 31, 2014 | Jun 30, 2014 | Rebate Form for KSM150 Models |
| KitchenAid Metallic Series 5-Quart Stand Mixers | All KSM152 Models | Free Food Grinder Attachment With Purchase | April 1-May 31 | Jun 30, 2014 | Rebate Form for KSM152 Models |
| KitchenAid Artisan Design Series 5-Quart Stand Mixers | All KSM155 Models | Free Food Grinder Attachment With Purchase | April 1-May 31, 2014 | Jun 30, 2014 | Rebate Form for KSM155 Models |
| KitchenAid Professional 600 Series 6-Quart Stand Mixers | All KP26M1X Models | Free Ice Cream Maker Accessory With Purchase | April 1-May 31, 2014 | Jun 30, 2014 | Rebate Form for KP26M1X Models |
| KitchenAid Pro Line 7-Quart Bowl Lift Stand Mixers | All KSM7586P Models | Free Ice Cream Maker Accessory With Purchase | April 1-May 31, 2014 | Jun 30, 2014 | Rebate Form for KSM7586P Models |