Give Profit Margins a Shot in the Arm With a Juicer and Great Juice Recipes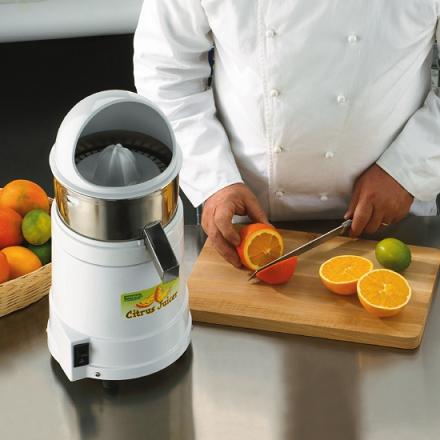 You know how any time somebody does something new that they're really proud of and think is a souped-up version of something older, they say something like, "This ain't your father's so-and-so"? With the evolution of juicers into efficient machines capable of quickly producing gallons of extract that's delicious in juice recipes for regular beverages and those of the adult sort, we say this ain't your son's lemonade stand.
Adding a powerful manual juicer or a speedy automatic juicer to your restaurant or bar, or a concession stand can provide unbelievable profit margins. As the days of summer wane for 2013 and folks look for ways to squeeze the last drops of goodness out of the warm months, fresh-squeezed juices and juice recipes are likely to become even more popular, driving further returns.
According to numbers from juicer manufacturers and folks who've been in the business of selling fresh 'ades and other fruity or vegetably beverages for a while, the average cost to produce a cup of lemonade is around 30 cents. That number drops if you provide your juice recipes in reusable cups as you would in a restaurant or bar.
Now, consider that offering "fresh-squeezed" juice, as opposed to that from a fountain, allows the typical restaurant to charge anywhere from $3-5. Those numbers hold up for concession stands and other vendors, who typically charge about $3 per 16-ounce cup and $5 per 24- to 32-ounce cup. That allows for a potential profit of $2.70 to $4.70. Talk about juicing your profits!
That's incredible, but for many restaurants and especially bars, that's not even where they're making their big returns on juicers and their fresh-squeezed products. The real money comes from specialty juices that are especially popular with millenials and premium cocktails.
Just throwing a dash of juice into a cocktail can allow a price bump of several dollars and increase customer loyalty thanks to the enhanced flavor of using real juice. That's particularly true if the customer can see the juicer in action. For that reason, many bartenders prefer to use a manual juicer like the Winco JC-19 or the Update International MJHD-21N, which are quiet and allow for a bit of a show in the juicing process. However, an automatic juicer like the Robot Coupe J80ULTRA or Omega J8004 can provide a faster and easier alternative, while opening up new avenues for juicing things like whole fruits and vegetables. Using one can also allow you to make use of the most nutritious parts of your produce, like the peels and seeds, and can add pulp that introduces new textures to your premium beverages.
On top of all that, plenty of great restaurants and bars are cashing in on the growing gourmet ice trend by creating juice recipes that involve freezing the extract from their juicers. Using juice to create ice not only avoids watered-down spirits, it also provides a slow infusion of a new flavor to your cocktails. As the ice melts, a new layer is added to the drink's delicious flavor.
Of course, you can simply freeze your juice to create wonderfully flavored ice cubes. You can even layer your juices with each other or with things like coconut milk to create a beautiful presentation and unique flavor combinations. Simply allow one layer to freeze, then add the next.
If you want to try more involved juice recipes, we found a great one on the "Just Putzing Around the Kitchen" blog. With fresh produce being harvested every day now as summer comes to a close, this may just be the perfect time to give them a go.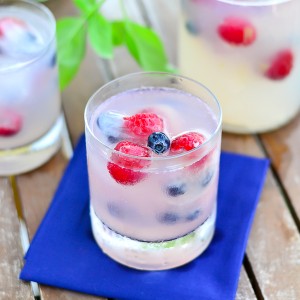 Lemonade Spritzers with Berry Ice Cubes Recipe
Picture and recipe credit to Just Putzing Around the Kitchen
Ingredients:
3-4 cups lemonade, plus more for ice cubes
2 cups soda water, chilled
raspberries
blueberries
Directions:
The night before you're planning to serve this, make your ice cubes. Put some raspberries and blueberries (I used 1 raspberry + 2 blueberries per well) into each well of an ice cube tray, and then fill each well with lemonade. Freeze overnight.
In a large pitcher, combine lemonade and chilled soda water. Stir to mix, and then chill until you're ready to serve. If you want, you can put the rest of your berries in the lemonade to soak. They'll infuse the lemonade with extra fruity flavor, and give it some extra color.
To serve, put a few of your berry ice cubes into each glass, then pour lemonade/soda water mixture over the ice cubes. Serve immediately.