Jackson Makes it Easy to Choose its Commercial Dishwasher


Dish machine manufacturer Jackson was founded in 1925 with a single circular dishwasher designed to fit down the hatches of ships and submarines operated by the U.S. Navy. The company has since diversified to offer a full line of high-quality commercial dishwashers. Through it all, they've stood by their motto, "Clean the first time."
To help make your choice of a Jackson dishwasher easier, the company offers several unique perks with its quality equipment. If you're in the market for a new dish machine, consider this list of great reasons to buy a Jackson.
1. An Extra 6 Months of Warranty Coverage
Every commercial kitchen that buys a Jackson commercial dishwasher has the opportunity to get 6 months added onto the standard 1-year warranty. All it takes to get the extra coverage is using an authorized service agent to do the installation. Don't worry if you forget about this by the time your Jackson dish machine arrives – there's a sticker on each one to inform you of the program.
2. A Free Start-Up Service for All New Dishwashers
All new owners of a Jackson dish machine are also qualified for a free start-up service provided by an authorized service agency. A factory-trained technician will ensure the machine has been plumbed, wired, and installed correctly. They'll even run some racks through to ensure the dishwasher is operating properly.
3. A Labyrinthine Door Seal to Prevent Leaks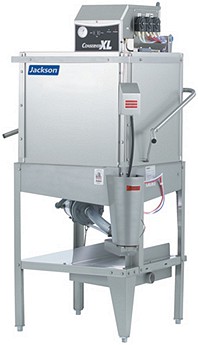 One of the problems with commercial dishwashers has been that, with the water inside them at high temperatures and pressures, the door gaskets would sometimes fail, allowing for water leaks. Jackson has addressed that issue by creating a labyrinthine door seal that essentially makes it impossible for water to escape. Four interlocking metal bands join to form that closure.
4. A Full Commercial Dishwasher Line
As noted above, Jackson has moved from a single circular dishwasher to a full line manufacturer. They still make that original round dish machine, in addition to a long list of other circular models. Those are joined by undercounter dishwashers, underbar glass washers, door-type units, conveyor dishwashers, and flight-type dish machines. If you have servingware to wash, Jackson has a solution for you.
5. An ENERGY STAR-Certified Conveyor Dishwasher
Most every commercial dishwasher in the conveyor category has provided a trade-off: Higher utility usage for greater throughput. That's why Jackson's CREW conveyor dishwashers are so remarkable, with the capability to clean large amounts of dishes all day long while using just 0.35 gallons of water per rack. That makes these dish machines, which replaced the AJX series models, the most miserly water users in the industry. It also helped earned them ENERGY STAR certification, something that isn't easy for a conveyor dishwasher to achieve because they're typically so utility-intensive.
6. An Additional Warranty for Schools
This one isn't available to everyone who buys a Jackson dishwasher, but it's a great bonus for those who feed students. Jackson conveyor dishwashers purchased for use in schools get a standard 2-year warranty. In addition, when an authorized service agent completes installation of these systems, they still get the 6-month warranty addition, which means they can get up to 30 months of coverage without spending an extra dime.