Infrico Refrigeration

Infrico is a Spanish commercial refrigeration manufacturer that has been providing high-end refrigeration equipment to Europe since 1986. This refrigeration is built with a European aesthetic but with American footprints to allow the pieces to fit easily into your commercial kitchen. Each piece of Infrico equipment is ETL and ETL-Sanitation certified, and the company puts a focus on environmentally friendly production. From reach-in refrigerators to countertop blast chillers, Infrico offers a wide range of commercial refrigeration products to meet your needs.
Prep Tables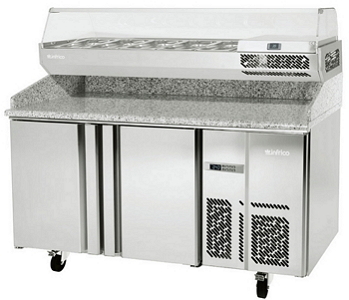 Infrico offers sandwich/salad and pizza prep tables constructed with durable stainless steel. Sandwich/salad prep tables are available in standard sizes, which hold six to 18 1⁄6-size pans, as well as megatop sizes, which hold nine to 27 pans. While 1⁄6-size pans are included, the pan divider bars can be reconfigured to work with most pan sizes. These tables include removable polyethylene cutting boards that span the lengths of the tables. The tables come with two adjustable, plastic-coated wire shelves per section, and the cabinet and doors are insulated with CFC-free polyurethane insulation. The doors are reversible to ensure your unit can be configured to meet the needs of your kitchen, and the gaskets snap in and out to make cleaning simple.
Pizza prep tables from Infrico are available in multiple sizes in two types. One line has removable polyethylene cutting boards for prep, while the other has granite work surfaces. The standard unit is constructed of stainless steel and includes five to 16 1⁄3-size food pans under a flat stainless steel hood. The granite table has a glass-topped tabletop, which has a separate refrigeration system from the lower cabinet. The glass case and granite worktop make this unit ideal for use in high-end, customer-facing applications. This line has two sizes, which can hold five or eight 1⁄3-size pans of ingredients.
Infrico also offers refrigerated ingredient cases, which can turn nearly any table into a food prep table. These cases can hold four to eight 1⁄3-size pans, and can be configured for other pan sizes. These units have self-contained, side-mounted refrigeration and can have stainless steel or glass lids.
Refrigerated Display Cases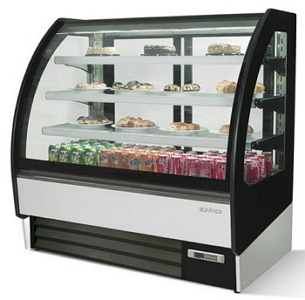 Infrico's European designs make for some eye-catching display cases. Refrigerated cases are available for displaying a variety of products.
Infrico's deli cases feature straight glass, with lengths ranging from 493⁄16 inches to 727⁄8 inches. LED lighting used in every model is bright and energy efficient, and the enameled steel base is sleek and attractive. Forced air refrigeration ensures consistent temperatures throughout the display case.
Countertop sushi cases are available in lengths ranging from 63 to 77 inches with the refrigeration unit mounted on the right or left. The interior features rounded corners and a drain to make cleaning simple. LED lighting highlights the case's contents and rear sliding windows make accessing the products inside easy. A manual defrost system lets the operator decide when the system needs a defrost cycle, which can improve energy efficiency by eliminating unnecessary defrosting.
Pastry display cases can have straight or curved glass fronts, and each model has energy efficient LED lighting to improve the visibility of the products inside. Each cabinet comes with three adjustable shelves, which can be removed for easy cleaning. Rear sliding doors have a stay-open feature to make accessing products and stocking the cabinet simple. The stainless steel cabinet can be customized with graphics, or finished in red, black, blue, green, or orange.
Reach-in Refrigeration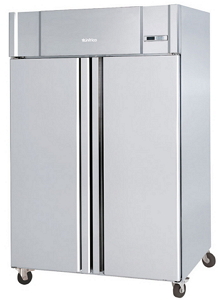 Infrico reach-ins include commercial refrigerators and freezers in one to three sections, built with durable stainless steel and fully insulated with foamed-in-place polyurethane. These are available with top- or bottom-mounted refrigeration, and glass or solid doors. Glass doors are ideal for displaying products in self-serve applications, but solid doors are more energy efficient. Solid doors are available in full- and half-door configurations, and feature snap-in gaskets that make cleaning simple. Three adjustable, plastic-coated wire shelves are included with each door, and tray slides are also included for storing 18-inch by 26-inch or 12-inch by 20-inch pans. The evaporator coil is coated with a polyester material to resist corrosion, and the forced air refrigeration system ensures consistent temperatures in the cabinet. Undercounter and back bar reach-in coolers are also available.
Blast Chillers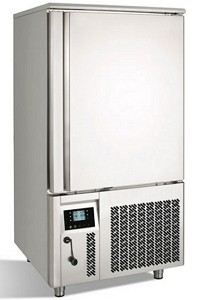 Blast chillers are an easy way to bring food down to safe storage temperatures quickly. Infrico's blast chillers use temperatures of -40 degrees Fahrenheit to reduce product temperatures from almost 200 degrees Fahrenheit down to 37 degrees in less than 90 minutes, or down to 0 degrees Fahrenheit in less than 4 hours while preserving texture and quality. These chillers are built with stainless steel and rounded interior corners for durability and ease of cleaning. The easy-to-use, interactive controls and a backlit screen make it easy to set the unit up to meet your needs, with as many as 99 customizable cycles available.
Wine Coolers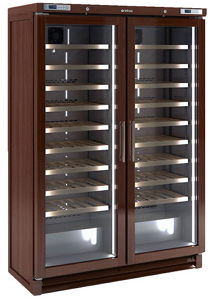 Infrico wine coolers are available in single- and two-door section models, with LED lights providing attractive illumination to the products inside. The exteriors of these units are covered in pine wood available with white and dark woodgrain finishes. This wooden exterior provides an eye-catching and high-end display option for wines, making it ideal for use in customer-facing locations. A temperature range of 39 to 64 degrees Fahrenheit makes these coolers suitable for red, white, rosé, and brut wines, and the two-section model includes a divider that enables you to set two temperatures for serving different types of wine.
Open-air Cooler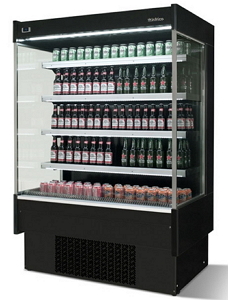 Infrico's vertical open-air coolers are constructed with stainless steel. They can have a stainless steel finish, or can be enameled in grey, orange, blue, red, ruby red, beige, rose, black, yellow, light blue, dark green, green, or white to match your décor. The 40- and 521⁄4-inch-wide models each have four adjustable shelves, and the 767⁄8-inch-wide model has eight shelves that can be adjusted to fit the products you need to display. LED lighting is included in the canopy as well as under each shelf to fully illuminate products on display. Glass side panels make the products visible from all sides, and a pull-down night curtain helps improve energy efficiency when the unit is not in use.
Chef Bases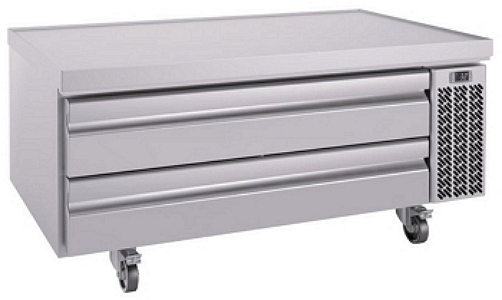 Chef bases are low-profile refrigerated units made for holding equipment like griddles and charbroilers. Units that are 36 to 52 inches long can hold as much as 700 pounds, while 72- to 100-inch-long units can hold as much as 1,000 pounds. These have two to six drawers, and depending on the model each drawer can hold one to three full-size pans or the fractional equivalents. A digital temperature controller and an automatic defrost cycle make operation simple, and durable stainless steel construction and a corrosion-resistant evaporator coil ensure long product life.
Ice Cream Freezers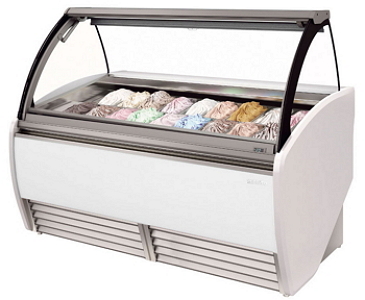 Infrico manufactures ice cream and gelato display cases that keep your frozen treats at the appropriate temperatures while displaying them to your customers. A digital temperature controller makes it easy to set the ideal temperature for your ice cream or gelato, and the evaporator coil is coated with an anti-corrosion material to ensure a long life. Units are available with flat and curved front glass to fit the aesthetic you need, and the enameled steel base can be finished in white, black, red, blue, or pink.