How to Open an Ice Cream Shop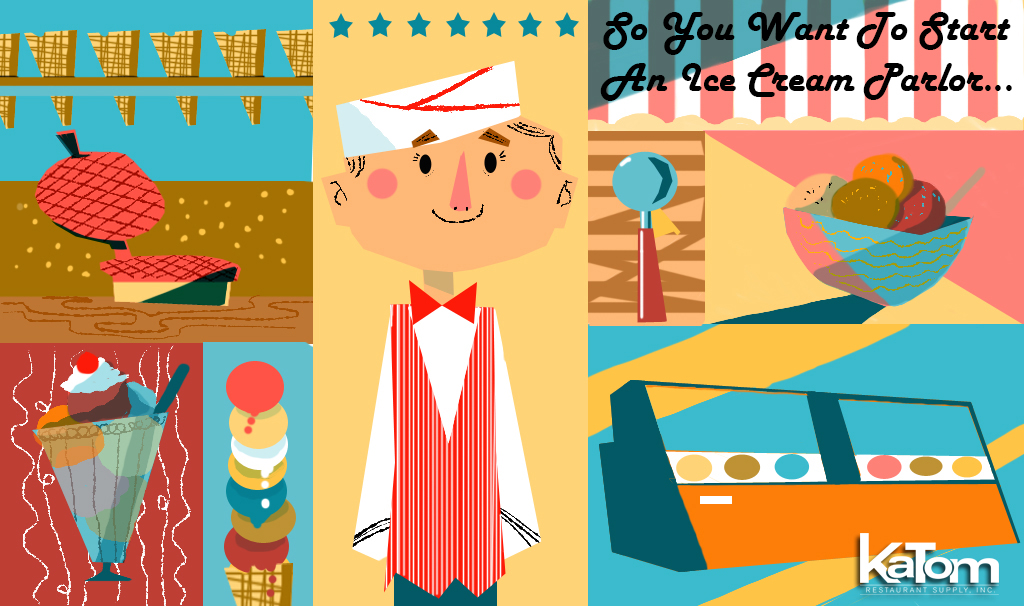 If a lifestyle of creativity and celebration sound intriguing, perhaps opening an ice cream parlor is just for you. Enjoy the benefit of a rapidly growing industry with the flexibility to decide the kind of application that suits your goals. From an ice cream cart to full-service ice cream parlor, begin here to research the demands of this exciting business venture along with the potential for expansion and growth.
1. Consider your budget for initial investment
One of the most common mistakes new restaurant owners make when building a business is underestimating the cost for construction, equipment, supplies, working capital, and operating expenses for the first several months the business is in operation.
According to the National Ice Cream Retailers Association, the cost to open an ice cream parlor can vary dramatically. Already existing locations can be purchased for as little at $50,000 while premium locations can cost upward of 1 million dollars. If you are considering constructing a new facility, the cost per square foot is usually between $70 and $150. These construction costs do not include the price of the equipment that will be necessary to run your business.
2. Decide if you will opt for a franchise or develop your own concept
Choosing to franchise:
There are multiple things to consider when you choose to franchise. Many franchisees are expected to have a specified net worth and liquid cash available. The required amount varies franchise to franchise, but can be considerably high. Franchisees must pay ongoing royalties in addition to their initial franchise fee.
Once the fees are paid, the franchisee will benefit from the experience and know-how of the corporation. This includes buying advice for equipment and supplies, an existing supply chain for perishable foods, and prepared marketing, training, and financial management standards.
Although each franchise is unique, the benefit of franchising lies in not having to create a business plan from scratch with the added benefit of brand recognition and an established menu.
Click to enlarge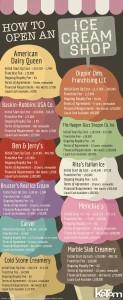 Opting to own privately:
If you opt to own privately, you have several options. You may consider purchasing an already existing business, build from the ground up, or you may even consider a mobile frozen treat truck or cart. As mentioned before, the cost of a start-up varies drastically with a truck or cart being the smallest investment and an already existing and profitable location being the most expensive.
A privately owned business, will give you the ability to purchase equipment from the supplier of your choice and have more freedom with your menu and staffing decisions. This option typically has less of an initial start-up price but leaves the entirety of daily business decisions up to the owner, which can add unwanted stress.
Tread lightly, the freedom that comes with owning your own business also comes with the responsibility of creating your own marketing materials, managing finances, establishing relationships with food purveyors, and creating training programs for employees.
3. Create your concept and menu
Once you have decided which route you will go, it's time to begin creating your concept. If you decided to go the franchise route, there won't be much wiggle room for décor and layout changes, but you should discuss all of your options with your franchisor before committing to anything.
When developing your own concept, begin by choosing the main focus of your menu. In the world of ice cream shops, you can choose to serve hard scoop ice cream, soft serve ice cream, , frozen custard, sherbet, sorbet, gelato, or even Italian ice. Beyond your ice cream selection, you will also have to decide if you will serve hot food, soft drinks, warm beverages, or any variation of frozen treats such as ice cream cakes, ice cream sundaes, milk shakes, or smoothies.
Next, you need to consider your target market. First, research the demographic most likely to purchase the product you have chosen. Then, do some research into the likes and dislikes of your specified target market. The more information you can gather, the more likely you are to make decisions that align with your market's tastes and desires. Finally, determine the amount of access you have to that specified demographic in your chosen location. Remember, ice cream is associated with celebration or special occasions. You want your target customers to enjoy coming back and celebrating with you.
Once you have your target market worked out, it is a good time to finalize your menu. Make sure to include everything from the staples, like ice cream, to the toppings. You will also want to consider the serving sizes you will be offering. Write out a comprehensive list of all ingredients that you will need to create all of your recipes. Cross reference your recipes to find duplicate ingredients. This will help reduce waste and over purchasing, and may even help you eliminate unnecessary products, which will help you save money. Consider whether your menu options match your concept and the desires of your target market. For example, if you are targeting mothers with small children and fail to include kid-sized options or a children's menu, you may want to reconsider.
Now that you have your target market and your menu figured out, you need to consider your operational structure. Will you have a sit-down lobby, a walk-up window, a self-serve counter, or a full-service establishment? Consider the costs associated with each concept and opt for the one that works best with your product, target customer, and staffing ability.
Next, it's time to work on your concept's atmosphere. This is when you select the color scheme, décor, serving vessels, furniture, and design for any communication materials. Communication materials include your menu, business cards, coupons, flyers, website, social media sites, customer loyalty cards, or any other item that has your logo on it. As much as possible, try to keep all of these items similar in look to help solidify the image of your brand.
Lastly, begin creating your hiring and training materials. For this portion of your business development, seek out information from others in the industry and other businesses you wish to emulate. It's important to utilize the lessons learned by others.
Think of this portion of your business development as bringing your ideas and concept to life.
4. Find the right location and apply for permits
This step will occur almost simultaneously with step number three. While you can't choose a location without a concept, you can't fully develop your concept without having a location.
When selecting your location, you will want to consider the kind of traffic you are trying to attract. If you are going for mostly foot traffic, consider a downtown location, on a boardwalk, or somewhere pedestrian friendly. If you are going for a location with easy drive-up access, be sure to have lots of parking and consider the traffic flow in and out of your business's parking lot. If it's too cumbersome for customers to get in and out of your parking lot, they may not visit as frequently.
Be sure to consider the visibility of your restaurant when walking or driving by. You want new passers-by to be able to see your location and know what they are seeing when they pass. And of course, consider the accessibility for delivery trucks. If a delivery truck cannot directly access your location, all of your items may need to be brought in by hand truck.
5. Establish a list of ice cream equipment and ice cream supplies you will need
Soda Machine: These are typically provided by the beverage company you contract with.
Above are several items that you should consider purchasing when planning to open an ice cream shop. Some may not be necessary for your establishment but this is certainly a good place to start. Do not assume that you won't need any additional equipment because it has been omitted from the list. If you do plan to serve warm food in your establishment, you will likely need several other pieces of equipment.
6. Shop for and purchase your ice cream store supplies
Once you have established a list of items you will need for your new ice cream shop, it's time to begin shopping. It's important to remember that this can be a lengthy process. Expect that any special orders or made-to-order items will take several weeks to receive. If you are in a hurry to get your shop open, consider purchasing in-stock items to expedite the shipping process. Also consider the installation that will be necessary when you receive your equipment. If you plan ahead and have all required install materials in your store when your equipment arrives, you will be up and operating much quicker.
7. Collect all information about licensing and permits for opening your ice cream shop
Each city has unique requirements for licensing, certifications, and taxes. Contact your local business license and tax office to begin collecting information regarding the paperwork you must complete before opening your ice cream parlor. You will also need to contact the Internal Revenue Service for a federal tax identification number before you can begin selling any product. For more information, visit the National Ice Cream Retailers Association website.
Infographic Source: http://www.entrepreneur.com/franchises/categories/ffqicecr.html#