Homer Laughlin China Through the Centuries

In a 37-acre facility located along the Ohio River in Newell, W. Va., the Homer Laughlin China Company manufactures an extensive catalog of foodservice dinnerware. The family-owned company's history of creating distinctive dishware dates back to the 19th century.
Navigation
Pottery in East Liverpool
From 1840 to around 1930, East Liverpool, Ohio, was famous for being the pottery capital of the United States. The boom of the pottery industry in East Liverpool is often credited to James Bennett, an English immigrant who happened upon the area's stout clay deposits and decided to start its first ceramics operation. During this period of growth and expansion, East Liverpool's potteries produced the majority of the crockery made in the United States.
The town became so linked to its pottery industry that it dubbed itself "America's crockery city," a name that was co-opted in 1900 by a brewery opened there. The Crockery City Brewing Company operated until 1952, with a small production pause during Prohibition when it became the Crockery City Ice and Products Company, offering everything from soft drinks to ice cream bars. A series of business deals yielded various other businesses with the Crockery City name, including Crockery City Farms and the Crockery City Company, which was used as a bottling operation for Coca-Cola.
Since 1980, the building that once was East Liverpool's post office has been home to the Museum of Ceramics, which celebrates and commemorates the town's historical pottery industry. Today, a mural from the 1930s featuring James Bennett's first pottery factory greets the museum's visitors. The museum says an average visit is 90 minutes – that's about one minute for each year of the town's rich pottery history.
Resources for East Liverpool
The Laughlin Brothers
The origins of the Homer Laughlin China Company can be traced to 1871, when East Liverpool natives Homer and Shakespeare Laughlin partnered to sell pottery. As the story goes, the East Liverpool City Council, in an effort to compete with imported dinnerware, granted the brothers $5,000 to build a pottery factory in their hometown so they could begin producing the white dinnerware coming into fashion at the time. The two-kiln factory was constructed in 1873, and the brothers' dinnerware gained recognition for its outstanding quality only a few years later.
The Laughlins' White Granite Ware won accolades at the Centennial International Exhibition held in 1876 in Philadelphia, Pa., which today is considered to have been the first official World's Fair in the United States. Shakespeare departed the company the following year and Homer became the sole owner, a title he retained until his retirement in 1897. When he stepped down, he sold his shares to the company's Bookkeeper William E. Wells and a business partner, Louis I. Aaron of Pittsburgh.
Although the Homer Laughlin China Company was historically known by different names – including Ohio Valley Pottery, Laughlin Pottery, Laughlin Brothers Pottery, and Homer Laughlin China Works – it retained its co-founder's now-iconic name even after his involvement with the company came to an end around the turn of the 20th century.
Resources on Early Laughlin History
Expansion in Newell
In the early 1900s, the company had four plants and produced as many as 300,000 dinnerware pieces each day. In 1910, the company began backstamping its wares to reflect dating and manufacturing information, including the month, year, and factory in which each piece was manufactured. It was during this time that a plant was constructed across the Ohio River from East Liverpool in Newell, and the company would eventually move its headquarters to that facility, which was dubbed, "The Greatest China Factory in the World."
In order to connect the company's factories in East Liverpool and Newell, the company tried its hand at bridge building in 1905, constructing what's now known as the Newell Toll Bridge over the Ohio River. At the time of its construction, the link was one of the first steel suspension bridges constructed in the United States. Having been rehabilitated in 1954 to preserve its longevity, it is a historic bridge that still stands and is in use today.
Throughout the early 20th century, the ceramics manufacturer's growth was supported by the F. W. Woolworth Company, an early five-and-dime brand, and the American Cereal Company, a precursor to Quaker Oats that depended on bowls made and decorated in the Laughlin factories.
In the text of a 1912 advertisement in American Homes and Gardens, Volume 9, Homer Laughlin boasts of its 45-million-piece annual production capacity and 1,800 employees. A pamphlet from around the same time introduces Newell, W. Va., as the "home of 'Opportunity'" and explains why "that fickle goddess has chosen Newell as her permanent abode." The literature was distributed by the North American Manufacturing Company, a subsidiary company that hoped to develop the town specifically to attract potters and their families.
By 1923, there were 1,800 residents in Newell. Between 1927 and 1929, Homer Laughlin had 3,500 employees, a peak employment number it has not surpassed in the decades since, and expanded to five manufacturing plants.
Resources on Newell
Famous Fiesta

The year 1936 brought the debut of the colorful art-deco dinnerware for which the company has become most famous, Fiesta (known residentially as Fiestaware). Created by Frederick Hurten Rhead, who started as the company's design director in 1927, the line was originally released in five colors: Cobalt, Green, Ivory, Red, and Yellow. Although its peak employment number came nearly two decades prior, Homer Laughlin identifies its peak year of production as 1948, when it made more than 120 million dishes in a post-war America. There is no doubt Fiesta's popularity helped drive this success.
Fiestaware color options followed the trends of each decade. Pastels in the 1950s were soon replaced by more bright colors for the beginning of the next decade, but earth tones released in the late 1960s fell flat and the line was discontinued in 1972. However, this turned out to be a temporary retirement.
Executives with the luxury department store chain Bloomingdale's wanted a retro line of dinnerware to offer customers, which prompted the 1986 revival of Fiesta. The line was released in four colors (Apricot, Black, Cobalt Blue, and White), with two more (Rose and Yellow) added the following year and a seventh (Turquoise) introduced in 1988. It is now tradition for Homer Laughlin to offer 15 Fiestaware colors at a time, retiring those for new ones every few years. Those limited runs have led collectors to scoop up every piece they can find in their favorite glazes.
Since its founding in 1998, collectors of Homer Laughlin china have joined the Homer Laughlin China Collectors Association, a non-profit and volunteer-run organization. Members and non-members can attend the HLCCA's annual conference to participate in auctions, exhibits, seminars, and other events.
Resources on Fiestaware
Generations of Dinnerware
After acquiring the company in the late 1800s, Louis I. Aaron served as president and W. E. Wells served as general manager. From then until 2002, ownership and control of the Homer Laughlin China Company has passed through multiple generations of the Aaron and Wells families. In 2002, the Wells family obtained full ownership of the company, and Joe Wells III was elected president, a position he then held for a decade. Since his retirement in 2012, his sister Elizabeth McIlvain has served as the company's president, the first woman to hold the title.
Modern Homer Laughlin
The HLC Inc. Family of Companies was created in 2010 in conjunction with the acquisition of the Hall China Company, which was founded by Robert Hall – also in East Liverpool – in the early 1900s. Hall has long been famous not just for high-quality ceramic wares, but also for creating unique pieces, such asa line of coin banks shaped like elephants and a tea kettle modeled after U.S. President Ronald Reagan's face, with the 40th Chief Executive's nose serving as the pouring spout.
Today, HLC employs 1,000 people in Newell and the surrounding region. Newell is part of the Weirton-Steubenville, WV-OH metropolitan statistical area, which has a population of around 130,000, although the town of Newell itself had only 1,376 residents at the time of the 2010 census. Many of those working at the Homer Laughlin factories are multi-generational employees whose parents, grandparents, and other relatives have previously been or currently are employed by America's leading producer of china.
The William E. Wells house in Newell, which was constructed in 1907 and remodeled in the 1930s, was registered with the National Register of Historic Places in 2009. According to the application for that listing, "… the property is significant for its association with William Edwin Wells who, with his son and grandson, were long affiliated with the ceramics industry and specifically with the ownership, management and prosperity of the Homer Laughlin Pottery Company, an association which continues to this day. The house was the home of three Wells family generations over a span of one hundred years, from the time of its original construction until the death of William E. Wells' grandson, Robert, in 2007."
In 2013, HLC Inc. announced its investment in 3D printing technology to aid in the development of new products. Company designers use 3D modeling software to draw new designs, creating physical models using the printers.
That same year, the Homer Laughlin China Company teamed up with the Make-A-Wish Foundation to grant the wish of a 12-year-old Ohioan who wanted a tour of the Fiesta factory. During her visit, Candy Haugen and her family were able to cast and decorate their own pieces. The folks at Homer Laughlin also gifted her with a commemorative Raspberry bowl, one of only 500 produced in 1997 to celebrate Fiestaware's 500 millionth piece.
The Homer Laughlin factories were profiled for the 10th episode of Maxwell House's "Made Right Here" series. During the episode, President Elizabeth McIlvain affirmed the company's commitment to keeping its factories in America, saying, "It would be important to my father to keep the legacy of Homer Laughlin here in the United States. There will never be a time when Fiesta or Homer Laughlin dishes will be made anywhere but Newell, West Virginia."
Resources on Modern Laughlin History
A Genuine Manufacturer
All Homer Laughlin china is made in the United States, which sets it apart from the competition as it is the only major dinnerware company that can make this claim. The folks at Homer Laughlin coined the phrase "Genuine Manufacturer" to tout their ability to control the start-to-finish process of transforming clay into a high-quality end product and establish sustainable manufacturing practices.
All its wares are produced in factories owned and supervised by the company itself, rather than outsourced or at a third-party facility. That control also allows it to customize items for special orders, like the plates created for the U.S. Navy's Ohio-class ballistic missile submarine the USS West Virginia.
Environmental Responsibility
HLC is committed to limiting its environmental impact by following responsible manufacturing processes that emphasize the reduction and recycling of materials. Its factories only use modernized and efficient equipment; however, all kilns produce waste heat. At Homer Laughlin, waste heat is redirected to other processes in the factories – an effort that eliminates the consumption of enough gas to heat several hundred homes.
Reclaimed clay is blended back into formulated production materials, preventing more than a dozen tons of clay from being wasted each day. By partnering with local recyclers to create tabletops and countertops, Homer Laughlin has helped recycle 17 tons of dinnerware that did not meet production standards.
Homer Laughlin's transition to an air-bubble packing system has eliminated at least 24 tons of foam waste annually, while a paperless order confirmation system saves hundreds of thousands of sheets of paper every year. In 2015, the company received the West Virginia Governor's Award for Leadership in Industrial Energy Efficiency.
The company is also committed to protecting its customers. The process to remove lead from its products began in 1986 and all Homer Laughlin china has been free of lead since 1992.
Resources on HLC's Manufacturing Responsibility
Homer Laughlin China Collections
Although the company's Fiesta dinnerware is perhaps its most famous line, Homer Laughlin china is available in dozens of styles, patterns, and colors that have been produced for foodservice applications for decades. This variety allows foodservice operators, restaurateurs, and caterers to invest in dinnerware that complements the meals being served, enhances the atmosphere, and improves the guests' experiences.
Fiesta has been a popular and highly collected line since its introduction in 1936. Featuring concentric circles and bright colors, dinnerware from this line has an iconic Art Deco style and is currently available in 15 shades of blue, green, orange, red, yellow, and white. Fiesta dinnerware is available in circular and square shapes, and the line also offers a plate designed specifically for healthcare applications, where bright colors have been shown to increase a patient's appetite.
Recommended Styles: Casual, Mediterranean, retro, southwest
Recommended Businesses: Campus and senior care dining; healthcare cafeterias; Mexican, Italian, and themed restaurants
| Currently Available | |
| --- | --- |
| Color Name | Year Introduced |
| Claret | 2016 |
| Cobalt | 1986 |
| Daffodil | 2017 |
| Ivory | 2008 |
| Lapis | 2013 |
| Lemongrass | 2009 |
| Poppy | 2014 |
| Sage | 2015 |
| Scarlet | 2004 |
| Shamrock | 2002 |
| Slate | 2015 |
| Sunflower | 2001 |
| Tangerine | 2003 |
| Turquoise | 1988 |
| White | 1986 |
| Recently Retired | |
| Color Name | Years Produced |
| Black | 1986-2014 |
| Chocolate | 2008-2012 |
| Flamingo | 2012-2013 |
| Paprika | 2010-2016 |
| Peacock | 2005-2014 |
| Plum | 2001-2015 |
Colorations features a modern take on Fiesta, with plates, bowls, and mugs that come in a wider variety of square, circular, and triangular designs. These are also available in bright, eye-catching colors like Shamrock, Tangerine, and Cobalt, as well as a timeless Arctic White.
Recommended Styles: Southwest, retro, casual, urban, and trendy
Recommended Businesses: Coffee shops, diners, Mexican and themed restaurants, and campus dining halls
Alexa dinnerware is available in Ameriwhite, a neutral shade that provides a blank canvas for plating and can coordinate with nearly any color scheme. In addition to items designed with pleasing geometric shapes, this line includes coronet bowls, which have a unique raised base. For comprehensive service, the saucers in this collection will accommodate each bouillon and stacking bowl, cup, mug, and fruit bowl.
Recommended Styles: Asian, European, traditional, and urban contemporary
Recommended Businesses: Catering, clubs, fine dining, hotels and room service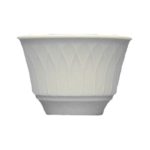 Gothic invokes the memorable architecture of European cathedrals. The rims of plates and sides of bowls, mugs, and accessories are accented with a sculpted latticework design. Gothic dinnerware is available in Arctic White, but the Gothic Westminster design includes a gold ring around the inside of the rim.
Recommended Styles: European and traditional
Recommended Businesses: Banquet halls and caterers, clubs, health care and senior care dining, hotels and room service
Durathin plates are flatter and thinner, so they are easier to transport and stack. The line's medium profile and wide rim provide an attractive, popular, and practical design that does not sacrifice style or sophistication. Durathin items are strengthened by the inclusion of Alphalain, a body material that has been trademarked by Homer Laughlin.
Recommended Styles: Contemporary and traditional
Recommended Businesses: Banquets and catering, clubs, and hotels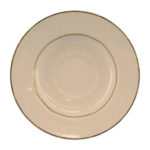 Diplomat Gold is a Durathin pattern, offering the same ivory body and thin shape that has been decorated with two gold bands: one around the inside of the rim and one around the outer edge.
Recommended Styles: Contemporary and traditional
Recommended Businesses: Banquet halls and caterers, clubs, and hotels
RE-21 has a classic rolled edge design that has been updated to provide a modern appeal. This line is available in Arctic White or in an ivory body. The trademarked Alphalain makes these items very durable, providing resistance to chipping and scratching.
Recommended Styles: Casual, European, traditional, and themed restaurants
Recommended Businesses: Banquet halls, clubs, fine dining, hotels and room service, and senior care dining
Empire comes in an ivory body and maximizes plating possibilities with a rimless, contemporary design. This is an elegant option for foodservice operators who want a versatile dinnerware option.
Recommended Styles: Asian, casual, contemporary, continental, and traditional
Recommended Businesses: Buffet, family, and themed restaurants
Kensington features rims embossed with a design that, like Gothic, was inspired by the intricate geometry of European architecture. However, this line is differentiated by its bright Ameriwhite color and the inclusion of Alphalain, which gives it a durable body.
Recommended Styles: European and traditional
Recommended Businesses: Banquet halls and caterers, clubs, fine dining, hotels and room service, senior care dining
Rapid Response Shipping Program
The Homer Laughlin China Company has developed a Rapid Response program for items with 5- or 10-day lead times, depending on which line the item is from. Undecorated products from the Alexa, Durathin, Empire, Kensington, Narrow Rim, Pristine, RE-21, Rolled Edge, and Times Square lines have 5-day lead times. Decorated products from the Diplomat, Fiesta, Gothic, Gothic Westminster, Narrow Rim, and Rolled Edge lines have 10-day lead times.
While shopping on KaTom, you will find information on an item's inclusion in the Rapid Response program in the product description.