Hobart Dishwashers Buyers' Guide

Hobart's warewashers continuously win Foodservice Equipment & Supplies magazine's Best in Class Award for their category thanks to perennial support from industry experts and users. The equipment's success can be attributed to the fact that Hobart product engineers design the machines with a focus on quality and an eye towards solving operators' toughest everyday challenges. The warewashers are built with many unique technologies designed to save resources, time, and labor while ensuring consistent end results.
All Hobart high-temperature dishmachines with built-in booster heaters include a Sense-A-Temp feature that monitors the temperature of sanitizing water to ensure it's heated to the 180 degrees Fahrenheit necessary to thoroughly sanitize wares. If it isn't, the machine will not enter the sanitizing rinse cycle until those temperatures are reached. Many of Hobart's low-temperature machines feature PuriRinse, a final clean-water rinse cycle that removes any trace of sanitizing chemicals that could affect the taste and appearance of the foods and beverages you serve. The features work to protect the wellness of your guests and the quality of the products you serve.
Undercounter Machines
Hobart's compact LXe series dishwashers have each earned an ENERGY STAR certification for being significantly more energy efficient than the majority of the dishmachines in the category. All Hobart undercounter dishmachines include SmartDisplay, a digital readout that indicates the machine's status and important diagnostic information, including the need for cleaning and deliming procedures, in plain, simple-to-understand language. All LXe series washers include built-in chemical pumps, as well.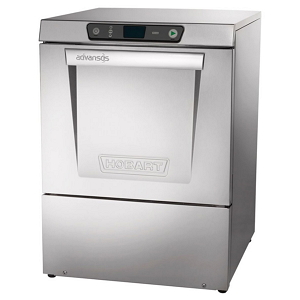 Advansys LXe High-temp
Advansys LXe high-temperature machines feature energy recovery technology that captures heat from the steam created during the wash and rinse cycles to preheat incoming water. This feature saves energy and reduces the amount of steam that escapes when the door is opened, helping create a safe and comfortable working environment for kitchen staff.
Advansys LXe High-temp Features
Uses .62 gallons of water per cycle
Three cycles: Light, Normal, and Heavy
Auto delime and delime alert system
Snap-in rinse arms
NSF Pot and Pan certification for heavy cycle
Sense-a-temp booster heater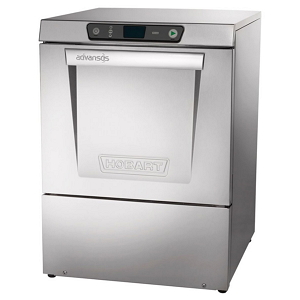 Advansys LXe Low-temp
The Advansys LXe low-temperature machine include PuriRinse technology that thoroughly removes any chemical sanitizer residue during a final clean water rinse cycle to prevent those chemicals from affecting the taste of your food and drinks. This step also prevents chemical residue from preventing the beer you serve from forming a foam head.
Advansys LXe Low-temp Features
Uses 1.14 gallons of water per rack
Three cycles: Light, Normal, and Heavy
Auto delime cycle and delime notification
Snap-in rinse arms
PuriRinse clean water rinse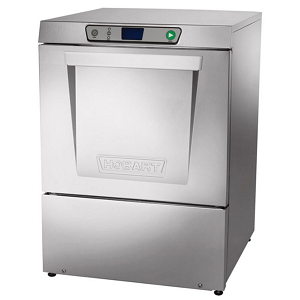 LXe Base Series High- and Low-temp
Hobart's LXe series also includes base-model machines that are built with the same fundamental capabilities but without the advanced features of Advansys machines. These machines come at a lower price, so they're good options for operators watching their budgets. The LXe base machine is available in high-temperature and low-temperature versions.
LXe Base Unit Features
Uses .74 gallons of water per rack
Normal cycle setting
Delime notification and auto delime cycle
Door-type Machines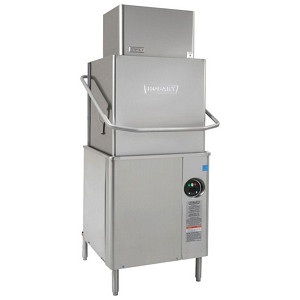 Advansys AM Ventless
Hobart's Advansys AM Ventless energy recovery model captures heat from steam generated during the wash and rinse cycles and uses it to preheat incoming water. This feature provides energy savings and may do away with the need for the expensive vent hood required by most high-temperature dishmachines.
Advansys AM Ventless Features
Uses .74 gallons of water per rack
Washes as many as 40 racks per hour
Four wash cycles: 1, 2, 4, and 6 minutes
Auto delime feature with alert setting
Also available in a Type T version with a 27-inch door opening that can accept extra-tall wares
2-, 4-, and 6-minute cycles are NSF approved for washing pots and pans
ENERGY STAR certified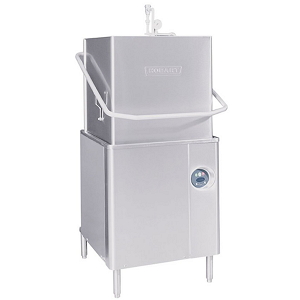 AM Select
AM Select is an NSF-certified pot and pan washer capable of handling many of your largest, most heavily soiled cookware. Unique rinse arms allow the machine to clean heavy-duty wares using a resource-conserving .74 gallons of water per rack. Controls give the user a choice between 1-, 2-, 4-, and 6-minute cycles.
AM Select Features
Uses .74 gallons of water per rack
Washes as many as 65 racks per hour
Four Wash Cycles: 1, 2, 3, and 6 minutes
Delime cycle helps keep critical components free of limescale
Deep, water-saving wash tank with automatic drain closure
Interconnected booster heater powers down when machine is idle to conserve energy
Diagnostics assist in pinpointing problems
Available in high-temp and low-temp models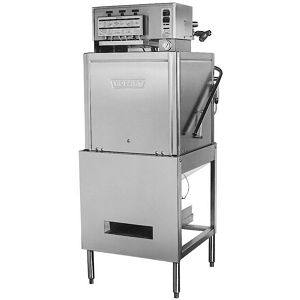 LT-1 Low-temp
Hobart's low-temperature, door-type machine, the LT-1, requires no booster heater, making it easier to install and more energy efficient than comparable high-temperature models. A top-mounted, front-facing control box gives users access to On/Off and Drain/Switch controls, and displays a cycle light and chemical dispensing counter.
LT-1 Low-temp Features
Uses 1.7 gallons of water per rack
Washes as many as 37 racks per hour
Convertible from straight-through to corner operation
External scrap accumulator helps keep wash water clean
Easy-to-remove, interchangeable wash and rinse arms
Conveyor Dishmachines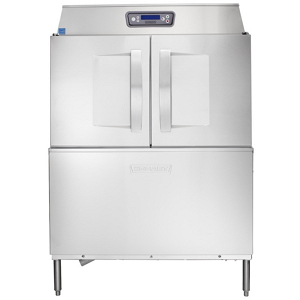 CLeN Base
Hobart's entry-level pot and pan washers are found in the CLeN Base series. These units are available in a few models, the largest of which can wash more than 300 racks an hour. Each model features a Rapid Return™ conveyor drive system that carries racks through the machine at a consistent, even pace to ensure consistent results. The CLeN base system can be customized with a number of accessories including a power scrapper section, a side loader, a blower dryer, and electric, steam, or gas heaters. These machines include intuitive digital controls and are capable of producing NAFEM protocol data.
CLeN Base Features
Washes up to 342 dishes an hour
19.5-inch opening
Opti-Rinse rinse arm system uses less rinse water than traditional systems
Available with a power scrapper section, side loader, blower dryer
Available with an electric, steam, or gas heater
Deep, narrow tank keeps wash water warm to conserve energy
Energy-saving feature shuts off components when they're idle
Digital readout displays current cycle and important diagnostic information
Compatible with NAFEM data protocol
ENERGY STAR certified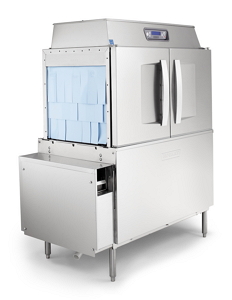 CLeN Energy Recovery & Advansys
The CLeN warewashers are available in two advanced versions. The energy-recovery models include Drain Water Energy Recovery technology that captures heat from water before it goes down the drain, using it to raise the temperature of incoming water before it enters the booster heater. This process also tempers drain water, a step that's often required by local building codes. The Advansys version of the equipment includes an Automatic Soil Removal system that continuously removes food soil from the water during the wash cycle, keeping the water clean so it can be used for longer, conserving both water and detergent.
CleN Energy Recovery & Advansys Features
Washes as many as 342 racks per hour
19.5-inch opening
Opti-Rinse water-conserving rinse arms
Intelligent Dwell pot and pan washing mode thoroughly cleans large, heavily soiled wares
DWeR Drain Water Energy Recovery System captures heat from draining water, using it to preheat wash water to conserve energy
Available Advansys model with Automatic Soil Removal that removes soil from wash water, conserving water and chemicals
ENERGY STAR certified