The Hobart LXeR and LXePR Advansys undercounter dishwashers do things you never thought a warewasher could

OK, we recognize that's a pretty bold statement, but Hobart has taken some pretty bold moves in developing its Advansys LXe undercounter dishwashers and we'd be surprised if they're things most people even thought possible. From eliminating the need for a floor drain to shutting off the water booster heater after a few cycles, these warewashers are simply amazing.
Here's the scoop: The LXe line includes the base models LXeH and LXeC, as well as the more advanced LXeR high-temp model and LXePR low-temp model. These models will replace the LXi and SR models Hobart previously offered, both of which are being discontinued to make way for the more advanced LXe line of undercounter dishwashers.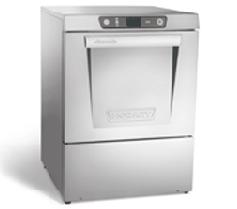 The KaTom team got an up-close look at the LXe Advansys models during their big roll-out at the 2013 NAFEM show and we were certainly impressed. We know most people aren't such restaurant equipment nerds as we tend to be, but we believe anyone in foodservice would get excited about this undercounter dishwasher line. It offers innovations that leave the Hobart LXi and SR undercounter dishwasher lines in the dust. It's unlike any warewasher currently on the market. How, you ask? We're glad you did.
• Awesome Advansys LXe thing No. 1: Serious Savings. It's the most obvious one, the fact that these little undercounter dishwashers are like your wallet's new best friends. They're all ENERGY STAR certified thanks to their efficiency, which means utility savings for you. They're also stingy with your water, using 1.14 (LXePR), .74 (LXeC and LXeH), or as little as .62 (LXeR) gallons of water per cycle. The Hobart LXi and SR warewasher models averaged about .74 gallons per cycle.
But the LXeR takes energy savings to a whole new level. Inside these Hobart Advansys warewashers is a unique coiled water intake system at the top of the unit. As one batch is running, its steam floats up by those coils, condensing and releasing its heat into the metal tubing. That heat is then transferred to the water flowing into the warewasher, saving energy needed to heat it otherwise. In fact, the system is so efficient that it actually makes it possible for the water heater to shut off after three or four consecutive washes, which could save you as much as $485 per year, even as it continues to achieve the 180-degree plus temperatures required for sanitation.
• Awesome Advansys LXe thing No. 2: Won't steam or heat up your space. The Hobart LXeR undercounter dishwasher, as a consequence of that unique heat recapturing system, releases almost no steam when the door is opened at the end of a cycle. Since the steam is condensing on the coils, it becomes water droplets that collect and drip back into the system. That means LXeR warewashers have only a small amount of steam left to discharge, meaning they don't need a hood and don't release a lot of heat into the room. That makes them great for back-of-bar uses, with considerable steam reduction from the Hobart LXi and SR warewasher models.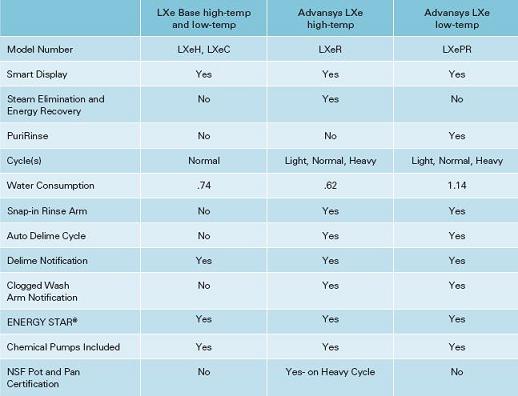 • Awesome Advansys LXe thing No. 3: No floor drain required. When you install most undercounter dishwashers, you also have to install a floor drain so it has somewhere to dump used water. The Hobart Advansys LXe warewasher, however, does not need a floor drain. It's plumbed to allow you to drain it through a regular wall outlet, just like a sink. That can mean a huge upfront cost savings from not having to dig up the floor and lay new pipes.
• Awesome Advansys LXe thing No. 4: Super fast and sanitary. Your dishes and glasses emerge from their bath sanitized, clean, and free of chemical residue. With a Hobart-exclusive Sense-a-Temp booster heater on the Advansys LXeR high-temp undercounter dishwashers, these units can raise the rinse water temperature by up to 70 degrees quickly to achieve the 180-degree temperature required for sanitation in high-temp models. With the unique PuriRinse cycle, the low-temp LXePR version of these warewashers provides a unique cold-water rinse that removes chemical residue, ensuring the best beverage experience for your customers. All that happens while as many as 30 (LXeR model), 32 (LXeC and LXeH models) to 38 (LXePR model) racks of glasses and dishes are cleared every hour. At their best, the Hobart LXi and SR underctouner dishwashers could clean a maximum of 30 racks per hour.
• Awesome Advansys LXe thing No. 5: Handles anything and a cinch to clean. The LXeR undercounter dishwasher is NSF certified to clean not just glasses and plates, but also pots and pans. With one peg and one combination-type dishrack, these warewashers can handle almost anything you can throw at them. And, when the going gets tough, the LXeR and LXePR models have easily removable wash arms and snap-in rinse arms, which means you can clear potential clogs with ease.
• Awesome Advansys LXe thing No. 6: Set it and forget it. Every LXe-model warewasher comes with an exclusive smart display system that makes operation and maintenance virtually effortless and foolproof. There are just five buttons on the front of each of the Hobart LXe undercounter dishwashers, including one to turn the machine one or off and another to start the washing. The work of programming is done through the Smart Display, which directs the user through the process, including prompts to, for instance, add rinse aid if it's been forgotten. On the LXeR and LXePR It also provides, in simple English, maintenance instructions that don't involve complex error codes. If a wash arm is clogged, it tells you exactly that. If the automatic deliming cycle is running, you'll know at a glance.
Hobart Advansys LXe undercounter dishwashers give your bar or kitchen a clear advantage
As you can see, there are plenty of good reasons your next warewasher should be from Hobart's Advansys LXe line. That's why we hope you'll join us in wishing the Hobart LXi and SR series undercounter dishwashers a fond farewell, and welcoming the LXeH, LXeC, LXeR, and LXePR models to the Hobart warewashers family.
For more information about these great warewashers or for help purchasing one, please contact one of KaTom's helpful customer service representatives at 800.541.8683 or info@katom.com.