A Guide To Hand Dryers

Where there are sinks there is, of course, the need for a hand drying solution. Instead of adding more rubbage to the landfills, many are opting for more energy efficient hand dryers. Take a quick glance at KaTom Restaurant Supply's selection of hand dryers and you'll soon see that there are many different types. You might not know where to start but have no fear; KaTom is here with a helpful guide on hand dryers!
Push Button or Automatic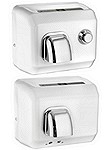 There are two main types of hand dryers; those that start with the push of a button and those that feature sensors for automatic utilization. Push button hand dryers tend to cost less than their automatic hand dryer counterparts so they are ideal for those on a strict budget.
Automatic hand dryers may cost more but reduce the chances of hand contamination since there is no physical contact with the machine. Automatic dryers also automatically shut off, reducing the amount of energy used.
Methods of Drying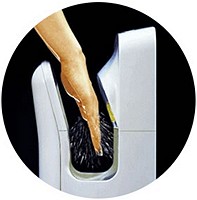 Hot Air Hand Dryer – Hand dryers that use hot air to dry are still some of the most common hand dryers sold. These hand dryers come in both automatic and push button types. Hot hair hand dryers can take longer to dry the hands than other types and use more energy.
High Speed Air Hand Dryer – Hand dryers that use high speed air to wipe the hands clear of moisture are becoming more and more popular. Not only do high speed hand dryers dry the user's hands much quicker than a hot air hand dryer (10-12 seconds), they are also more energy efficient because they do not have to use extra energy to heat the air being used. Most high speed air hand dryers are automatic.
Styles
There are several body styles or designs for hand dryers.

Classic Body – This is the most common type of hand dryer seen. These hand dryers typically feature a square or rectangle like body and tend to have covers made of ABS, stainless steel, chrome, or brushed steel. The traditional hand dryer style can come with or without a nozzle; some models even feature nozzles that can be rotated for hair or face drying.

Eclipse Body – Eclipse body hand dryers feature round bodies and covers made with steel or vitreous enamel. This type of hand dryer tends to be surface mounted and features an automatic sensor.

"U" Shaped Body – This is the newest type of hand dryer available. Brands known for this body type are Dyson and Mitsubishi. Hand dryers like the Dyson Airblade and Mitsubishi Jet Towel use thin jet streams of air to quickly wipe the excess water off of hands. The Mitsubishi Jet Towel even features a drain tank for keeping the extra water off of floors and walls. This type of hand dryer is very energy efficient and is perfect for the energy conscious business that wants to save on utility bills.
Hand Dryer Brands
Here at KaTom Restaurant Supply, we are proud to sell several brands of hand dryers. This gives your business more of a type and price selection to choose from! We carry high quality brands such as American Dryer, Control Zone, Bobrick, Mitsubishi, and Dyson with more to come! Find the perfect hand drying solution for your restrooms by shopping with your friends at KaTom.