G.E.T. Enterprises Provides Eco-Friendly Takeout Containers

The life of a college student can be hectic, and between class, school activities, homework, and jobs, many have little time to sit down in the cafeteria to enjoy a meal. Stopping by the cafeteria for a to-go meal is a popular solution to this time crunch, but these meals, like to-go meals in restaurants, are most often carried out in polystyrene foam containers.
These polystyrene foam containers end up in the trash and eventually the landfill, where they take centuries to decompose - if they decompose at all. In a world that's consistently growing more environmentally-conscious, the implications of this practice have been heavily discussed. In areas that have banned the use of polystyrene foam containers, including California, Oregon, and Washington, D.C., finding eco-friendly takeout containers has become a necessity.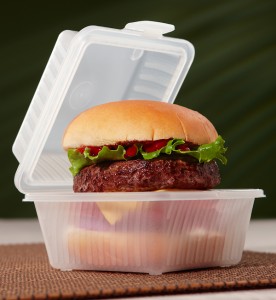 Since their creation in 2007, Eco-Takeouts have provided a reusable to-go option. The containers were created by Audrey Copeland, a graduate of the Eckerd College Environmental Studies Program, and are distributed by G.E.T. Enterprises. First launched at Eckerd College in spring of 2008, the eco-friendly takeout containers are now used in more than 400 universities, including Auburn University, Brown University, Duke University, Harvard University, Syracuse University, University of Texas, and Vanderbilt University. The reusable to-go system has also been implemented by businesses and restaurants.
How Does It Work?
The concept is based on a take, fill, and return cycle. Participants check out a container, use it to transport food, and simply drop it back off to be washed and reused by the next diner on the go. Sometimes there is a one-time fee to participate in the system, which covers the cost of the container, and that fee might need to be paid again if the container is lost. This accountability can help ensure that containers make it back for sanitation.
In addition to helping the environment by producing less waste, ditching polystyrene foam containers can cut costs. G.E.T. Enterprises calculates that, based on 1,000 students eating at a cafeteria daily for 180 days, Eco-Takeouts would cost $11,317, compared to the $36,112 it would take to supply non-recyclable containers.
What Are Their Other Benefits?
Although the Eco-Clamshell is the most popular option for school cafeterias, Eco-Takeouts are available in a number of different shapes and styles, including flat-top options with or without compartments, taller square containers that are 3¼ inches deep, and leak-proof 12- and 16-ounce soup containers with handles.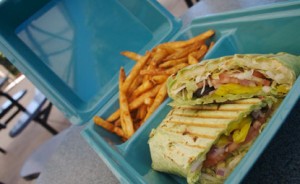 These eco takeout containers, which are made with 100 percent BPA-free non-toxic plastic, can last for as many as 1,000 uses and are completely recyclable at the end of their lifespans. They are also break-resistant for longer durability, stackable for better organization, microwave-safe for convenient reheating, and dishwasher-safe for easy commercial cleaning.
Because these eco-friendly takeout containers can also be customized with a company or school logo, they are a practical choice for corporations, businesses, and restaurants. If you want to find out more about using eco takeout containers at your university, organization, or business, contact KaTom at 1-800-541-8683.
References
1. Sustainability at Eckerd College: Eco-Clamshell, Eckerd.edu. Accessed October 2015.
2. G.E.T. Eco-Takeouts: The Green Alternative to Disposable Containers, Get-Melamine.com. Accessed October 2015.