Give Customers (& Profits) a Jolt with Franke's Help

By Rick Shirk, Carman-Girard Associates

With amazing developments in specialty coffee makers, new machinery makes it possible for every restaurant, from fast food joints to black tie sit-downs, to sell those fancy cups of joe. The cost savings from not having to keep a barista on staff mean there's tremendous profit potential in those mugs of java.
Profit. It may be one of the nicest words in the English language. The ability to sell something for more than you paid for it. No matter what segment of whatever industry you are in, if you are not making profit, you are going to lose your business. That means developing new revenue streams, or augmenting current business, is a crucial part of surviving no matter what industry you're in.
When we first saw that the public was willing to spend upwards of $4 on a cup of coffee, we were amazed. Not me, we said. Yet, as we drove by the local Starbucks we were astounded at the number of cars lined around the building and filling the parking lot, as their drivers waited for those $4 cups of coffee. Still, we said, Not me.
But then, that fancy cup of joe went mainstream. McDonalds put in a full range of coffee products, with all of them, like at Starbucks, espresso-based items such as cappuccino, latte, macchiato and americano. Yet, the hamburger joint is offering them for less than $3 and millions have been sold. The interesting thing is that all these new people buying specialty coffees at the "cheap" place, did nothing to reduce the volume of folks that went for the name brand – Starbucks – whose business continues to grow. This is because we quit saying "not me" and joined the crowd.
Why so much specialty coffee? It used to take a barista, a professional coffee maker with specific skills to make a great specialty coffee with any consistency. These folks commanded hefty salaries, the process took a long time, the machines broke down frequently, and the coffee-making area was always a mess. These things, taken together, kept most people out of the specialty coffee business.
But then a great thing happened: Super automatic, one- and two-step specialty coffee makers. These units have the ability to make outstanding specialty coffees the first time, every time, with nearly no training. The one-step unit grinds the beans, dispenses them into the brew chamber, tamps them to the proper density, runs 200° water through the grinds at high pressure, and then dispenses the espresso into the cup. At the same time, the unit steams either whole or low-fat milk from a side-mounted refrigerator to the proper temperature, then adds the resulting froth to the top of the drink for the perfect cappuccino or latte. No barista required.
Some restaurants think that they want the added sensory ability of the two-step machine, so that not only do you smell the marvelous coffee, but your eyes see the server steam and froth the milk (don't worry, even that is automatic), and they can hear the frothing happening. It just adds another level to the experience. The machine, obviously, is called a two-step because the machine makes the espresso and then the server steams the milk, although the final temperature and frothing are assured by the equipment.
Now comes the great part: A typical 16 oz. cappuccino costs about $.82 per cup to make, including the cup, the milk, the water, the coffee and the labor. If you charge just $2.65 per cup, you have $1.83 in profit for every cup you sell. If you sell 50 cups per day, that is $91.50 per day. Multiply that by six days per week and you have $549.00 profit added to your bottom line each and every week. At this rate, you have the equipment paid off in a very small amount of time, and then you pocket the rest. Do the math for your facility, using the sale price you think you can get and the number of drinks you can sell, and you will see what we mean. What other piece of equipment in your business has this type of payback?
Franke manufactures several of these incredible machines, with models that will produce from 50 to 350 cups per day.
Add a little Flair to your eatery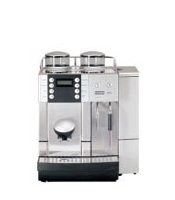 The Flair model has a self-contained reservoir, so no water line is necessary, and it's available in both one-step or two-step units. The Flair has a Milk Mate milk holder, eight programmable drink buttons, a hot water outlet, a steam arm, an automatic cleaning and rinsing program, an illuminated LCD display, and operates on 110 volts on a 15 amp circuit. It is designed for up to 50 cups per day.
Pura gives you high-brow coffee in one easy step
The Pura is a strictly one-step machine that you can get with either a side-mounted milk refrigerator, or one that is mounted under the table. The unit comes with two bean hoppers and one dual powder dispenser, ideal for dark chocolate and milk chocolate flavorings. There are 32 programmable beverages available and this unit makes up to 150 beverages per day. It hooks up to a 208-240/1 phase/30 amp circuit.
Franke's Evolution series could be a revolution for your business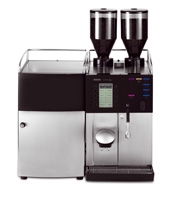 Franke's Evolution is a two-step specialty coffee marker with an AutoSteamPro unit that assures perfectly heated milk and milk froth every time. The unit makes the perfect espresso and then the operator, using the ASP, makes the milk and froth for the top. With a controller programmable for as many as 128 beverages, this unit produces up to 250 cups per day on the 208-240 volt/1 phase/30 amp circuit. This is an excellent marketing unit, with just the right combination of sight, sound, and smell.
All 208-volt units come with 18 month parts and labor warranty and 1 year periodic maintenance.
KaTom carries these great Franke specialty coffee makers at the wholesale prices you expect. You can also shop a full selection of commercial coffee makers and accessories here. We're also your source for information if you're looking to start your own coffee shop.