The Commercial Food Processors Guide
Food Processors are a must have for any food service establishment. But trying to decide which type of processor would best fit your needs can be confusing.
To make this decision-making process a little easier, KaTom has compiled a helpful buyer's guide to point out the features of some of the top brands in food processors. Armed with this valuable information, you will be able to pick the food processor that will work best for your establishment.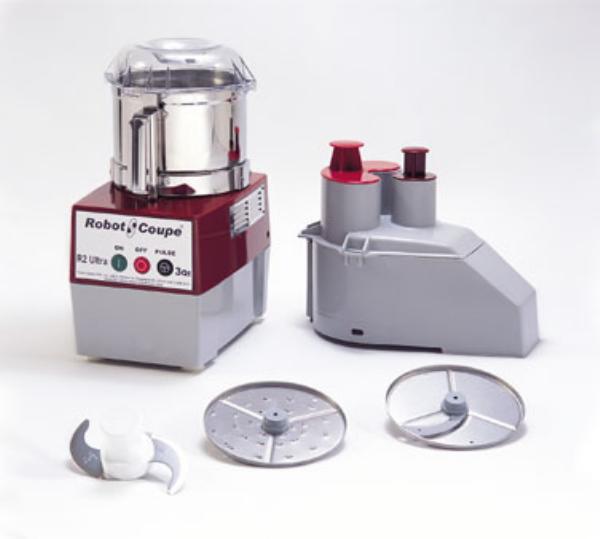 This Robot Coupe commercial food processor is ideal for any kitchen that requires high volume cutting and mixing. Featuring a 3 quart stainless steel cutter bowl with a handle and an S blade, this commercial food processor will mix sauces, batters, and much more. The direct drive, fan cooled 1/2 HP motor provides you with fast, efficient operation. The continuous feed vegetable prep attachment features two deep feed openings and allows you to keep food processing applications running smoothly.
The stainless cutting plates are easy to clean and will resist corrosion, remaining great looking for years to come. Two of these cutting plates come standard and allow you to have versatility when using your stainless steel bowl. On and off pulse switches make using this food processor easy. With such a highly efficient, fast commercial food processor you can easily prepare up to 850 servings in 3 hours or less!
Standard Features:
Prepare 850 servings in 3 hrs or less
3 quart stainless steel bowl
1/2 HP motor
Continuous feed vegetable prep
Two cutting plates
120 volts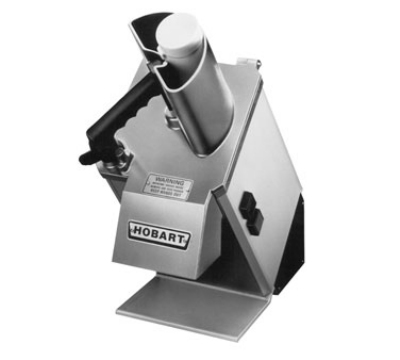 This Hobart Food Processor has an angled continuous feeder design with a half-size hopper. It can produce up to eleven pounds of processed food per minute, so this processor would be great for fast-paced establishments! It is also equipped with triple safety interlocks, which makes it perfect for ensuring the safety of employees in a busy restaurant.
Hobart also offers a variety of accessories and options for full customization of their products. With this line of Hobart food processors, you can specify the appropriate speed and output of your food processor to suit the needs of your establishment.
Standard Features:
396 RPMs
11 pounds per minute of production
1/2 HP motor
Continuous feed design
Stainless steel cutting surfaces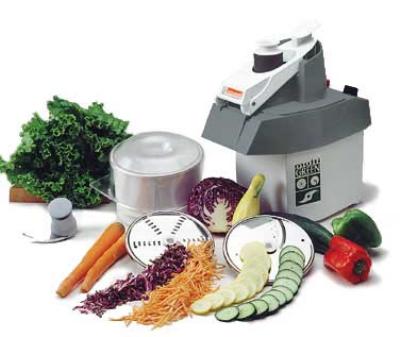 This Dito-Electrolux Food Processor is more specialized, so this processor would be great for more detailed work. It is equipped with four variations of blades, which enable you to slice, grate, or julienne your vegetables and fruits.
It comes with a 3.2 quart stainless steel bowl, which is easy to clean and will resist corrosion, so it will last for many years! The ½ HP motor and continuous feed operation will allow for efficient and effective food processing operation.
This Dito-Electrolux food processor would be great for catering,
party platters, and sandwich shops!
Standard Features:
Continuous feed design
3.2 qt. bowl capacity with S-blade
4 blade package includes:
TD2 1/16" (2mm) slicing blade,
TD5 3/16" (5mm) slicing blade,
RD4 1/8" (4mm) grating blade,
ED2 5/64" (2mm) julienne blade
1/2 HP motor
1700 RPM
6.3 amps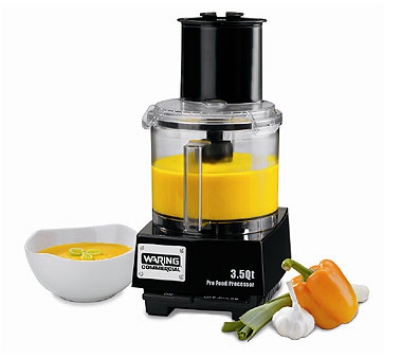 This Waring food processor is ideal for any small kitchen or casual dining restaurant. It features a 3.5 quart, vertical chute feed design. It also comes with the LiquiLock Seal System, which is great for holding in liquids and locking the blade in the bowl while pouring. This processor would be perfect for blending vegetables and fruits to create smoothies, mixed drinks, or pureeing soups! For any small bar or deli, this processor would be ideal. The 1 HP motor provides you with fast, efficient operation and the vertical chute feed design allows you to keep food processing running smoothly.
Standard Features:
vertical chute feed design
LiquiLock Seal System
LiquiLock polycarbonate batch bowl, includes:
WFP14S1 serrated sealed S-Blade,
WFP146, WFP146 5/32" slicing disc,
WFP144 5/32" shredding disc,
WFP143 5/64" grating disc,
WFP142 disc stem
1 HP motor
Dynamic DYNACUTTER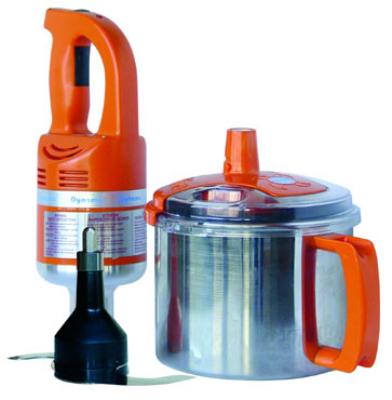 The complete Dynacutter food processor includes a BM 2000 Motor Block, so this is a powerful machine. It would be great for a fast-paced restaurant that needs a versatile food processor! You can chop meat, fish, onions, herbs, cheese, fruits, and vegetables in the Dynacutter. The light, ergonomic stainless steel bowl can hold up to 5 liters of food, making it ideal for creating sauces and dips. You can create anything from guacamole to dough. The bowl contains 2 blades with reversed sharpened edges, operating in opposite directions allowing for a perfectly blended homogenized texture.
Standard Features:
BM 2000 Motor Block
Ergonomic, stainless-steel bowl complete,
with choice of standard or serrated blade
Watertight cover
Capacity 5 litres
Pulse or continuous function button, variable speeds
460 watts, 1500 R.P.M
Here at KaTom Restaurant Supply, we are proud to sell several brands of food processors. This gives your business more of a type and price selection to choose from! We carry high quality brands, such as the ones featured here, and many more! Find the perfect food processor solution for your establishment by shopping with your friends at KaTom!