Food Prep Equipment Buyers' Guide

The world of food prep encompasses a huge number of tasks, from slicing tomatoes for sandwiches to puréeing vegetables for soups. Finding the right tools to accomplish all of those tasks can be daunting, but this guide will help you through the process.
Manual Prep Tools vs. Food Processors
Manual food prep tools and food processors can often accomplish the same goals. When you're on the fence between those two types of tools, the choice between one or the other often comes down to three factors: volume, safety, and specialization.
Volume
It may go without saying that electric-powered food processors can process food more quickly and in higher volumes than manual tools. If you have high volumes of produce to prepare every single day, a food processor may be a no-brainer. If you only process a few pounds of produce each day, manual food prep tools may be more appropriate due to the lower upfront costs and easier cleaning.
Safety
Powered food processers can all but guarantee a level of safety that manual food choppers simply can't provide. Manual solutions often involve a series of exposed blades that must be treated very carefully. In the hands of a skilled chef, these tools pose little threat, but to an inexperienced employee, such tools may pose a bigger danger than they're worth.
Specialization
There are certain types of food prep equipment that have no competition in terms of how efficiently they can perform certain tasks. For example, a manual tomato slicer can slice tomatoes more uniformly and without damaging the product better than any motorized equipment. When consistency is key, a manual tool may be preferred over an electric version.
When to Consider a Manual Food Prep Tool
Despite the conveniences that a powered food processor can afford, there are plenty of situations in which a manual food processor may be your best bet:
You're on a budget. Manual prep tools can cost hundreds of dollars less than motorized equipment, so if you're looking for a tool with a low upfront cost, consider a manual prep tool. However, keep in mind that a powered food processor could potentially save thousands in labor costs over its lifetime.
You need a high degree of accuracy. Manual prep tools give the user a much greater degree of control over how produce comes out. In the hands of a well-trained employee, a manual slicer can provide impressively consistent results.
You'll only use it to process one item. The majority of manual food prep tools are specialized to do one thing and do it well. If you need to cut pound after pound of potatoes to make fries, for example, a manual fry slicer will likely handle that task more efficiently than a powered processor.
When to Consider a Powered Food Prep Tool
Food processors make many important tasks much faster and easier, saving labor and reducing the risk of injury. Here are some reasons you may want to invest the extra money in an electrically-powered food processor.
You have a high volume of foods to prepare. A food processor's greatest strength is its ability to process food in high volumes. If you need to make big batches of foods like salsa, a food processor can save a ton of time.
You want the safest solution. With built-in safety features like bowl guard interlocks, food processor manufacturers have taken steps to reduce the risk of injury from their equipment, though these items should still be treated with utmost caution.
You need an all-purpose tool. Many food processors can be used with both bowl kits and vegetable prep kits with many interchangeable blades, meaning the same unit can be used to purée, chop, slice, dice, and more, while manual tools can generally only accomplish one or two of those tasks.
Choosing a Food Processing Tool Based on Your Product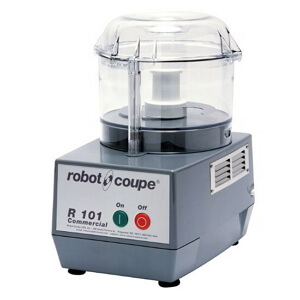 Food Processor
You want a food processor with a bowl attachment when you're chopping or blending solid foods, especially fruit and vegetables, to a coarse or medium texture. Food processors fitted with vegetable attachments can slice and chop most vegetables, although they may not yield consistently sized pieces. Learn more about how to choose a food processor in our food processor buyers' guide.
Best For:
Slicing and julienning vegetables for soups and stir fry
Processing small to medium batches of soups, sauces, and salsas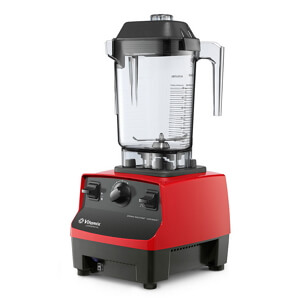 Blender
You want a blender when you're processing primarily liquid ingredients in small batches like smoothies and soups. A drink blender is the only tool suitable for crushing ice.
Best For:
Blending smoothies with soft fruits like bananas and strawberries
Puréeing small batches of dips and sauces
Blending single servings of soups or mechanically-reduced meals
Crushing ice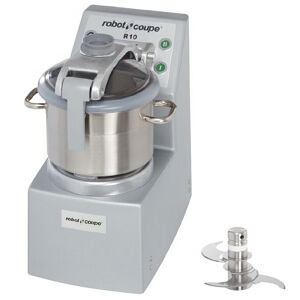 Cutter Mixer
You need a cutter mixer when you want to process large batches of finely chopped or puréed ingredients. This equipment's blades spin at much higher speeds than the blades on food processors, so they're capable of producing a finer end product in a fraction of the time. The blades themselves are optimized to break down and blend products, instead of just chopping them.
Best For:
Producing large batches of smooth soups
Finely puréed fillings for baked items
Blending large quantities of house-made sauces and salsas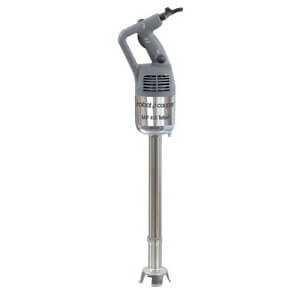 Immersion Blender
Choose an immersion blender when you want to blend and purée products like sauces, soups, and salsas in the vessels they're cooked or stored in. These tools are available in an impressive variety of sizes, so you can find one to match the container you're prepping in.
Best For:
Blending sauces and soups while they're being cooked in a saucepot or kettle
Processing batches of sauces and salsas inside the containers they'll be held in as a time-cutting solution
Manual Food Processing Equipment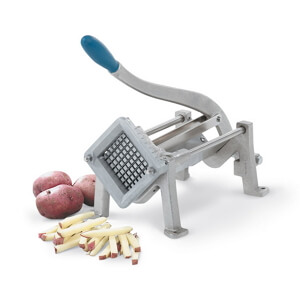 French Fry Cutter
As the name implies, french fry cutters are obviously designed to do one thing well: cut french fries. They're available in a few basic formats, but all french fry cutters are designed to send whole potatoes through grids of sharp blades to produce fries.
Best For:
Cutting potatoes into 1⁄4- or 1⁄2-inch fries
Mounting to a wall or table; some can be installed either way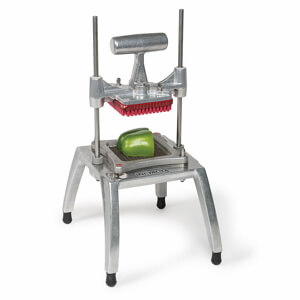 Food Choppers & Dicers
Food choppers and dicers are versatile pieces of equipment that can be configured a number of ways to dice and chop produce. Some feature blades that make one type of cut, while others can be fitted with interchangeable cutting grids.
Best For:
Producing consistent results for salad toppings, garnishes, and sides
Fixed blade models make one type of cut; models with interchangeable cartridges can achieve many results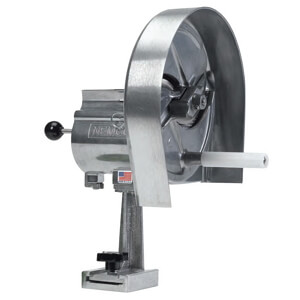 Vegetable Slicer
Vegetable slicers are typically used with produce such as onions, cucumbers, lettuce, and more to make sandwich and salad toppings. Some models include thickness-adjustment mechanisms or interchangeable blades. Others slice foods to fixed widths.
Best For:
Cutting a variety of firm vegetables into fixed-width slices
Providing a simple, comfortable solution that reduces user fatigue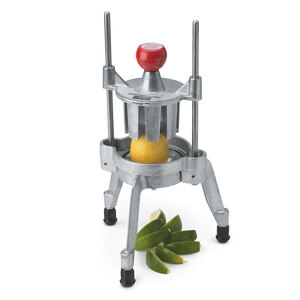 Fruit Corer & Wedger
Corers and wedgers are designed to slice fruits such as lemons and apples into evenly sized wedges and simultaneously remove the inedible cores, when present. Extra-large versions of this equipment are available for processing pineapples, which are also peeled in the process.
Best For:
Slicing citrus fruits and apples into uniform slices
Removing a fruit's inedible core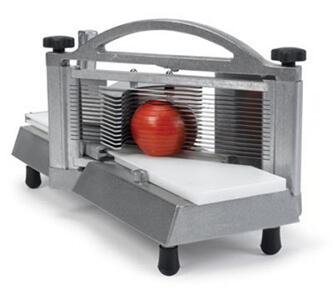 Tomato Slicer
Perhaps you need to slice hundreds of tomatoes to top burgers and sandwiches. A specialized tomato slicer makes quick work of slicing tomatoes, even soft ones that are difficult to slice by hand, into uniformly thick slices.
Best For:
Cutting tomatoes into 7⁄32-, 31⁄6-, 3⁄8-, or1⁄4-inch-thick slices
Speeding up the production of sandwich toppings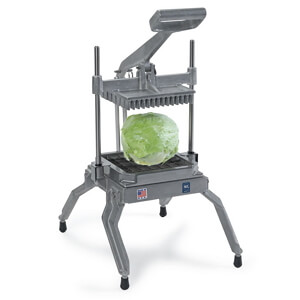 Lettuce Shredder
If you need to shred numerous heads of lettuce to make salads or garnish sandwiches, a lettuce shredder may enable you to save lots of prep time.
Best For:
Shredding lettuce into strips to serve as a garnish or into squares to create salad greens
Making use of a whole head of lettuce, reducing product waste