Spiral Mixers vs. Planetary Mixers

A commercial mixer is a necessity for bakeries, pizzerias, commissaries, restaurants, and other foodservice operations that need to prepare doughs, batters, and other mixed or whipped menu items. There are two types of commercial mixers – spiral mixers and planetary mixers – and which one your business requires will depend on what is being served. Below, we explain and compare the details of the two types so you can decide which commercial mixer you should purchase.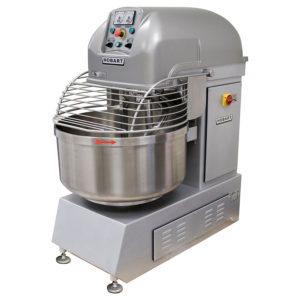 Spiral Mixers
Spiral mixers get their name from the shape of the agitators they use, which resemble spiral hooks. They are designed to mix thick doughs for bread and pizza and may also be called dough mixers or pizza dough mixers. Because of this, these mixers are invaluable to bakeries, pizzerias, and foodservice operations that mix large quantities of dough instead of more delicate items.
Although planetary mixers are available with a dough hook attachment meant for mixing batches of dough, spiral mixers have been designed especially for that task. This means a spiral mixer will be able to more efficiently mix high-volume batches of pizza or bread dough, allowing a busy bakery or pizzeria to make hundreds of pounds of dough at once without straining the capabilities of the mixer and potentially damaging it by overworking the unit.
Spiral mixers are best for:
Mixing large quantities of dough
High-volume pizzerias and bakeries
Kitchens than can spare room for a dedicated dough mixer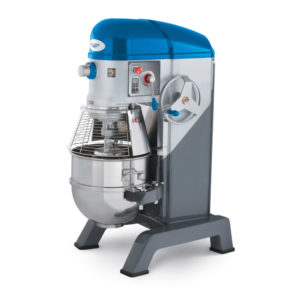 Planetary Mixers
Planetary mixers can thoroughly combine ingredients with an agitator that moves around the bowl while spinning. These mixers may also be called all-purpose mixers or cake mixers because they can prepare everything from mashed potatoes to cake batter. To achieve this versatility, planetary mixers are compatible with multiple mixing attachments, including flat beaters, wire whips, wing whips, and dough hooks. This flexibility allows the mixer to handle products of different consistencies, from delicate batters to heavy mixtures.
Below, you'll see that some mixtures can be made with more than one attachment, depending on the product quantity and mixing speeds. Some or all of these attachments, which are usually classified as accessories by manufacturers, may come standard with the mixer.
Use a flat beater to mix mashed potatoes, mayonnaise, cake batter, eggs and sugar, and icing or fondant.
Use a wire whip to mix egg whites, meringue, and whipped cream.
Use a dough hook to mix pasta and dough for breads, donuts, and pizza.
Use a wing whip to mix mashed potatoes, mayonnaise, whipped cream, cake batter, eggs and sugar, and icing.
Planetary mixers are known residentially as stand mixers, although residential stand mixers are typically much less powerful than the average commercial mixer. Many commercial models are significantly larger, but you'll see models that look very similar to those home models. KitchenAid, the best-known stand mixer brand that actually started as a part of Hobart, even has a beefed-up version of one of its units designed for commercial use.
Planetary mixers are best for:
All-purpose uses
Mixing, whipping, beating, mashing
Kitchens that need to mix dough alongside more delicate menu items