Microfiber Cleaning Cloths Buyers' Guide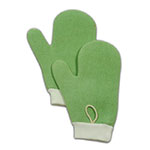 Microfiber cleaning cloths have been around for more than 20 years and have recently grown in popularity due to their exceptional cleaning properties. Microfiber is a synthetic material usually created from polyester and polyamide. These materials have fibers that are approximately 1⁄16 the size of a single hair and have a unique teardrop shape, allowing this densely-packed cloth to clean much more thoroughly than a conventional cleaning cloth. This guide will help you understand the benefits of using microfiber cleaning products in your business.
Extraordinary Absorption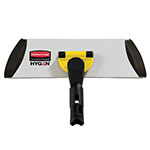 Microfiber cloths offer excellent absorption thanks to their fiber-dense surface area, with the ability to hold as much as eight times their weight in water. Cleaning up liquid spills is quick and effortless with microfiber cleaning cloths. Microfiber mops, which are more absorbent and much lighter than traditional mops, are also available for larger spills. As an added benefit, unlike cotton, microfiber cloths leave no lint behind when cleaning up spills. Microfiber also has an excellent absorption rate for oils without leaving residue behind.
Superior Dirt & Debris Retention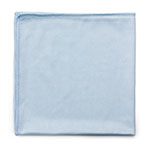 Microfiber cloths are capable of picking up and holding dirt, debris, and other materials more quickly than other conventional cleaning products. Microfiber goes through a chemical process that causes it to be positively charged, which means it acts as a magnet for negatively-charged dirt particles. This positive/negative reaction causes dirt and grime to cling to the material until the microfiber is cleaned, which is ideal for businesses such as hospitals and restaurants. Microfiber cleaning cloths have even been shown to remove 99 percent of bacteria, compared to the 33 percent observed when conventional cleaning cloths are used.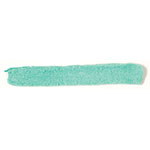 Remarkable Value
Microfiber cleaning products not only ensure cleaner facilities, but using them can also save your business money. Since this outstanding material absorbs spills and dirt more quickly than other materials, less cleaning product and water has to be used creating smaller cleaning and utility bills. Your employees will also spend less time on each cleaning job, cutting the cost of labor.
Outstanding Longevity & Use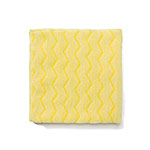 These affordable cloths are easy to maintain because they can be used and then simply thrown in the laundry. These products have a long life span of as many as 500 uses, provided they are properly cared for. Microfiber cleaning products should not be bleached because the bleach will degrade the material and cause it to break down quickly. Microfiber should also not be exposed to fabric softener because the fabric softener will cling to the material, blocking dirt and debris particles from sticking.
Microfiber Cleaning Cloths & Mops Uses
Microfiber is capable of performing a wide range of cleaning tasks. Its ability to absorb liquids and oils, lack of lint, and antibacterial properties make it a versatile cleaning product. Some of the uses for microfiber include:
Dusting
Scrubbing
Mopping
Cleaning windows
Bathroom cleaning
Kitchen cleaning
Chewing gum removal
Candle wax removal
Jewelry cleaning
Types of Microfiber Cleaning Products
Microfiber cleaning cloths are available in a variety of sizes and in several colors to help with organization. General cleaning cloths are typically large square or rectangular pieces, but some are available in glove shapes to be slipped over the user's hand.
Dusting wands and dust mops are available in microfiber fabric, with electrostatically-charged loops for attracting and holding dust and dirt. Microfiber wet mops are also available, and are generally lightly textured to help remove stains. All of these are made to stretch over the framework on a mop or dusting wand, so they can be easily removed for washing.