Dyson Airblade Tap Offers Hand Washing and Hand Drying in One

With its new Dyson Airblade Tap, the company has once again reinvented how we think about protecting our health, combining both hand washing and hand drying into one touch-free unit. This not only means faster, more hygienic, and easier cleaning for your customers, it can also mean big savings for you from construction through daily operation.
The Dyson Airblade Tap – available in models Dyson AB09, Dyson AB10, and Dyson AB11 – has a central column with imbedded infrared sensors that automatically and with no touching provide the user with water to wash their hands. The brushed stainless steel body also includes what look like space-age wings that branch off from the column. These contain the final product of an impressively hygienic process to clean ambient air for use in hand drying.
It all starts in the self-contained base of the Dyson Tap, where the water intake provides 1.06 gallons of water per minute to the user, aided by a 0.5-gallons-per-minute aerator. The aerator, flow control, and automatic shutoff can save you considerable money on your annual water and sewer bills over traditional hand washing stations.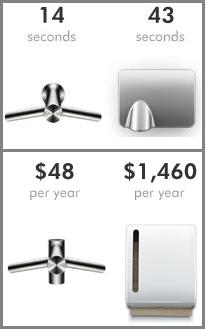 The base of the unit also includes the well-known Dyson hand dryer system, a marvel of engineering that has allowed the company to continually innovate and offer huge savings over the traditional warm air hand dryer and paper towels. Inside is a one of the world's smallest motors capable of this level of power, with a switching rate of 6,100 times per second and the capability to achieve 92,000 RPM. That allows it to pull in up to 29 liters of air per second, drawing it through a HEPA filter that removes 99.97 percent of bacteria from the air at 0.3 microns. To put that in perspective, spider silk averages 3-8 microns, which clearly illustrates how thoroughly clean it gets the air that will be used for hand drying.
That air is forced through two narrow, linear apertures along the length of those metal wings on the column of the Dyson Tap when the user triggers the infrared sensors controlling that system. As with other Dyson Airblade hand dryer models, the air is blown onto the hands in a super-fast, narrow stream, which allows it to act something like a windshield wiper, scraping water off the hands. That operation allows the Dyson Airblade Tap to dry hands in as little as 14 seconds, much faster than traditional warm air hand dryers. It also reduces noise produced by the air being expelled. That, combined with the fact the engine is enclosed in an ABS container below the sink, equals quieter operation.
Thanks to that quick performance, the Airblade Tap can save you up to 69 percent on operating costs over warm air hand dryers. It can also save you up to 97 percent over the cost of paper towels over the course of a year. That's an incredible savings opportunity.
Savings from Construction to Maintenance, and Even in Reduced Fall Risk
By confining both hand washing and hand drying to the sink, the Dyson Airblade Tap eliminates the need for separate stations for those activities. That could save you in construction by cutting the square footage needed for your restrooms. Alternately, smaller locations could use the free space for additional toilet cubicles.
That one-location process also keeps patrons from dripping water on the floor as they move between the sink and hand dryer or paper towel dispenser. Water on floors is both a fall risk and a potential breeding ground for bacteria that could spread to food prep areas via employees' shoes. Eliminating those issues traditionally has meant regular trips to the bathroom with a mop and bucket for a staff member, which costs you money in both cleaning water and employee hours.
Speaking of fall risk, bathroom floors that are wet from dripping hands can pose a tremendous safety hazard to both workers and guests. A person who slips in your bathroom isn't just unlikely to come back to dine with you, he may be injured seriously enough that he decides to pursue legal action. Having a hand dryer that eliminates that potential could help you avoid plenty of headaches and costs.
The Details on the Dyson Airblade Tap Hand Dryer Models
The Dyson Tap is available in three models, each designed to fit the available space in a different type of bathroom. The Dyson AB09 mounts on the counter with a short, 6.25-inch column, making it perfect for in-counter basins. The Dyson AB10 also mounts on the counter, but has a longer, 12.12-inch height, so it works well with countertop basins. Finally, the Dyson AB11 mounts directly to the wall, making it the perfect addition to most any hand washing station and allowing for a narrower counter width.
If you're interested in installing a Dyson Airblade Tap hand dryer in your establishment, here are some technical specifications you need to be aware of:

Power requirements: 110-120V, 60Hz, 1400W, hard-wired
Standby power consumption: Less than 0.5W
Required water pressure: 14.5-116 psi
Water temperature control: Thermostatic mixer available (not included)
Minimum sink width: 13.75 inches
Minimum front-to-back sink measurement: 11.75 inches
Minimum sink depth: 4 inches
Maximum sink depth (AB10 only): 7.87 inches (external measurement of vessel sink)
Avoid sinks with highly polished surfaces like shiny chrome and those with plugs
KaTom Offers the Dyson AB09, Dyson AB10, and Dyson AB11
For more information or when you're ready to buy your Dyson Tap, contact KaTom at 1-800-541-8683 or info@katom.com.