Dyson Airblade is Revolutionizing Hand Dryers


We often do not think about hand drying; it is something that is almost automatic in our minds. We walk over to a hand dryer, push the button, place our hands underneath, rub them together, and finally have moderately damp hands that will sort of pass for dry.
The Dyson hand dryers have undergone continual innovation progressing from the Mk2, the founder of the Airblade hand dryer line, to their newest addition the Dyson Airblade Tap, a single unit that takes care of both washing and hand drying in one place. These units have been proliferating in restaurants, businesses, movie theaters, and train stations, becoming one of the most trusted entries in the hand dryer industry. The Dyson Airblade is a leader in producing energy efficient, touch free hand dryers.
Airblade dB Series Quietly Pushes Hand Drying to a Higher Level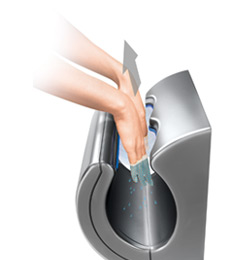 The ancestors of the Dyson Airblade dB have each brought their own innovations to the line in turn. That makes the dB, also called the Dyson Airblade AB14, the pinnacle of development to this point. This model of Dyson hand dryer replaced its predecessors, the Dyson AB04 and Dyson AB06, in late 2013, bringing the same powerful hand drying with a noticeable difference. The new scalloped design of the apertures through which the air is pushed out toward the hands provides a 50 percent reduction in the noise the user and those nearby perceive from the unit. The folks at Dyson said they recognized one of the only drawbacks people found in its units is that fast-moving air could be a bit noisy. As with each challenge they've faced since revolutionizing hand drying, they took it to the drawing board, spent years engineering and testing solutions, and ultimately produced something that does exactly what their customers want it to do.
The Dyson AB04 and AB06 were the most prevalent of the Dyson Airblade hand dryers at their retirement. Like the AB14, they were developed when Dyson's engineers tackled the problems with traditional hand dryers that use heated air. They realized those units are slow and costly, not to mention that they just heat up bathroom air and blow it onto your clean hands. The Airblade solved these problems by having you separate your hands and run them through a powerful sheet of air. The air acts like an invisible windshield wiper, scraping the water away, rather than evaporating it, making hand drying faster, more sanitary, and more cost efficient.
The Dyson hand dryers raise the standard for drying times by utilizing a brushless, digital V4 motor that can dry hands in 12 seconds by pulling in 7 gallons of air every second. Dyson also created a cleaner hand drying experience by using HEPA filters. Dyson's Airblades meet NSF standards and have been approved by HACCP International for safe use in the food and beverage industry.
The robust construction of the AB14 makes it useful in real-world environments. Dyson subjected each model of its Airblade hand dryer line to repeated physical and chemical tests to ensure that it can survive in high-traffic locations where vandalism may occur. Dyson Airblades were also designed to have a minimal carbon footprint and lower running costs.
Airblade Tap Provides Washing and Hand Drying in the Sink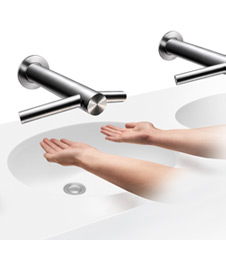 Dyson recently released the Airblade Tap series, which is again changing the way we think about drying our hands. The Airblade Tap integrates the faucet and hand dryer into one area, solving the problem of wet bathroom floors. Each of these faucet / hand dryer hybrids has an infrared sensor that activates by placing your hands under the faucet for water. Move them to the side and you'll activate a separate infrared sensor that turns on the air flow, keeping all the water within the sink area. This makes it faster and safer for everyone in the bathroom. Say goodbye to wet floors.
Dyson has designed the Airblade Tap to live up to their previous standards of green, hygienic hand drying. Each tap uses a digital motor that draws 28 liters of air per second and a HEPA filter, which removes 99.97 percent of bacteria from that air. The digital V4 motor reaches 92,000 RPM, allowing for a 14-second dry time. That is four times faster than traditional hot air hand dryers, which means hand drying takes less energy and you save money.
This powerful motor is accompanied by a focus on developing environmentally safe products. The Dyson Airblade Tap also produces less CO2 than other drying methods. Using one of these efficient hand dryers cuts CO2 emissions by up to 73 percent over other hand dryers and 69 percent over paper towels, which means you have a reduced carbon footprint. Operation of the Airblade Tap is estimated to cost $48 a year. Compare that to $1,460 for paper towels and what you get is a quick return on investment.
Airblade V Accommodates all Customers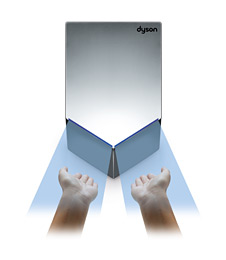 Having built a reputation on revolutionary design, the innovators at Dyson next moved to making their hand dryer accessible by everyone. The AB series hand dryers required a person to be standing and at an average height to use it, which meant those with height limitations and those who cannot stand struggled to dry their hands. To solve this, the Dyson Airblade V was created.
The Dyson Airblade V utilizes the same technology and power as the Mk2, but complies with the Americans with Disabilities Act. The Airblade V's innovative design features a slim profile that is only 4 inches deep and can be installed without recessing to save time and money. The fact that its windshield wipers of air blow down out of the base of the unit means it's easier for those with mobility or height issues to use. The V's design still meets the performance standards established for the Airblades, with a 12-second dry time and utilizes an antimicrobial coating to ensure the hand dryer stays clean. The carbon footprint of the Dyson Airblade V is the same as that of the AB14 and the Dyson Airblade Tap, making the entire Dyson Airblade hand dryer series innovative, powerful, and energy efficient.
Contact KaTom to add the Latest Hand Drying Technology to Your Business
To learn more about the Dyson Airblade or to place an order, contact KaTom Monday-Friday 8 a.m. to 8 p.m. Eastern at 1-800-541-8683, or email us at info@katom.com.