Learn What Makes Dyson Airblade Restroom Hand Dryers Special


Since the engineers at Dyson introduced their first Airblade in 2006, this line of restroom hand dryers has become one of the most popular in foodservice. Owners love it because it saves them considerable money on operation and keeps them from having to deal with heaps of soggy paper towels. Customers love it because it provides a speedy and hygienic hand drying experience.
It all started with the Dyson Airblade AB01, a hand dryer that would look to the outside observer to be not at all unlike the newest Airblade, the Dyson AB14. However, for the Dyson engineers who worked to craft the even-more-perfect works of the latest generations, including the Airblade Tap and Airblade V, they're worlds away from where they started.
Dyson Innovation Starts with a Tiny Motor
At the heart of it all, the innovation that started everything and the one element that has shown up in each model is a tiny electric motor capable of some amazing feats. It pulls in 7 gallons of air per second through a HEPA filter that removes 99.97 percent of airborne bacteria and particulate. We're not going to get into what kind of particles are in the air in a bathroom; suffice it to say, that filter makes a huge difference when it comes to cleaning hands.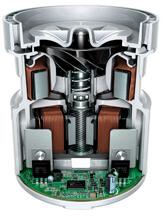 The fan powered by the motor reaches 92,000 RPM, which allows it to push air through narrow apertures at your hands in a powerful and concentrated sheet. That allows each Dyson Airblade hand dryer to do its job in about 12 to 14 seconds, roughly a quarter of the time it takes a typical warm-air hand dryer. Since the Dyson models don't heat the air as it moves through the system, they're even more hygienic. Studies have shown warm air dryers can actually produce an environment that is conducive to the growth of bacteria, so using them may, counterintuitively, leave your hands dirtier than before you washed.1
One more way every Dyson Airblade restroom hand dryer is more hygienic than traditional hand dryers: Every model is also fully touch-free, with infrared sensors that trigger the drying air and, in the case of the Airblade Tap, the water. That means germs aren't passed from user to user or from wet surfaces that may be a breeding ground for bacteria to users.
The filtration, cool air drying, and touch-free activation aren't only good for keeping bacteria off users' hands, though. They've also netted Dyson the first approvals under NSF Protocol P335, the set of standards that applies specifically to hand dryers.2 Dyson Airblade automatic hand dryers remain the only ones to have been accredited under those rules. Additionally, they are the only hand dryers to have gained the approval of HACCP International for use in environments where food is prepared and/or served.
The Most Efficient Restroom Hand Dryer
Dyson Airblade hand dryers don't just do their jobs hygienically; they also do them in incredibly efficient ways. Their powerful motors allow for shorter operation than typical restroom hand dryers, which means they use less energy. They're also far more cost efficient than paper towels, of which many people use four per hand washing. That's why the Dyson Airblades contribute to LEED certification and are the only hand dryer to have earned the Carbon Footprint Label from the Carbon Trust, which recognizes reductions in CO2 production. In fact, operation of a Dyson Airblade equates to the production of just 3.4 grams of CO2 per use.
Their efficiency doesn't just net accolades from environmental protection groups, but also yields savings for owners in reduced operating expenses, as you can see from the table below. It shows average annual costs for operation of a Dyson Airblade compared to a standard hand dryer and usage of paper towels.
| | | | |
| --- | --- | --- | --- |
| AVERAGE USES PER DAY | PAPER TOWELS | STANDARD HAND DRYER | DYSON AIRBLADE |
| 100 | $730 | $64 | $18 |
| 200 | $1,460 | $127 | $34 |
| 400 | $2,920 | $254 | $67 |
Additionally, the majority of the materials used in constructing a Dyson Airblade are recyclable. That means there won't be much impact on the landfill if you ever decide to retire one, though that's not likely, since the folks at Dyson have built them to stand up to almost anything, including being hit repeatedly by a heavy object.
3
The Revolution Continues: Dyson Airblade dB Series, Airblade V, and Airblade Tap
As we mentioned at the top, just because they invented a hand drying system that innovated the industry doesn't mean the engineers at Dyson have been content. They've continued to take on the most unpleasant parts of drying one's hands, from having to deal with the noise of powerful automatic hand dryers in a closed chamber like a restroom to the problem of water being dripped across the floor. That's why they've introduced a trio of lines under the Airblade name, including the dB Series, with the Dyson Airblade AB14 offering a 50 percent reduction in perceived noise over the first Airblade model. It's joined by the Dyson Airblade V models, which provide an accessible version of Dyson Airblade technology that meets with Americans with Disabilities Act (ADA) requirements, and the Dyson Airblade Tap series, which offer both hand washing and hand drying in one automatic unit.
KaTom Offers the Full Dyson Airblade Line
For more information about these great Dyson products, contact one of KaTom's helpful customer service representatives at 1-800-541-8683 or by e-mail at info@katom.com.
University of Bradford Dyson Airblade Study. European Society of Clinical Microbiology and Infectious Diseases. Accessed 2016.
NSF Protocol P335 Certification List. National Sanitation Foundation. Accessed 2016.
Dyson Airblade Testing Video. Dyson.