Dyson Airblade Tech Specs Show a Series of Innovation

Over the past decade, the name Dyson has become synonymous with innovation. Improving products we rely upon daily has been the driving force behind the incredible Dyson products many of us love. The synergy of more than 1,000 diverse engineering minds coupled with a first-class design team has allowed Dyson to not only produce cutting-edge technology, but also yield products that are visually stunning.
Regardless of model, Airblade technology incorporates the best of Dyson engineering to solve practical problems in a hygienic and efficient manner. Each Dyson Airblade operates at a fraction of the cost of traditional warm air hand dryers and paper towels. As the only hand dryer brand to achieve both HACCP International and NSF International certification, these units are approved for use in any food and beverage service location.
Take a few moments to read through this Dyson Airblade technical specifications guide to understand the advances in each of the three Airblade model series on the market today.
The Dyson dB Series: Durable, Efficient, and Hygienic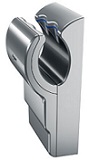 The Dyson dB series replaced the Dyson AB series in late 2013, substituting the single Dyson AB14 for the Dyson AB02, Dyson AB04, and Dyson AB06. The Dyson AB14 represents a significant step forward from those earlier models thanks to a scalloped aperture developed by Dyson's engineers. This design can reduce by up to 50 percent the perceived noise created by air rushing out of the machine at 400 miles per hour. The AB14 is ideal for high-traffic and commercial facilities, since it's constructed with stainless steel and engineered with an anti-burglary feature. Clearly, this Airblade is designed to endure high demand.
Dyson dB Series features: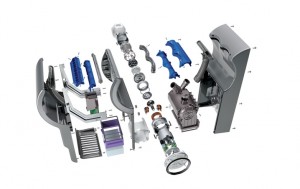 Automatic, touch-free operation by infrared sensor
Scalloped apertures reduce perceived noise by 50 percent
Casing construction: Polycarbonate-ABS casing
Input voltage: 110V-120V
Rated power: 1400 W
Stand-by power consumption: Less than 0.5 W
Antimicrobial coating on units' exteriors and interior fan blades
HEPA filter removes 99.97 percent of bacteria from air used for hand drying
Water ingress protection
12-second hand dry time
5-year parts and 1-year limited labor warranty
Available finish colors: Gray and white
Dyson Airblade V: An ADA-Compliant Hand Dryer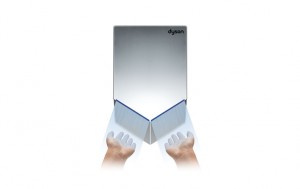 Extending just four inches from the wall and with a design that puts the air output apertures at the bottom of the unit, the Dyson Airblade V is accessible to all users, making it ADA-compliant. It requires no recessing to meet those requirements. The Dyson AB12 dries hands in just 12 seconds with HEPA-filtered air that is free of 99.97 percent of airborne bacteria.
Dyson Airblade V features: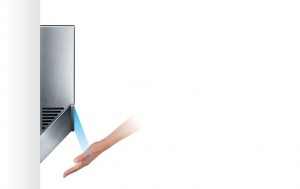 Automatic, touch-free operation by infrared sensor
Hand drying air pushed out of narrow apertures at bottom of unit at high speed
Meets ADA requirements for accessibility
Input voltage: 110V-120V
Rated power: 1400W
Stand-by power consumption: Less than 0.5W
Casing construction: Polycarbonate
Antimicrobial exterior additive in paint on sprayed nickel models
White models have antimicrobial molded additives
HEPA filter (glass fiber and fleece prelayer) removes 99.97 percent of bacteria from air
Water ingress protection
Touch-free operation
12-second dry time
5-year parts and limited labor warranty
Available in sprayed nickel and white
Dyson Airblade Tap: Hand Drying Technology in a Tap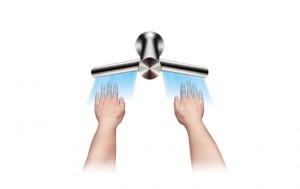 Introduced in early 2013, the Dyson Airblade Tap is the first system that combines hand washing and hand drying in a single, automatic, touch-free unit. Installed at the sink, the Airblade Tap provides water for washing when the hands are placed under the central stem, then provides high-speed, HEPA-filtered air from the stems on each side for drying. Having both jobs in one compact entity offers several advantages, including reducing the amount of space needed for the hand washing station and eliminating water left on the floor as patrons walk from the sink to the hand dryer.
There are three designs for the Airblade Tap. The Dyson AB09 has a short, 6.25-inch column that mounts to the counter. The Dyson AB10 has a long, 12.125-inch column that mounts to the counter. The Dyson AB11 mounts to the wall and extends over the sink.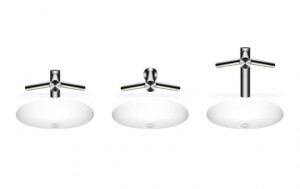 Dyson Airblade Tap features:
Input voltage: 110-120V
Rated power: 1400W
Motor speed: 92,000 RPM
Stand-by power consumption: Less than 0.5W
Brushed stainless steel exterior
Water ingress protection
99.97 percent of bacteria removed from air used for hand drying
Touch-free activation by infrared sensor
14-second hand dry time
Available in counter- and wall-mounted units
Thermostatic mixer recommended (not included)
Water flow rate: 1.06 gallons per minute
Required water pressure: 14.5-116 psi
Compatible with most sink types
Ready to Make the Switch to the Fastest, Most Hygienic Hand Dryers?
If you're ready to make the switch to Dyson Airblade hand dryers or if you would like to discuss the line with a knowledgeable product expert, contact KaTom at 1-800-541-8683 or info@KaTom.com